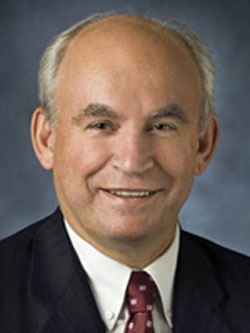 The chair of the Agricultural Land Commission strongly advised the British Columbia government against the major changes the province is making to how the province's farm land is protected.
"The purpose of this letter is to assist the process by providing what we hope will be received as constructive comment on the themes you communicated regarding the Ministry's thinking," wrote ALC chair Richard Bullock in an 11-page letter about the government's core review process led by Energy Minister Bill Bennett.
NDP small business critic Lana Popham, who shared the letter with The Tyee, said she received it in a brown envelope.
"You can't argue with this stuff, it's so detailed," she said. "The government's been fabricating a story in order to make it look like they've done the work and homework behind the bill. They haven't."
In the Dec. 23, 2013 letter to deputy agriculture minister Derek Sturko, Bullock addressed the splitting of the Agricultural Land Reserve into two zones, the move to regional decision-making panels and the move to introduce criteria other than protecting farm land, all of which the government is now pushing ahead with in a bill the legislative assembly is debating.
Bullock also stressed the need for wide consultation before making such fundamental changes.
"Dividing the ALR into 2 zones would of course be dramatic change," Bullock wrote three months before the government introduced legislation to do just that. "The best policy is based on reality, and that reality is important to this discussion."
Not everyone appreciates that "each and every region of British Columbia has prime agricultural land based on agricultural capability classifications and agriculturally suitable lands for specialty crops, forage, extensive agricultural uses and non-soil bound agricultural endeavors," he wrote.
He included a table that showed the proposed zone 1, which includes the South Coast, Island and Okanagan regions, has 335,000 hectares of land in classes one to four. The proposed zone 2, for comparison, would include 2,072,000 hectares of such land.
'Balkanized' land reserve
"This data shows that it is not correct to suggest that the Kootenays, the North and the Interior possess, as regions, lesser agricultural lands," Bullock wrote.
"In reality, the large majority of good agricultural lands in British Columbia are in these regions," he said. "Such lands, properly irrigated and farmed pursuant to Government policies that encourage farming and farmers, can be a legacy to future generations and an important resource to British Columbia's food and agricultural security."
He also said the ALC has boundary reviews ongoing with the aim of removing unsuitable land from the ALR and adding in land that should be included.
When Bennett introduced the legislation in March, by the way, he argued heavily that much of the agricultural land in zone 2 was unsuitable for farming. In the Kootenays, where he's from, the only thing that grows is hay, he said.
Bullock predicted splitting the ALR into two zones would be controversial. "It will obviously be important for you to consider the reactions of farmers and ranchers who have been divided into a two tier land reserve system," he wrote.
"It is not difficult to anticipate the equity arguments that will be made by those in the 'have not' region, who feel they were excluded from the 'rights' given to others whose land is not qualitatively different," he said.
"This is another reason for dealing with 'unsuitable' agricultural land directly by way of boundary reviews throughout the province. To balkanize the land reserve is unlikely to create more harmony among farmers and ranchers."
For some, 'better' equals 'removal'
Bullock criticized the proposal to appoint regional panels to make decisions.
"I realize there are some who take the view that the ALC would make 'better' decisions if fully 'regionalized' panels made the decision for a particular region," he wrote.
"The difficulty I have found with those taking this view, which in my experience is a small but vocal minority, is that they usually equate 'better' decision-making with decisions removing land from the ALR," he said. "I have not yet heard it argued that regional panels are necessary to better preserve agricultural land."
Before making changes, the ministry should review the ALC's record, Bullock said. "The Ministry would be well advised to collect real data on the ALC's decisions under its current structure," he said. "Critics rarely mention the substantial number of applications that have been approved. These successful applicants obviously do not complain, though it is noted that the ALC is often criticized on the other side for granting these approvals."
The ALC's job is to make professional, sound decisions, he said. "We can rarely make everyone happy," he said. "Given that reality, an honest question has to arise as to whether institutionalizing regional decision-making will actually improve things."
Bullock proposed an alternative, where a 13-member commission "would allow for meaningful regional panel decision-making, be more manageable from a financial perspective and ensure that all decisions comply with the requirements of the law, procedural fairness and the exercise of discretion, even while taking regional considerations into account."
Formalizing six administrative regions into the law could be problematic as it would reduce the ALC's flexibility to reflect workload and emerging issues, he said. "Operational flexibility is key to running an efficient and effective Commission."
Avoid short-sighted decisions
Giving the regional panels a mandate to consider cultural, socio-economic and environmental factors would also be controversial, Bullock predicted.
"The addition of these factors to the [Agricultural Land Commission Act] will be seen as transforming the ALCA from a statute whose overarching intention is to preserve and protect agriculture, to a statute that essentially authorizes decision-makers to make land use decisions 'at large', almost as a local government might do," he said.
"The ALC should be encouraged in its efforts to strive for decision-making that is more consistent, more predictable and more transparent," he argued. "However, if these factors were added to the ALCA, I anticipate that, over and above concerns related to the preservation of agricultural land, allegations of inconsistent decision-making would be magnified, particularly if combined with a regional panel structure."
He warned against the cumulative impact of allowing people to subdivide their properties and of adding permitted non-farm uses in the ALR.
The ALR exists to avoid "expedient and even short-sighted decisions" by project proponents and politicians, he said.
"I often find it necessary to dispel the misperception that the ALC primarily deals with applications from farmers and ranchers," he wrote. "In fact, the vast majority of applications are submitted by owners of ALR land that neither farm nor ranch the land. In my experience dealing with farmers and ranchers in the application process is the exception rather than the rule."
Consult thoroughly, chair advised
Bullock concluded his letter by encouraging the ministry to consult with all interested parties before moving ahead with major changes. This should include local governments, the Union of B.C. Municipalities, the BC Agricultural Council, the BC Cattlemen's Association, the BC Fruit Growers' Association, the BC Food Systems Network and others, he said.
He also made it clear he and the ALC were available. "As you reflect on this letter and in your own thinking regarding these issues, we also invite you to consult with the ALC as we do have considerable experience, expertise and data which we believe can only assist the policy process," he wrote.
In an email, the ALC's chief tribunal officer Colin Fry said that there were three meetings between the ALC and ministry staff regarding the core review. He could not provide any detail about the content of those meetings, he said.
Only one of the meeting dates was after Bullock's letter to Sturko. They included an Aug. 19, 2013 meeting, a Dec. 12, 2013 video conference with a senior ministry staff person and a March 26, 2014 tele-conference. The last meeting was the day before the government introduced it's changes to the ALR and ALC.
In recent debates in the legislature Bennett has stressed that the ALC was thoroughly consulted. He also said consultation with other stakeholders included going through notes from a 2010 review Bullock led.
"On a piece of legislation that so dramatically changes how they do business, I don't think that schedule would meet anyone's bar for consultation," said Joan Sawicki, a former NDP environment minister who worked at the Land Commission from 1973 to 1981.
Three meetings in seven months seems like an ordinary amount of contact between the government and a government commission, but not when the government was considering such major changes, she said. "This is extraordinary."
"It's obvious the government was hell bent on one way to go and they haven't deviated from that despite the fact they pretend to consult and they pretend to listen," said Nicholas Simons, the NDP's agriculture critic.
Bennett seems to have long had a goal of dismantling the ALR and has stymied opportunities for consultation, Simons said. "This is bad legislation led by one guy with a fixation."
"This process has been a sham from the beginning," said the NDP's Popham. The government's clearly not listening to Bullock's expert advice, she said. "They have their own agenda. They're totally set on what they want to do."