As a single mother on disability living in the Lower Mainland, Rachel Goodine makes tough decisions every month.
After receiving her monthly $1,241 disability cheque from the government, paying $800 in rent for a two-bedroom basement apartment in Surrey, and covering car insurance, she has to choose between buying food and buying clothing for her four-year-old daughter, Olivia.
Some days her choices are harder: feed herself or feed Olivia? Olivia comes first, and Goodine skips meals.
"The stress of it doesn't help with my mental health, obviously. It's panic all the time. Every time I run out of money, I think, 'What are we going to do for the next few days?'" she said. Goodine has been on disability for a year-and-a-half, but has lived with the severe anxiety and depression that prevents her from working for 18 years.
Mostly, she worries about the ill effects poverty has on her daughter: "I worry about her opportunities; these are formative years, and she's not getting the same opportunities as other kids."
Olivia's father wants to help with expenses. But when Goodine signed up for disability payments, she signed away her rights to the $342 in child support or "family maintenance" he's obligated to pay each month.
The Family Maintenance Enforcement Program, under the purview of the Ministry of Justice, collects family maintenance payments, both child and spousal support, and delivers them to families. It collects $18 million for families on disability or income assistance annually.
But every time she receives one of these payments, Goodine must tell the government the following month, and it deducts the amount from her next disability cheque. By enforcing family maintenance, government forces parents on income assistance to act as middle men in transferring the $18 million in income assistance and disability payments every year between the ministries of justice and social development and innovation.
If the child support payments weren't deducted from her government cheques, Goodine and her daughter would get by, she said. "We would be struggling a little bit with child support, but it would be a huge help."
The B.C. government maintains the clawbacks are in line with the rest of the country, except for Quebec, which allows families to keep $100 in child support per month. Income assistance -- and disability, whenever returning to work is a possibility -- are meant to be programs of last resort, said the Ministry of Social Development and Social Innovation.
Allowing families on income assistance to retain child support would cost too much money, it argues, as the government would have to start paying the full amount of income assistance families are supposed to receive, instead of deducting court-ordered child support, which can vary from small figures to over $1,000 each month.
"Say we were to allow individuals to retain up to $300 [per month]. That would be a cost pressure on the ministry of another $10 million [per year], and then we would have to find savings within our spending. Right now, we spend about $1.6 billion per year on income assistance and it's taken [by other programs]," said Social Development Minister Don McRae. Any loss of funding would mean cuts to programs people depend on.
Child support also provides government with extra revenue. The Family Maintenance Enforcement Program takes in an additional $1.5 million in penalties for missed payments per year, which is added to general government coffers.
"As [the Family Maintenance Enforcement Program] recovers $1.5 million for government, and saves government $18 million in income assistance costs, the program is cost-neutral," reads a Ministry of Justice email sent to the Tyee Solutions Society.
According to documents provided to Tyee Solutions from First Call: BC Child and Youth Advocacy Coalition, an average of 3,971 families per month had their "family maintenance" -- both spousal and child support -- clawed back from 2012 to 2013. Of those cases, 85 per cent were single parents like Goodine.
'The most progressive place in Canada'
As a member of ACORN BC, a non-profit organization advocating for the needs of low-to-moderate income Canadians, Goodine is part of a campaign to stop the clawback of child support payments from parents on disability.
Over the last year, the organization held protests at different government disability offices every month on cheque day, and it has met with Minister McRae twice, in December and January.
"The first time we met him, he didn't seem very up to speed -- he was pretty new in the job at that time -- on the clawback at all. He was really unprepared," Goodine recalled.
"We asked for another meeting when he was more prepared. At the next meeting, he basically refused to answer any questions on it and constantly referred to the disability white paper that they're doing right now."
Since last December, the Ministry of Social Development and Social Innovation has sought feedback from the public for the paper, holding 23 information sessions in 15 different B.C. communities, as well as soliciting feedback online.
"Our government is committed to making B.C. the most progressive place in Canada for people with disabilities to live," McRae said in a March 12 press release released a day after consultations wrapped up. The white paper is expected later this spring.
ACORN's members attended several of the meetings, and submitted online suggestions for ending the child support clawback and raising disability rates, which place recipients below Statistics Canada's low-income cut-off line. Based on Goodine's disability payments alone, she takes in $8,606 less than the low-income cut-off after tax for her family size and city population.
"I thought they did a really good job with some of their points and pieces," McRae said of his meetings with ACORN, adding he spoke with at least one member at his ministry's Vancouver white paper consultation.
McRae knows ACORN will only be satisfied with the experience if the report recommends an end to the clawbacks. "But I was really pleased that they were able to come forward and articulate their concerns," he said.
Deviance for diapers
If parents on assistance don't tell the government they receive child support payments, and they are caught, they will be forced to repay the government from their social assistance cheques. But not paying one's child or spousal support isn't an option, either, as the Ministry of Justice fines parents who don't pay it to the custodial parent.
Goodine is in a better position than some of the other single moms she volunteers with: "I've spoken with two other women from ACORN. One of them has prostituted herself, and another one has a criminal record for stealing diapers."
Unlike those women, Goodine can rely on her mother for help with things like clothing and toys for Olivia and the occasional groceries, but she has considered stealing or sex work when her money runs out. In her experience, the situation for women can be desperate, she said.
"I do believe there are many women staying in physically abusive relationships so that they don't have to be in this position when they leave," she said.
People on disability can earn up to additional $800 per month in earned income, while individuals on welfare can earn an additional $200 per month. Goodine wonders how many people can take advantage of those funds, however. She takes casual administrative shifts at Vancouver Coastal Health, but hasn't been called in for four months. Even when she gets work, she's had to miss some shifts due to her illness.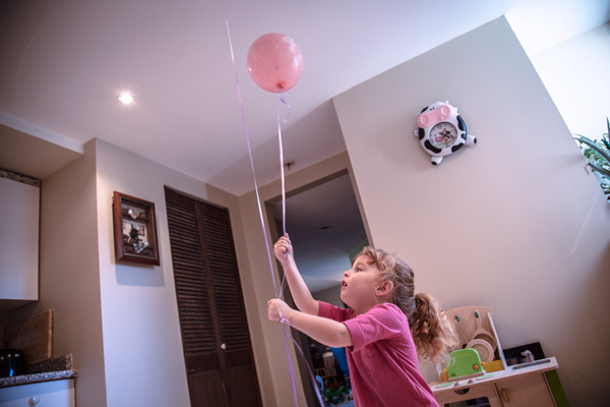 McRae acknowledged funds can be tight for families on income assistance and disability, adding food banks offer both groceries and supplies like diapers. If that's not enough, the ministry offers emergency funding from its reserves. And if that takes too long, there are other options, McRae said.
"If people are concerned about the amount of time it takes for the ministry to get back to them, I highly recommend you either contact your MLA or continue to call social development," he said. "But we deal with 7,500 individuals on income assistance at any one time, so it's not like it's a small amount of people that we're working with."
That's something Goodine has heard before. When she first applied for disability after leaving Olivia's dad, it took a month-and-a-half to receive her first cheque. During that time, the government gave her two $20 grocery vouchers.
"When you say, 'Why aren't you giving me emergency funds? I've paid into this system my whole life,' [government employees] always say: 'Go to your MLA,'" she said.
Goodine did go to her MLA, New Democratic Party's Sue Hammell, last August. Hammell said she couldn't bring up clawbacks in the legislature until the House reopened, but promised to bring the issue to the New Democratic Party's women's rights committee. Goodine hasn't heard from her since.
Get back to work
Michelle Mungall, opposition critic for social development, is also aware of the issue and said the government's defence for keeping the clawbacks is "ludicrous," adding the Supreme Court of Canada ruled in 2006 that child support belongs to children.
"First, the government forces the custodial parent to sign over their right to child support, and it's not even their rights, it's the right of the child," she said. "Then they take it away, dollar for dollar. That's a lengthy process."
Under the New Democratic Party government of the 1990s, parents on disability and income assistance could retain up to $100. Mungall wouldn't comment on whether a possible future NDP government would fully restore child support payments, but did say it would be easy for the government to stop the clawbacks.
"It's governed by regulation, not legislation. It's a decision of cabinet," she said.
Goodine doesn't have high hopes for the disability white paper recommending an end to government clawbacks, adding both the literature about the consultations and the government website indicate B.C.'s leadership is more interested in making it easier for people on disability to get back to work.
"If they have programs that help people that are on the cusp [of working], that's awesome, I totally support that. But I think that they're trying to push people that can't work off of disability and into the job force," she said.
Goodine is on a new medication lately, and is able to obtain mental health counseling through a non-profit organization. She's hopeful she will be able to get off disability soon and earn enough money from work to provide a better life for her and her daughter.
But until that happens, or child support payments are restored to families on assistance, Goodine and Olivia will continue to struggle.