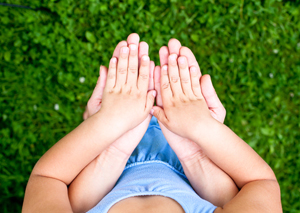 After eight years of progress in decreasing poverty for single mothers in British Columbia, in 2011 almost 30 per cent of the province's single moms saw their annual incomes drop to poverty levels.
The most recent income data available from Statistics Canada shows 50 per cent of B.C.'s single mom-led families are living in poverty.
"For a single parent family in B.C., the poverty line is around $29,000," said Lorraine Copas, executive director of Social Planning and Research Council of BC (SPARC BC), at the release of the British Columbia 2013 Child Poverty Report Card in Vancouver today.
"A single parent family in B.C. is [on average] about $9,000 below that line, which means that they're living on an income of about $20,000 a year."
The annual report card, which concluded B.C. again had the highest child poverty rates in the country in 2011, was co-written by SPARC BC, First Call: BC Child and Youth Advocacy Coalition, and Campaign 2000.
2011 was also the year Premier Christy Clark, herself a proud mother -- as evident from her Twitter profile that starts with "Mom" -- unveiled her government's "families first" agenda. A minimum wage increase and the introduction of full-day kindergarten were just some of the steps Clark took to improve outcomes for families in B.C. that year.
But although the data showing the effects of those programs won't start coming in until next year, Vancouver Coastal Health's executive director of population health Ted Bruce predicts they won't add up to much.
"We can talk a little about the statistics this year versus the statistics last year, but the point is (child poverty) is not changing dramatically over a number of years," he said, adding B.C. won't see the impact of government policies on kids for at least 10 years.
"The time to act is now, not to continue to think we're making little changes here and there."
'Bottom of the gutter'
From 1976 -- the earliest year Statistics Canada collected income data -- until the early 2000s, at least 40 per cent of single moms in B.C. lived below the poverty line. But in 2004 the number began dropping, first to just below 50 per cent from above 60 per cent in 2003, and then a steeper decline, down to 21.5 per cent in 2010.
Nationally the numbers also dropped, to 36.8 per cent in 2011 from 67.6 per cent before-tax in 1976. But the tide is turning in British Columbia: the province now has the highest single mother poverty rate in the country, with the highest increase in single mother families living below the poverty line since 2010.
Frances Stone is one such single mom. At 38, she's spent the last 13 years trying to keep her and her three children out of poverty. Although she has a unionized job, low pay and lack of government support, particularly in childcare, prevented her from working the hours she needed to keep her family above the poverty line.
Stone grew up poor, the eleventh child of a single mother, and she struggles to avoid poverty to this day. When her ex went to jail, Stone lost not only child support payments, but the one day a week he could look after their three children. Without affordable childcare to look after her kids while she worked, she was forced to go on income assistance.
"Welfare was a welcome relief because I could count on it, and I could take my children to the dentist, which they had never gone to because I'd lost my benefits through my employer when I couldn't keep up my hours," Stone, who now works part-time and co-hosts Talk Recovery on Co-op Radio 100.5 FM, told the media at the report card's release.
Stone eventually went on disability, which she admits she applied for because it offered more money and "I could survive on it. I knew the $400 difference between welfare and disability would make a monumental difference in my children's lives."
With disability also came benefits like a monthly bus pass, counselling, and medical coverage, which made life easier for her family. But there were still some benefits out of reach, like child support payments that were clawed back from her assistance cheques. She also couldn't access services like parenting classes without the province's Ministry of Children and Family Development opening a file on her family.
"That's the reality in Canada, that you have to be at the very bottom gutter before you get help, and it's sad but true," she said, adding that being allowed to keep her child support payments would have been enough to keep her family above the poverty line.
"Canada is a free country, and freedom is ability. All I'm asking for me and for others is to have the ability to work ourselves out of poverty."
More 'low-income jobs' no fix: author
B.C.'s Ministry of Children and Family Development (MCFD) released its own fact sheet on family poverty Monday evening in anticipation of the report card's release. The ministry relied on Statistics Canada's after-tax low-income cut off numbers, which show B.C. tied for the highest child poverty rate in the country with Manitoba at 11.3 per cent.
The report card uses before-tax data, which takes into account government transfers but not income tax deductions. StatsCan says the after-tax number is more indicative of the number of people living in poverty because it indicates the actual money people have to spend, but B.C.'s after-tax child poverty data comes with a "use with caution" note from the national statistics agency because the statistical sample may be too small to be relied on.
The fact sheet states child poverty has dropped 41 per cent in B.C. since 2003, a higher rate of decline than the national average. But it also had higher to fall from: where B.C.'s child poverty rate was 19 per cent after-tax in 2003, Canada's was 12.5 per cent.
The ministry also listed investments the government has made in affordable housing for low-income people ($3.6 billion since 2003); the increase in minimum wage to $10.25/hour in 2012 from $8/hour in 2011; the one-time $1,200 BC Training and Education Savings Grant for all children under six to start their post-secondary funds; and the province's single digit unemployment rate of 6.5 per cent.
The report card had counterpoints to almost all of these facts. Although the report card's authors recognized and appreciated the increase in minimum wage, for instance, they asked that it be raised again to $12/hour and indexed to the cost of living.
"It's not enough for a single parent family to have changes in minimum wage, because a single parent is reliant on that single income and it wouldn't be enough, even with the increases in minimum wage, to help lift that family and household out of poverty," said SPARC BC's Copas.
"This is where you need affordable childcare and other kinds of supports. It's also where you need a caring and compassionate society and a caring and compassionate government."
First Call's provincial coordinator Adrienne Montani also said some job increases can be attributed to low-income jobs created by government, like jobs contracted out from the public health service.
"We need to not create poverty by creating a lot of low-income jobs, and I'm referring to what happened in the health sector where they contracted out a lot of jobs that went from being living wage jobs to being below poverty level jobs. That was a government decision to do that," she said.
The report card data showed a 31 per cent reduction in child poverty in B.C. from government transfers, like the BC Family Bonus or BC Earned Income Tax Credit, the lowest reduction in the country. However, Copas also noted poverty rates actually went down for working families, and that could be attributed to small changes like the increase in minimum wage.
"If you look at minimum wage and you look at these other types of interventions, it creates the possibility that families who are near the poverty line could actually improve their circumstances if they have the supports," she said.
Some un-costed fixes
The report card makes 16 recommendations in total, including increasing and indexing social assistance rates to cost of living; allowing parents on assistance to keep child support benefits; implementing $10/day subsidized public child care plan developed by the Early Childhood Educators of B.C.; covering prescription drugs, dental care, and eye care for all British Columbians; and creating an independent commission on tax reform, whose mandate would include reducing income inequality.
Recommendations for the federal government include extending paternal leave to 18 months from 12; rescinding all cuts to Employment Insurance; putting money into social and low-income housing; reducing the cost of post-secondary education; and providing more support for immigrants and refugees, including cancelling any transportation debt for refugees.
The report card makes no cost analysis for these policy changes, but First Call's Montani argued the cost of poverty is far greater.
"Our point is we need to reduce the costs for families who are incurring huge amounts of student debt, who can't afford housing, and they're struggling in their careers. If we reduce that debt burden, that would save money," she said.
"Then that money can overtime be redistributed to a healthier society, instead of maintaining a sick one."