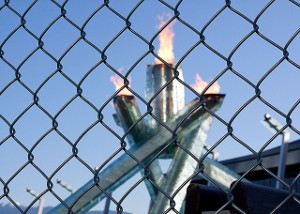 You've seen it on Twitter or Facebook. Photos of a U.S. bobsledder stuck in an athletes' village elevator, the same athlete who earlier busted through a door to escape a bathroom. An empty elevator shaft found by a British bobsledder. Reporters with no heat or drapes, but toxic drinking water instead. And, of course, the four-rings and a snowflake from the opening ceremony. They're Sochi problems.
Vancouverites can't be smug. The 2010 Winter Olympics, which began four years ago on Feb. 12, also had problems galore that cannot be forgotten.
Host cities have seven years from bid win to opening ceremony, but perfection is impossible. Each sport venue hosts a test event a year before the Games. There is never a full dress rehearsal.
From cauldron malfunctions at the climax of the opening ceremonies, to a global economic crisis that threatened our Games like no other in the commercial era, there were many Vancouver 2010 messes. Some were obvious on day one. Others didn't come to light until months later.
Track tragedy
His death was sudden, but not made official until almost an hour later.
Georgian luger Nodar Kumaritashvili flew off his sled and the back of his head struck an unpadded pole at the Whistler Sliding Centre on Feb. 12. The 21-year-old's tragedy cast a pall on the opening ceremony that evening. Only once before -- two weeks prior to Innsbruck 1964 -- had an athlete died from a crash at an Olympic sliding track.
Officials were quick to blame Kumaritashvili's relative inexperience, but foreign lugers had complained for months that they were getting less training time than Canadian athletes at a facility that was marketed as the fastest in the world.
Reigning two-time Olympic champion Armin Zoeggler of Italy crashed his sled earlier on that fateful day. A Romanian competitor was hospitalized for a head injury two days earlier.
In Feb. 2011, CBC's Fifth Estate published a March 2009 email written by VANOC CEO John Furlong to his fellow executives that foreshadowed trouble: "An athlete gets badly injured or worse and I think the case could be made we were warned and did nothing," he wrote.
VANOC had indeed been warned. Track designer Udo Gurgel was worried because athletes were exceeding 150 kilometres-per-hour during a test event.
The day after Kumaritashvili's death, the men's start was moved from the top of the track to the women's area, to keep lugers within the prescribed 136 km/h maximum of Gurgel's original design.
Bus bickering
A fleet of more than 1,100 diesel buses was licensed temporarily by the province to carry athletes, sponsors and media personnel. Most of the vehicles were motorcoaches from American companies as far away as Alabama and Florida. Combined, they were driven a combined 5.1-million kilometres to and from Vancouver.
Brian Crow, head of Motor Coach Canada, said at the time that there were "Canadian carriers that wanted to get involved and can't... there are Canadian carriers that got involved, had contracts and either had the number of buses cut back or their shifts cut back."
Buses broke down or went off-route. Drivers complained they weren't being paid on-time, or quit because they were forced to work illegal overtime or put up in motel rooms with no hot water.
VANOC put a call out for more buses during opening weekend. Transport troubles contributed to the decision to cancel general admission tickets for snowboarding at Cypress Mountain.
VANOC's original business plan called for $52 million to be spent on bus systems. It ended up spending $92.6 million after going through post-Games mediation with Florida-based contractor Gameday Management.
Live site barrier crash
Not everyone could afford or acquire tickets to Olympic events, so a series of live sites were erected in parks and squares around Metro Vancouver, with giant TV screens and concert stages.
The most popular was the City of Vancouver-operated LiveCity Yaletown at David Lam Park.
Vancouver's fire chief reported to a city hall operations meeting on Feb. 15 that the emergency exits were locked and, according to minutes, "staff did not know location of [the] key."
The next day, the crowd surged and the barriers before the stage buckled as Alexisonfire was beginning its nighttime concert. Nineteen people were injured and nine hospitalized. Security guard Kris Foot hustled teenager Jasmeen Khera, whose flesh was torn off her lower right leg, to the on-site clinic. Foot, who had industrial first aid certification, collapsed from the pain of his own knee, hip and lower spine injuries.
Khera and Foot were among several people who sued the city for negligence.
At the time of the incident, city officials had not set a maximum capacity for the fenced-off site. They finally settled on 9,000, two days later on Feb. 18, 2010.
Not the Love Boat
Accommodation during the Games was at a premium. The RCMP even hired three cruise ships because there weren't enough rooms at the inns on land.
For VANOC, it chartered the Mona Lisa cruise ship to berth at Squamish and accommodate everyone from bus drivers to volunteers. Three weeks before the Games, VANOC realized the ship required a marine facility security officer to satisfy Transport Canada requirements. The committee found Transport Canada retiree Mike Franke and hired him verbally at $30,000 for a two-month gig at the Howe Sound dock.
When Franke arrived, he found VANOC didn't have adequate fencing, gates or guards on the ship. Each day produced more unforeseen duties for Franke, from evicting workers for misbehaviour to reporting thefts, drug overdoses and sexual assaults to authorities.
VANOC finally paid Franke in mid-May 2010, but rejected his bid for extra pay for the additional work. VANOC wouldn't comment about the Mona Lisa's problems to a reporter, but did threaten Franke with a lawsuit if he divulged the incident reports.
Of dogs and mice
Global TV reporter Brian Coxford's question at a Games-time news conference about rodents seen escaping an Oregon straw delivery truck at Cypress Mountain drew swift derision from Furlong. But it turned out to be true.
After the Games, VANOC hired a biologist to trap and kill the critters that had hitched a ride to the snowboarding and freestyle skiing venue, where straw bales were used as safety barriers and to support the scarce snow.
No foreign mice were found among the dozens of small, native mammals that were trapped. A long-tailed vole was the only victim.
Invasive plants proved to be a more troubling legacy. Japanese knotweed and scentless chamomile were found and the estimated cost of combating the weeds through 2015 was $166,500.
There was a gold rush mentality in Vancouver and Whistler. Tourism operators were convinced they'd strike it rich. While hoteliers had a best-ever month in Feb. 2010, others weren't so fortunate.
A year after the Games, CKNW revealed that as many as 100 sled dogs had been slaughtered after the Games because tour company Outdoor Adventures at Whistler had rapidly expanded its herd before the Games and couldn't afford to feed the dogs when tourism slumped afterwards.
The Society for the Prevention of Cruelty to Animals exhumed 52 bodies of sled dogs from a mass, Soo Valley grave. Musher Bob Fawcett, who told WorkSafeBC he was following orders, admitted to animal cruelty in the grisly deaths. A provincial court judge in North Vancouver put Fawcett on probation for three years, but Fawcett chose to say nothing when given the chance during a sentencing hearing.