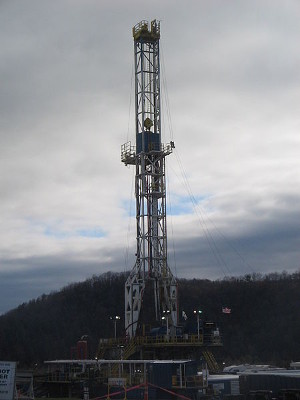 Pollution from the mining of natural gas in rural areas can increase the incidence of congenital heart defects among babies born to mothers living close to well sites, according to a U.S. federal study.
The U.S. National Institute of Environmental Health Sciences study, published in Environment Health Perspectives last week, found a strong association between the number and closeness of natural gas wells within a 10-mile radius of homes occupied by mothers, and the prevalence of congenital heart defects and possibly birth defects of the brain, spine, or spinal cord.
For years now, a host of studies done in Colorado, Alberta, Texas, Wyoming, and Oklahoma have shown that air pollution from natural gas drilling sites contains hundreds of toxins, including Volatile Organic Compounds, methanol, particulate matter, polycyclic aromatic hydrocarbons, benzene, nitrogen oxides and sulfur dioxides.
The pollution often comes from flaring -- the burning of waste gas -- or associated drilling activities and factors, such as hydraulic fracturing, waste water tanks, chemical spills, diesel engines, compressor stations, dehydrators, and pipelines.
In addition, chemicals now widely used by the shale gas fracking industry include many that are hazardous even at low or barely detectable levels.
These include the bacteria killers, glutaraldehyde and 2,2-dibromo-3-nitrilopropionamide (DBNPA); the corrosion stopper propargyl alcohol; and the foaming agent 2-butoxyethanol (2-BE), as well as lubricants containing naphtha.
A well-known 2000 Alberta study by researcher Mel Strosher found that flares burned so inefficiently that many hazardous hydrocarbons floated downwind, including benzene, styrene, ethynyl benzene, ethynyl-methyl benzenes, toluene, xylenes, acenaphthalene, biphenyl, and fluorine.
Some fracking chemicals, including ethylene glycol and formamide, are suspected of causing abnormal cell growth in fetuses.
Others chemicals used by the industry are classed as mutagens and can change human DNA. Several can also cross the placenta, "raising the possibility of fetal exposure to these and other pollutants resulting" from natural gas extraction, the study found.
Approximately 100 chemicals used by the fracking industry are so-called "gender benders" and can change or disrupt hormone functions in oil and gas workers.
The U.S. study, which looked at three kinds of birth defects, birth weight and fetal growth, found that mothers who lived in areas with greater well density, or more than 125 wells within a 10-mile radius of their homes, gave birth to children that "had a 30 per cent greater prevalence of congenital heart defects" than similar populations with no wells within a 10-mile radius of their residence.
Gender-benders, too
The study is not without precedent. A 2010 study of 4,531 births in oil-rich Texas found that mothers living in census tracts with high benzene levels (0.9 - 2.33 ppbv) "were 2.3 times more likely to have offspring with spina bifida than mothers living in census tracts with the lowest ambient benzene levels."
A 2005 Swedish study found that children born to 298 mothers exposed to benzene "had 5.3 times greater prevalence of neural crest malformations (facial deformities) than children born to mothers not exposed to benzene."
Hydraulic fracking, which injects water, chemicals and sand into previously uneconomic shale formations, can turn rural areas into industrial parking lots.
In order to service a shale gas well, trucks powered by diesel engines will make as many as 40 to 280 trips a day to deliver water, chemicals, supplies or pick up waste fluids. 
More than one-quarter of Colorado's 47,000 oil and gas wells operate within 150 to 1,000 feet of a home or dwelling.
"Taken together, our results and current trends in Natural Gas Development underscore the importance of conducting more comprehensive and rigorous research on the potential health effects of Natural Gas Development (NGD)," reads the U.S. federal study.
Last year a study by Susan Nagel, an associate professor of obstetrics at the University of Missouri's School of Medicine, found that samples of surface and groundwater taken near sites experiencing high levels of fracking-related drilling activity in Colorado contained endocrine-disrupting chemicals that can change male and female hormone activity.
Exposure to gender bending chemicals has been linked to lower fertility, higher cancer rates and impaired gonad development.
A dirty water spill containing gender benders at one small Colorado ranch forced the owners to stop raising their livestock "because the animals no longer produced live offspring," perhaps due, posits Nagel's study, to the high activity of gender benders at the site.
Her study concluded that "there is evidence that hydraulic fracturing fluids are associated with negative health outcomes, and there is a critical need to quickly and thoroughly evaluate the overall human and environmental health impact of this process."
Animal health also affected
Multiple studies have recently shown groundwater near natural gas drilling contains higher amounts of stray methane and heavy metals than other areas. For nearly 30 years now, oil and gas field studies have consistently concluded that the more industry drills a landscape, the more methane seeps into local groundwater.  
A 2012 case study by Cornell University's veterinary school also found that natural gas drilling can severely damage the health of wildlife and livestock, particularly the breeding of cattle.
But poor regulation and industry confidentiality agreements have prevented animal health scientists from determining the scale of the problem.
The study concluded that "given the many apparent adverse impacts on human and animal health, a ban on shale gas drilling is essential for the protection of public health. In states that nevertheless allow this process, the use of common sense measures to reduce the impact on human and animals must be required in addition to full disclosure and testing of air, water, soil, animals, and humans."
These "common sense measures" include comprehensive testing for groundwater prior to and after drilling; real time air monitoring; the banning of cancerous chemicals; the hiring of additional environmental inspectors and a dramatic increase in setbacks for wellsites from homes and water wells.
Given current and planned drilling in northern B.C. near schools, the University of Victoria's Environmental Law Centre requested longer setbacks just last month.  
The oil and gas industry routinely defends the rapid deployment of horizontal drilling and hydraulic fracturing to mine unconventional hydrocarbons as a safe and proven technology.