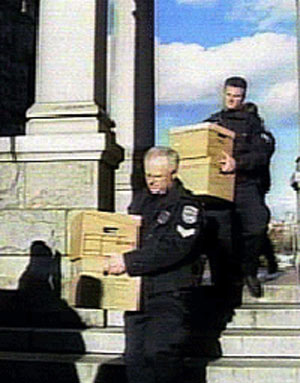 Ten days shy of the 10th anniversary of the police raid on the British Columbia Legislature, Auditor General Russ Jones delivered a long-awaited report investigating how government pays the private legal bills of public workers.
Jones examined 26 of 100 special indemnities granted between 1996 and 2011, but one looms larger than all others: the extraordinary deal to pay the $6.4-million legal bills for ex-BC Liberal ministerial aides Dave Basi and Bob Virk three years ago.
Basi and Virk maintained their innocence until their Oct. 18, 2010 plea bargain. They admitted to selling inside information about the sale of BC Rail to bidder Omnitrax, thus halting their B.C. Supreme Court bribery trial. Government is supposed to require repayment of defence costs from those found guilty.
Jones's report said the trial cost taxpayers almost $18.3 million and could have been at least $2 million more expensive if it had lasted another year. Jones said he found no fault with the two senior bureaucrats who amended the indemnity agreements that enabled the payout to Basi and Virk's lawyers. He also found no evidence of political interference.
"In this case, the decision was an economic decision, it was to save money," Jones said in a Dec. 18 conference call with reporters.
Asked whether it was the right decision, he said: "That's not for me to comment on at this point."
Jones blamed the trend toward lengthy, complex trials for the high cost, rather than the government's administration of indemnity agreements. Although the offences were committed in Victoria and both evidence and government records were stored in the capital city, the trial was held in Vancouver, adding costs for travel.
"We were unable to determine why the trial was held in Vancouver," said the report.
A lengthy trial
NDP justice critic Leonard Krog said the report confirms that the BC Liberals were in breech of their own policy on indemnities.
"The fact Mr. Jones can't find evidence of political interference leads to the next question: were the ministers responsible happy with the decision?" Krog said. "Maybe they should've resigned if they thought the decision was wrong."
The RCMP investigation began April 1, 2002 and came into public view with the sensational Dec. 28, 2003 raid on the Legislature. Images of police officers carrying boxes of documents down stairs and loading them into vans disrupted the holiday news lull. On the same day, police also searched the house of Bruce Clark, then-deputy premier Christy Clark's brother and federal Liberal fundraiser. Police were searching for leaked documents about BC Rail's planned sale of the Roberts Bank spur line.
Police also searched the Victoria and Vancouver offices of Pilothouse Communications. Pilothouse lobbyists Brian Kieran and Erik Bornmann, who were contracted by Omnitrax, were involved in bribing Basi and Virk, but granted immunity from prosecution. Police initially claimed the Legislature raid was connected to an organized crime and drugs investigation, but the BC Rail connection became known on Jan. 8, 2004.
Special Prosecutor Bill Berardino opted for a direct indictment against Basi and Virk in Vancouver on Jan. 28, 2005. The trial was delayed almost four years until May 17, 2010, because of a flurry of pre-trial applications and arguments over disclosure.
Two of a possible 42 witnesses were eventually called to testify: Premier Gordon Campbell's chief of staff Martyn Brown and former BC Rail director Brian Kenning. Finance Minister Gary Collins was waiting to be called when the plea bargain was made.
The report said Basi and Virk's lawyers told the Legal Services Branch Oct. 5, 2010 that Berardino had proposed a plea deal.
"The lawyers said that, although they believed their clients would not be convicted at the end of the trial, the terms of the plea deal were potentially acceptable," Jones's report said.
They asked for amendment of the indemnities, because Basi and Virk's $400,000 in assets "would not begin to cover the costs." Deputy Minister of Finance Graham Whitmarsh and deputy attorney general David Loukidelis agreed Oct. 8, 2010 to approve the amendment and the Legal Services Branch began negotiating terms with their lawyers. Then attorney general Mike de Jong, now the finance minister, said he was not involved in the decision.
A release letter was sent Oct. 14, 2010, removing Basi and Virk's obligation to repay the fees. The deal was finalized Oct. 20, 2010.
"The plea deal was part of the legal process and that was outside of our mandate to look at. That was between the special prosecutor and defence attorneys," Jones said. "The amendments to the indemnity was something that was between public servants and the defence. They were totally separate and we didn't find any interference."
Marathon matter
Jones's report was three years in the making, delayed by the government's successful challenge to previous auditor general John Doyle's application for access to documents. Chief Justice Robert Bauman ruled last January that solicitor-client confidentiality applied. Some of the key documents were eventually leaked to Global TV during the spring election campaign.
"Government's indemnities practice wasn't perfect but it was principled and complied with legislation," Jones said. "But there's always room to clarify responsibilities and improve administrative practices."
The report includes 10 recommendations, such as establishment of policy to confirm eligibility for indemnity after a trial and require the defence counsel to demonstrate that only invoices for eligible services have been submitted to government for payment.
Jones also wants government to obtain a waiver of solicitor-client privilege for audit purposes.
"Government pays millions of dollars annually to fund defence costs for large criminal trials; solicitor-client privilege should not prevent an audit of that public funding," he said. "Currently my office cannot audit public money spent on private lawyers hired to represent individuals because of solicitor-client privilege."
The root of the report is the $1-billion privatization of the Crown railway by CN, contrary to Campbell's election promises. CP Rail complained the process was tainted and dropped out of bidding in the late stages, but the government forged ahead anyway.
Asked whether the B.C. government has appropriate controls to prevent or root out procurement-related corruption, Jones was initially reluctant to comment.
"That's definitely outside the scope of our audit," he responded to The Tyee's question.
"We put 10 recommendations in our report here on ways to improve the administration of special indemnity at this point in time, and hopefully those 10 recommendations will help strengthen the process going forward."
Pressed further, Jones said "procurement is something that we do each year or on an ongoing basis, we have a three-year rolling plan on performance audits that we will do. Procurement is one of those subjects we tend to look at every year, that will be something that we'll take into account when we're doing our plans going forward for the next three years."
Last spring, Saskatchewan conflict of interest commissioner Gerald Gerrand found no evidence that Premier Christy Clark broke conflict of interest laws while deputy premier in 2003. Documents gathered by police indicated Clark and Bornmann met often. A lawyer-witnessed memo to file by Basi in Oct. 2003 pointed the finger at Clark as a source of cabinet documents obtained by Kieran and Bornmann.
At the end of the day, BC Rail was sold to CN, whose revenue and profits increased. No politicians were charged or called to the witness stand. The Liberals were re-elected thrice over the NDP, which promised a public inquiry in its failed 2013 campaign.
Jones's report could be the last probe of elements of the scandal in B.C. history, unless one of the players writes a tell-all book or a public inquiry is called someday, Krog said.
"No heads have rolled, no apologies forthcoming," Krog said. "Everybody walks away and the great suspicion and mystery around the sale of BC Rail continues, 10 years down the road from the raid on the Legislature."