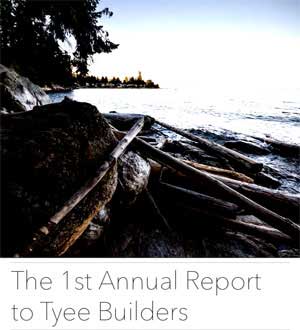 [Editor's note: The Tyee's very first annual report to Tyee Builders is available for everyone to download and read. We compiled it last month for the 600-plus people who support The Tyee's journalism with small monthly financial contributions. The report includes details about our traffic, lists of our top and game-changing stories, and other fascinating information about our last year. To give you a taste, we've reprinted below the report's introduction by our founding editor, David Beers.

To read the full report, download it here.
And remember, if you're so inspired, you too can become a Builder today for just $5/month. In other words, for the price of just one fancy cup of coffee every month, you can help bring solid, fact-driven, independent reporting to the public debate.
]
Dear Builders,
Last year we asked you to help grow The Tyee's journalism by committing to a monthly voluntary subscription. You responded magnificently to our request, and as a result I have the privilege of sharing this report, which lets you know some of the ways your contribution made a big difference in our reporting and impact this year.
You've made The Tyee better. That's a certainty. But you've also helped push back against some disturbing trends in Canadian journalism as a whole. Let me explain.
Are we weird to pay journalists? We don't think so.
Thanks to you and other Builders, our budget for paying reporters increased by 37 per cent. That's critical, given that The Tyee is one of those old fashioned publications that still thinks it's important to pay researchers, reporters and other communicators for their valuable work.
Some of the Internet's biggest publications treat journalists like hobbyists, asking them to produce stories just for the thrill of seeing them in print. We question the quality of the work produced under that kind of arrangement. The best journalists are conscientious, tenacious, willing to go the extra mile, committed to the life of reporting they have chosen. Those people don't work for free and why should they?
While The Tyee's freelance rates aren't extravagant, they more than match what some of Canada's biggest news chains are paying freelancers these days. And thanks to you, we are able to keep our in-house Tyee reporters chasing stories.
Paywall? Open a window!
Just about all of Canada's major newspapers have gone behind paywalls in the past year, charging you to read the news they produce. We understand why. Making media costs money (see above). But if solid information is vital for our democracy, and the kind of journalism The Tyee produces can lead to positive social change, why would we want to limit who can access it by locking it behind walls and limiting our audience to those who can afford a set rate?
We think our voluntary, sliding scale Builders approach is much better. We are trusting that enough people will value The Tyee not only for what we post on the site, but the fact that our information is available to all. Your Builder contribution keeps the paywall down, and the window to a better future wide open.
Thanks for riding along advertisers, but you aren't driving
As ad dollars become more scarce, the big organizations are pressured to stretch their ethics to make advertisers happy. We are seeing more vaguely labelled advertorial type content on major sites, and we at The Tyee are concerned about that. We are extremely grateful to our advertisers who play a key role in helping the Tyee meet its bills. However, thanks to you and other Builders, advertising is a much smaller percentage of our overall revenues than it is for the Big Media. Taken together, Builder contributions are similar to what we receive from advertisers, striking what we think is an excellent balance.
Again thanks to you, we keep the flexibility to choose the advertisers who match the values we at The Tyee share with our readers. And, by the way, when we do partner with a business to publish material, we take care to make sure the enterprise shares our values, and we label the piece in a way to make clear the arrangement.
A brighter future for Canadian journalism, thanks to you
So those are just three of many ways your Builder contribution fortifies The Tyee against some nasty pressures other publications are succumbing to in today's difficult news media business landscape. Think of yourself, then, as not only someone who is helping to build British Columbia's -- and the nation's -- leading independent online source of news, culture and solutions.
You are also saying to all of Canada's journalistic establishment: Don't mess with what makes good journalism. Don't sell out your principles. Earn my support, and you'll get it.
Thanks for sending that message. At The Tyee, we hear you loud and clear.
Sincerely,
David Beers
Founding Editor of The Tyee

Independent journalism needs you. Become a Tyee Builder today for just $5/month