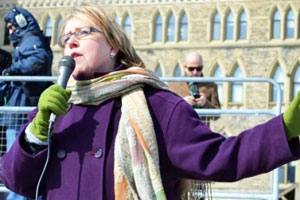 When Elizabeth May won a seat for Saanich Gulf Islands in the 2011 election, she became the first Green Party member in North America to win a seat in federal government. Meanwhile, Stephen Harper won a majority government with a minority of votes amid widespread allegations of voting fraud. Since then, one of the few things our elected representatives have been able to agree upon was to name May "Parliamentarian of the Year" in 2012, as determined by a free vote of all MPs.
A lawyer and long-time activist, May has written seven nonfiction books including Losing Confidence: Power, Politics And The Crisis In Canadian Democracy and How to Save the World in Your Spare Time. On Thursday, Oct. 17 at 5 p.m., she will give a free public lecture at UBC's Cecil Green Park House as part of the Utopia/Dystopia: Creating the Worlds We Want lecture series organized by the Creative Writing Program http://creativewriting.ubc.ca/ and Green College. As youth political participation plummets and a troubling cynicism towards democracy mounts, May will discuss what can be done to reverse a slide into "elected dictatorships."
The Tyee recently corresponded with May. Here is what she had to say.
On what Canadians should know about Stephen Harper:
"Stephen Harper remains something of an enigma. He is a highly disciplined individual. He is essentially an introvert and a loner, but is capable of forcing himself to appear in ways to enhance a 'likeability' factor that eludes him. Stephen Harper comes from none of our traditional Canadian political roots. Neither comfortable in the Progressive Conservative tradition nor Manning's populist Reform roots, he is essentially a libertarian. As Don Martin once commented in the National Post, 'He is a control freak with a mean streak.'"
On the PM's most dangerous decisions:
"The list of his decisions that have devastated Canada is a long one. The most damaging to our future -- because the build up of [greenhouse gases] in the atmosphere is irreversible -- has been his relentless decision-making against climate action: cancelling the climate plan in place in 2006, withdrawing from Kyoto, aggressively promoting growth in the oil sands, while slashing key environmental protections (gutting the Fisheries Act, repealing the environmental assessment act, eliminating the science advisor to the PM and the National Round Table on Environment and Economy, gutting the Navigable Waters Protection Act).
"Hugely dangerous is his signature on the not-yet ratified Canada-China Investment Treaty that could prevent future governments from repairing the damage."
On democracy vs. 'elected dictatorship':
"I would say that we are not 'at risk' of living under an elected dictatorship. We are living under an elected dictatorship. However, that dictatorship is not absolute. The good news is that we are still a democracy and have the power to reverse the dangerous trends. The excessive power exercised by the prime minister has made the Prime Minister's Office the central controlling force and absolute decision-maker in the federal government. This is a direct contempt of Parliament, making a mockery of the foundational principle in our system of government of the supremacy of Parliament. The same trends apply to premiers at provincial and territorial levels."
On whether a divided Opposition can get its act together:
"I live in hope. While it is true that the NDP and Liberals waste precious time attacking each other, I hope that we will be able to set aside partisanship for the good of the country. We should start by cooperating in the House, in advance of an election. I was able to gain full cooperation, something of a full-court press, in the non-stop 24 hours of voting to try to stop Bill C-38, the omnibus budget bill, in June 2012. Most commentators noted it was the most effective Opposition action against Harper to date. And it was effective because we worked together."
On her recent cross-Canada tour to 'save democracy from politics':
"It has been extremely encouraging that in towns and cities across Canada, town hall sessions on democracy have been packed. Canadians are not complacent and do suspect that something is very wrong in the state of our democracy. They are shocked when they hear that every single vote is conducted under orders -- in every single party. The reality that MPs in the main political parties are reduced to ciphers for the back-room spin doctors is an insult to every Canadian voter. We need to restore the fundamental principles of our democracy: the supremacy of Parliament, that the public purse is controlled by Parliament and that decisions are based on evidence.
"At the moment, Stephen Harper makes all the decisions, ignoring Parliament and evidence in pursuit of objectives that benefit corporate profits, and not the public good. Our global reputation is tarnished by his zealotry. It is unprecedented for Canada to be held up as an anti-science nation in journals from Nature to The Economist to the New York Times. His petulant 'won't take no for an answer' on Keystone sets a new low for relations between the White House and Canada."
On encouraging signs in Conservative benches:
"The most encouraging signs have been in the growing restlessness in Conservative benches. Brent Rathgeber's decision to quit the Conservative ranks to stand up for his beliefs (even though he and I will not agree on all issues) is enormously brave and a very positive sign. He and I do agree that parliamentarians need to represent their constituents and that democracy must be restored. So too does Mark Warawa (MP Langley B.C.) deserve credit for making a public plea to the Speaker to protect the rights of free speech for Conservative MPs. The fact that he was demoted, losing his committee chairmanship, and will likely continue to be shunned and demoted speaks to how brave that decision really was."
On what needs to be done:
"We need to restore Westminster Parliamentary democracy. We have a number of options. We could ban political parties altogether, since they are not even mentioned in our Constitution. Facing likely opposition to that, we could obtain pledges from Trudeau and Mulcair that they would change the Elections Act to remove the requirement for the leader's signature on nomination forms for candidates, to respect the principle that MPs represent their constituents as their first duty and their party secondarily. A pledge to chop the budget of the PMO from its current nearly $10 million a year to $1 million would be a positive step in returning to the supremacy of Parliament. We need to restore the principle that partisan political operatives do not harass or interfere with the independent professional civil service. We need to restore government science and the fundamental principle of evidence-based decision-making."