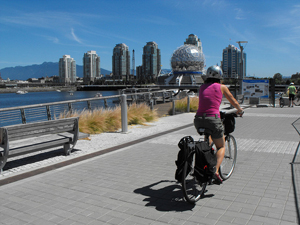 Vancouver city council gave the green light to the Point Grey greenway last night.
It took five meetings to get through the more than 200 people who signed up to speak on the matter; more, say city staff, than they've seen in a long time. In the end, six Vision Vancouver councillors in attendance voted for, and two NPA councillors voted against the 28-kilometre, $6-million cycling and pedestrian route connecting Spanish Banks with downtown. (Green party city councillor Adrianne Carr approved the project but voted against one section creating a bike lane on York Avenue.)
It is certainly not the first piece of bike infrastructure to raise the ire of many in this city. But the fact that most of the residents around Point Grey are affluent, white, and educated, the same demographic that is the most politically engaged, likely has something to do the particularly large fuss around this one.
While some opponents feel that altering Point Grey Road to only serve local motorized traffic will turn the area into a park for the rich and others exclaim that bike lanes only serve the measly four per cent of commuters who are cyclists, the truth is the majority of Vancouverites support creating more cycling infrastructure.
Cyclists a diverse group
According to TransLink, 66 per cent of people in Metro Vancouver either cycle regularly or would like to cycle more. Only one-third have no interest in cycling at all.
Generally, cyclists make up a more diverse group than those who have been voicing their concerns at city hall.
According to Kay Teschke, a professor at UBC's School of Population and Public Health, people with lower incomes are more likely to use non-car modes of transportation.
Her research has found that people with high incomes are also more likely to cycle, but this has more to do with their being educated about the health benefits of cycling than whether or not they can afford a personal vehicle or bus fare.
Research published in the Canadian Journal of Public Health, "By Your Own Two Feet: Factors Associated with Active Transportation in Canada," came to similar conclusions. "Where opportunities exist to walk and cycle, these findings suggest that low-income Canadians are more likely to make use of them."
Teschke's research has found that safer cycling infrastructure -- separated cycling lanes, and cycling paths on traffic-calmed, residential streets -- attracts people from a wider breadth of income, age, and gender.
At the council meeting on July 23, Jill Weiss from the city's Persons with Disabilities Advisory Committee said that the bikeway would only benefit people who are "young and fit."
In some ways, she's right. "In North America, cycling declines with age," said Teschke. But in Asian and European cities with better cycling infrastructure, cycling rates stay even over different age groups. Nearing retirement age herself, Teschke sees benefits for seniors to cycle, including fitness and mobility.
On the other side of the age spectrum, Teschke says children also benefit from better cycling infrastructure. This is because their parents feel more confident about their children's safety on the road.
Changing transportation habits
Gordon Price, director of the City Program at Simon Fraser University, says Vancouverites are only supportive of bicycle lanes when they don't personally inconvenience them. It's a classic case of NIMBY-ism: Not In My Back Yard. Or, as Price prefers to call it, IMBY-ism: I Might Be Inconvenienced.
When people are disrupted by city planning processes, says Price, they skirt the real issues and discuss issues on moral grounds instead. Hence the reason why we've heard opposition to the Point Grey bike lane on the grounds of access, ageism, and increased greenhouse gas emissions from idling cars.
Price admits that these arguments may have some validity. But that doesn't mean the final solution is to design cities for the sole purpose of supporting cars, especially as cities change and car travel becomes less relevant for different groups of people.
One of the biggest shifts we're seeing is with young adults. They're increasingly choosing to pay higher rent in the city so they can abandon their cars and walk, cycle, or take the bus instead.
Ultimately, offering different transportation options leads to cities designed to benefit a broader scope of people.
"We've spent the last century designing roads for the automobile," says Price. In his former days as an NPA city councillor, similar projects like traffic calming in the West End likewise provoked outrage. But eventually, all Vancouverites benefitted from them.
"The evidence is in. It's going to result in a better city."