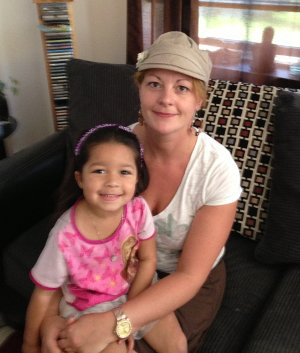 It's been five years since the cancellation of a plan that helped new mothers keep their babies while doing time at B.C.'s Alouette Correctional Centre for Women. Ever since, Patricia Block has been fighting a legal battle to have the Mother-Baby program -- which ran from 2005 to 2008 -- reinstated.
"While I was there I saw only good things with the program. I lived on the same unit as the baby and the mothers. It was a great program," she stresses.
In a telephone interview with The Tyee, Block recounts her story. She was at Alouette serving a drug-related prison sentence between 2006 and 2007, 2008 and 2009. By the time she found out she was pregnant, the Mother-Baby program had already been cancelled. Along with four other inmates, Block filed a claim with the B.C. Supreme Court maintaining that they had the constitutional right to keep their children with them while incarcerated.
Unfortunately, the claim took longer to get before the courts than she hoped. With only three months before her release, Block gave birth to a daughter, Amber, and was forced to give her up to a foster family.
"I still have nightmares that I am still in jail and I don't have my kids and I relive that feeling all over again. I don't know if I'll ever get over that," says Block. On May 27, five years after the claim was initiated, she and her co-claimants will finally get their day in court.
Reinstating the Mother-Baby program provincially is an important first step in making change to the Canadian correctional system, suggests Samantha Sarra, co-principal investigator with Bonding Through Bars, an international roundtable taking place in Vancouver from May 5 to 10.
The roundtable brings local mothers, like Block, who have experienced time in prison, together with their children and international advocates from as far flung as Australia, Kenya and Nepal to strategize and reflect on how best to protect the health and wellness of incarcerated mothers and their children.
Thousands of children separated from mothers
Though the risks of having a baby in prison seem great, researchers note that the majority of women are not imprisoned for serious crimes. Most are sentenced to prison terms for relatively minor offences including crimes committed for economic survival or to support addictions.
The national numbers are stark: a 2012 BC Medical Journal article estimates that every year 20,000 Canadian children are separated from their mothers due to incarceration. Additionally, studies have suggested that women who are separated from their children are more likely to return to prison.
"One of the things I found most striking by working with the [Bonding Through Bars] planning circle was the obvious correlation -- the women who were able to have their children with them, or even just be incarcerated at the time when the mother and baby program was running -- these are the women who are sober and out of jail and doing well," says Sarra.
"The ones who were and remain separated from their children are the ones who are struggling, ending up back in prison or losing the battle with addiction."
And, it's no better for the children. Supporters of the Mother-Baby program -- like Mary Ellen Turpel-Lafond, B.C.'s Representative for Children and Youth, argue that the experience of bonding with their mothers early in life impacts the infant brain. Others, such as Linda Korbin, former executive director of the B.C. Association of Social Workers argue that separating babies from their mothers can lead to long-term problems for children, "from attachment issues to emotional disorders."
Public forum on Wednesday
Sarra is optimistic about the outcome of the roundtable: "Finding solutions requires pulling at the roots of inequities that undermine the health of generations. We hope to foster greater understanding of the underlying socio-economic factors that contribute to the incarceration of mothers and work collaboratively towards change."
She adds, "We are also very excited that the true experts, women who have the lived experience will have a leadership role at the table. We believe it is equity practices like these that will be most effective in gaining valuable insights and working towards change."
Bonding Through Bars continues until May 11. The public is invited to attend a related panel discussion on Wednesday, May 8 and a documentary screening of No Burqas Behind Bars at the DOXA Documentary Film Festival on May 11.