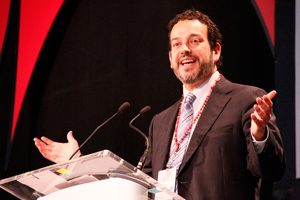 Two federal ministers yesterday jointly announced changes in the controversial Temporary Foreign Worker Program, including a "temporary suspension" of the Accelerated Labour Market Opinion program criticized by labour leaders.
But one high profile labour leader described the announced changes as "simply public relations."
Gil McGowan, head of the Alberta Federation of Labour told CBC news after the Ottawa announcements that "the Harper government has blinked, but it hasn't backed down."
McGowan and his federation hold a thick file of Accelerated Labour Market Opinions they gained by filing Freedom of Information requests to the Human Resources and Skills Development Canada. They say it demonstrates deep flaws in the process that allows companies to hire foreign workers ahead of Canadians who might expect to be paid more or have more flexibility to resist poor working conditions.
The 93 page document lists 4,839 employers across Canada approved to use the Accelerated Labour Market Opinion (ALMO) initiative in getting government permission to bring temporary workers into Canada from offshore. Although the ALMO program was described, when it was launched last April as applying to "employers hiring temporary foreign workers in higher skilled positions such as: management, professional and technical occupations," union researchers who have examined the document say that more than half the employers cited (often in the fast food, restaurant, hospitality and farming sectors) seem unlikely to require many foreign professionals and experts.
B.C. had the highest rate of employers using the ALMO fast track rated as "questionable" by researchers, with 628, or 65 per cent of the employers listed seen as dubious.
Labour organizations in B.C. and Alberta want the Auditor General to investigate.
Progam is 'discredited': BCFED's Sinclair
Canada's procedures for bringing temporary foreign workers into the country have attracted public scrutiny and criticism for the limited rights they accord agricultural workers and for recent scandals involving Canadian workers at the Royal Bank of Canada being required to train foreign workers who will take their jobs and for corporate attempts to bring Chinese miners into the country to dig B.C. coal.
The Temporary Foreign Worker Program, which has been greatly expanded since the Conservatives took power in 2006, "is discredited, and has lost public support," president Jim Sinclair of the BC Federation of Labour told The Tyee. "Since they came to power the Conservatives have been turning on the tap. Before then there was a very modest program that brought in actors, musicians and medical professionals, but now all of the top five categories of foreign workers being brought in are low skilled.
Sinclair says the latest Freedom of Information "revelations about the ALMO initiative demonstrate why the program is broken. It needs to be scrapped or reformed to return it to its original intentions. What we have in Canada isn't a worker shortage. It's a wage shortage. We shouldn't be turning Canada into a cheap labour zone."
In an opinion piece published in the Toronto Star on April 16, Canadian Labour Congress president Ken Georgetti agrees. "Today," he writes, "companies are employing nearly 340,000 migrant workers -- more than our annual intake of permanent newcomers. Between 2007 and 2011, 30 per cent of all net new jobs in Canada went to migrant workers -- during a period of high unemployment in this country. This is a concern. If employers need migrant workers to do jobs year after year, then let's admit it is not a temporary situation."
In 2009, Georgetti notes, Immigration Minister Jason Kenney announced that his department would publish online a list of employers found to be flouting the rules and they would be subject to sanctions. Four years later, he said, that "bad-boss" website doesn't contain a single name of a single company.
Kenney, along with Canada's minister of human resources, Diane Finley, made the announcement of program reforms yesterday (see sidebar).
'Lipstick on a pig'
But the Alberta Federation of Labour's McGowan told the CBC that that while a few of the announced changes marked small improvements, in balance the government was engaging in a public relations exercise, and in some instances, lying outright. McGowan said that when the ministers said that most temporary foreign workers were not being paid less than Canadian workers currently, the statement was "simply a lie." The program, even if the announced changes are fully implemented, will remain a "low wage program that exerts a structural downward pressure on wages," McGowan said.
"What the ministers did today," the visibly angry labour leader said, "was try to put lipstick on a pig."
Even Canada's top banker, Mark Carney, hardly a spokesperson for organized labour, has recently spoken out about the dangers of temporary foreign worker programs. The head of the Bank of Canada, soon to leave for a new posting in the UK, told a Parliamentary committee on April 23, according to the Globe and Mail, that the main purpose of the foreign worker program should be to help companies fill high-skill jobs for which there simply are too few Canadians who are adequately trained.
The program also should fill "temporary gaps" in the labour market, but avoid creating incentives for companies to avoid training Canadian workers, Carney said.
He added that the government must guard against abuse; otherwise, the effect will be to put downward pressure on wages, which in turn leaves companies with an excuse to avoid becoming more productive because they can keep up with demand by hiring cheap labour.
Fast food outlets prominent on 'accelerated' list
B.C. employers listed on the government document of ALMO users include McDonald's, Tim Horton's, Domino's Pizza, Burger King and smaller operations such as Solly's Bakery and Maurya Indian cuisine. Several of the employers appear to be blueberry farmers, despite the government statement when the initiative was launched that it would not apply to agricultural workers or workers in the film industry.
Several mining firms, including Goldcorp Inc., Teck Coal Ltd and the Western Coal Corporation are listed, as are the Big White Ski Resort and Sun Peaks. A few public bodies like health authorities and universities are also listed as ALMO employers, as well as Vancouver retail icons Lululemon and Mountain Equipment Co-op.
Margaret Wheeler, senior vice president at Lululemon, told The Tyee that her firm employs 102 workers from offshore, of which 75 were hired through federal temporary foreign worker programs. Lululemon was not able to provide detail on how many of these 75 workers entered under the new ALMO option before this story was filed, but estimated about 50 of the workers were covered by the new fast track arrangement.
The Mountain Equipment Co-op, meanwhile, told The Tyee that it had only used the ALMO option once this year, to hire a U.S. design and merchandise planning expert. Tim Southam, who speaks for the co-op, emphasized that MEC does not hire front line retail staff through the temporary foreign worker program.
Tim Horton's 'strong track record'
Many of the other listed ALMO employers did not respond to Tyee requests for comment, but Alexandra Cygall, who speaks for Tim Horton's, did reply by email. She told The Tyee that:
"The Accelerated-Labour Market Opinion is offered to employers with a strong track record in the Temporary Foreign Worker Program, such as Tim Horton's, in order for us to hire high-skill workers to fill positions of Supervisors and Managers. These individuals often have many years of industry experience and education within the restaurant and hospitality industries and are crucial to our business. Every Tim Horton's restaurant requires at least four supervisors and one manager to handle our 24/7 business.
Tim Horton's and our restaurant owners have been hiring Temporary Foreign Workers since 2005, mostly in areas where there is a shortage of labour such as the West. Our owners turn to the temporary foreign worker program after they have exhausted all other avenues to fill job vacancies locally.  Without this employment program, many Tim Horton's restaurants would not be able to operate full time or, in many cases, remain open at all."
Cygal said she was unable to tell The Tyee how many foreign workers Tim Horton's had imported because individual restaurant franchise owners did their own hiring. Similarly, Barry Longhodge, speaking for Domino's Pizza, said that the parent company at Domino's had not done any ALMO hiring itself and was unaware of whether any franchise holders in BC had hired using the new fast track program.
John Gibson, who speaks for McDonalds, told The Tyee that nationally, his firm employs just over 2,000 "international recruits," who represent 2.5 per cent of the company's 80,000 Canadian employees. Most of these, he said, are sourced through temporary foreign worker programs, but he was unable to specify how many of the 2,000 were procured using the new accelerated option. In an April 26 email, Gibson told The Tyee that:
"Our priority is always to hire local employees in every one of our more than 1,400 restaurants nationwide, however, in recent years, tight labour conditions in some markets require that we recruit abroad to ensure we're able to continue to offer the level of service our customers have come to expect from us. This labour shortage is not unique to the food-service industry. We make every effort to hire locally before undertaking international recruiting. Just this past April, we held our third National Hiring Day -- which is a major component to our recruiting practices -- and hired over 5,700 new employees."
Audit ALMO say labour leaders
McGowan, the president of the Alberta labour central that commissioned the research into the ALMO initiative, is sceptical. In a press release, the labour leader says.
"You look down this list, and it's McDonalds, Tim Horton's, A&W, Subway Sandwiches. Are we supposed to believe that these are 'high-skill' employment opportunities?"
McGowan is calling on the Auditor General of Canada, Michael Ferguson, to conduct a complete audit of the ALMO process, a demand that the BC Federation of Labour Jim Sinclair told The Tyee that he supports.