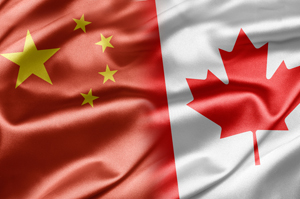 A list of popular villains from the 2009 climate talks in Copenhagen would almost certainly include Canada and China. Justly or not, both countries took much of the blame for the failure of the planet's leaders to negotiate a binding global warming treaty. The Climate Action Network, a global consortium of green groups, named Canada "Fossil of the Year" as the talks came to a close. "Tar sands beats climate every time," award presenter Ben Wikler said of the Canadian government. Observers were equally critical of China. Wrote Guardian newspaper reporter Mark Lynas: "China wrecked the talks, intentionally humiliated Barack Obama, and insisted on an awful 'deal' so western leaders would walk away carrying the blame."
Canada has done little to change public perceptions in the three years since Copenhagen. Environment Minister Peter Kent still refuses to put a cap on oil sands pollution. Emissions from the sector are expected by 2020 to grow 56 megatons. That's nearly three times the carbon footprint of Manitoba. A government report this summer predicted Canada will only get halfway towards achieving the climate targets it agreed to at Copenhagen. Meanwhile Kent has blamed China for global inaction on climate change. "They're not in favour of anything that would require them to make absolute reductions," he said at the 2011 Durban climate talks. "They have been very reluctant to step up."
China is the planet's largest emitter of greenhouse gas emissions. The country's carbon footprint grew by 720 megatons last year. That's greater than all the greenhouse gases released annually by Canada. Yet China has also made one of the world's strongest commitments to fighting climate change. Two weeks before the 2009 Copenhagen talks, it set an ambitious target: by 2020, to ensure each unit of its economic activity is 40 to 45 per cent less harmful to the climate than it was in 2005. "This is definitely a very positive step China is taking," Greenpeace East Asia said at the time. "But we think China can do more." Sources contacted by The Tyee in Beijing said China is very serious about meeting the target, despite its reluctance to accept an international climate treaty.
In 2011, China cut an estimated 1,500 megatons of carbon -- or more than double Canada's entire emissions -- from its climate footprint. The Communist leadership is also moving aggressively to put a price on the greenhouse gases it releases into the atmosphere, a policy Prime Minister Stephen Harper has repeatedly dismissed. China's efforts in this area, one Swedish study recently argued, "[are] one of the largest endeavours in climate economics ever."
In the lead-up to last summer's climate conference in Rio de Janeiro, one high-profile Canadian said Ottawa is lagging behind Beijing. "You are going to see [China] in Rio as amongst the progressive and responsible countries," Maurice Strong, a former under-secretary general of the United Nations, told The Globe and Mail, "and the contrast with Canada will be quite evident."
'Struggling for survival'
When it comes to climate change, China and Canada share more in common than you might imagine. Both countries occupy sprawling territories, which together comprise about 13 per cent of the planet's landmass. They have long coastlines, massive glaciers and, excluding Russia, the world's largest concentrations of permafrost. Efforts to protect either country's natural environment, argued a Canadian International Council paper, "[have] to be undertaken at a scale and complexity far beyond the scope of the comparable challenges facing countries such as Germany, Japan, and other populous but smaller nations."
Canada and China both face a similar economic predicament. China became the world's largest greenhouse gas emitter in 2006, and now releases about one-quarter of the planet's carbon. Canada's contribution is much smaller: about two per cent of the global total. But its per-capita emissions are the planet's fourth-highest, behind Australia, the United States and Saudi Arabia. Improving Canada's or China's performance will be difficult, because the economies of both countries rely heavily on international trade. About one-fifth of China's emissions are linked to the factory goods it produces and then ships across the planet. Oil sands production in Canada, the bulk of which goes to the U.S., is the country's fastest growing source of emissions, and one of the major impediments to achieving its 2020 climate target.
There are also crucial differences between Canada and China. The Canadian experience is one of gradual growth: a well-fed and sparsely populated country figuring out what to do with its rich natural resources. China is growing at a rate nearly beyond comprehension. It will likely add more than 350 million people to its urban areas by 2025, more than the entire population of the United States. The amount of new skyscrapers alone could be equivalent to building 10 New York cities.
Ride the subway in Beijing, and the crowds of youth checking Weibo on their iPhones might make you feel like you're in Toronto, or any other Western metropolis. But much of China remains desperately poor. Overall, its environmental situation is dire. "Culturally, the country has not caught up with the responsibility of this kind of growth," said Husayn Anwar, president of China operations for the Vancouver-based Westport Innovations, and a clean tech insider with over 20 year's experience in Asia. "The mentality is still one of struggling for survival or struggling to ease hunger." He added: "Yet we see on every front where China has tried to address environmental issues, it leads."
'Green' on command
The year 2006 was a landmark for Chinese environmental policy. It saw the adoption of China's Renewable Energy Law. It also marked the arrival of the 11th five-year plan, which officially set a new tone for development. "Rapid economic growth was achieved during the 10th Five-Year Plan period," read a press release from China's National Development and Reform Commission (NDRC), "yet it was achieved at the expense of resources and environment. It is imperative to make timely change to this growth mode." State planners declared that within five short years, China's economy would become 20 per cent more energy efficient than it was in 2005.
Chinese policy-making is much more centralized than in Canada. The Communist leadership in Beijing develops broad regulations and goals that must then be interpreted by lower levels of government. For centuries this delegation of powers has provided provincial and local officials some autonomy, giving rise to the Chinese saying, "The sky is high and the emperor is far away." Vested local interests can often clash with national goals. And corruption in China, a Canadian official in Beijing told me, is rampant. Yet pressure from the central government can sometimes be intense.
When the 20 per cent efficiency goal was first set, each province was asked to suggest its own energy-savings target. Unaware of just how much these targets would affect them, and looking to please the central government, many aimed extremely high. The province of Jilin, for instance, proposed a 30 per cent efficiency improvement (which central planners eventually lowered). Governors, mayors and other leaders were then evaluated on their ability to conserve energy. "For local officials," read an analysis on Chinadialogue.com, "there [was] a direct link between achieving these targets -- even by the skin of their teeth -- and keeping their jobs."
China fell just short of meeting its energy goal. Thousands of inefficient coal power plants, steel factories and other operations were simply shut down. In late 2010, many local officials began turning off electricity to businesses, homes and even hospitals. Anping County went further than most, cutting power indiscriminately for 22 hours every three days and telling residents to stock up on candles. "It was extremely inconvenient," one woman told the Guardian newspaper. "All the food in our fridge went off." Local anger over the blackouts was so strong that Zhang Ping, chair of China's NDRC, made a public apology. "We will not repeat such mistakes," he said. Yet China's drive to waste less energy remained. Its leadership last year called for a further 16 per cent improvement to energy efficiency by 2015. And more targets are expected in the 13th five-year plan.
Canada a 'laggard'?
This summer, the American Council for an Energy Efficient Economy (ACEEE) ranked 12 of the world's largest economies on their use of energy. China tied for sixth place with the European Union and Australia. Canada ranked 11th, ahead only of Russia. "What it shows overall," wrote Tyler Hamilton, editor of the Toronto-based Corporate Knights magazine, "is that the Great North Strong and Free is a big laggard when it comes to energy efficiency." Dragging down Canada's rating was its inefficient use of oil -- in fact, Canadians consumed more of it per person than any other ranked economy. Political leadership was also deemed to be lacking: ACEEE rated Canada's energy efficiency policies second worst of the group. Wrote Hamilton: "It reinforces our growing reputation as a major roadblock to serious action on climate change."
Canada's clearest sign of progress this year on global warming was also an admission of its shortfalls. By 2020, an Environment Canada report predicted, the country will get half-way towards meeting the climate target it agreed to at Copenhagen. That was actually a big improvement from 2011, when Canada was set to achieve only one-quarter of that target (a 17 per cent emissions reduction below 2005 levels). Yet this year's report also revealed a less positive trend: emissions from the oil sands are growing faster than the government previously thought. The sector's carbon footprint will reach 104 megatons by 2020, a 13 per cent boost from last year's prediction. To put that in context, Canada is set to miss its 2020 target by 113 megatons. Oil sands growth is clearly a factor.
The Conservative government is in the process of regulating each one of the country's industrial sectors. Forthcoming oil and gas rules "will further contribute" towards Canada's climate goals, the report said. How much though is unsure, especially given the recent outcry against Ottawa's coal regulations, which various green groups deemed "grossly inadequate" and "drastically weakened." Academics, climate analysts, green groups and even oil executives broadly agree that some sort of overarching policy -- a national system of cap and trade, for instance, or a carbon tax -- would be the most effective way to achieve Canada's climate commitments. Yet Prime Minister Stephen Harper has repeatedly dismissed such calls. "We have a government smart enough to reject dumb ideas like a $20-billion carbon tax," he recently told Parliament.
Chinese carbon trading
Attempts to put a price on North America's greenhouse gases were also rejected by the U.S. Senate, in 2010 -- but not by China's Communist leadership. Its version of a climate policy experiment is something that affects 256 million people. That's the combined population of five cities (Beijing, Shanghai, Tianjin, Shenzhen and Chongqing) and two provinces (Guangdong and Hubei) testing out some form of carbon emissions trading starting next year. "[This] is the most talked about policy in China nowadays," Ranping Song, team lead for the World Resources Institute's China climate and energy program, said in an interview. "If you go to a government official in charge of climate change, it's hard to talk three minutes without them mentioning it."
The ambitious global warming target China set in 2009 is one factor. True, Chinese negotiators helped derail the Copenhagen climate talks that same year. But Zhang Jianyu, program director of the Environmental Defense Fund's China office, sees no contradiction there. The climate talks, he said, "were a pure negotiation issue," a chance for China to air long-held grievances with the U.S. and Europe. Ensuring China's economy is 40 to 45 per cent less harmful to the climate by 2020 than it was in 2005, however, is a matter of national pride. "They made a commitment to the whole world," Zhang told me in Beijing. "Chinese people are really good at meeting their commitments, regardless of the costs."
The problem is that the central government is running out of options. Its first round of targets for energy efficiency (which supported China's carbon goals) were achieved mainly through top-down measures -- for instance, by shutting down inefficient coal power stations. "Basically, all the low hanging fruit has already been picked," Ranping said. The attraction of putting a price on China's carbon emissions is that it delegates responsibility to the emitters themselves. Factory owners know their operations better than the central government. They'll be more eager to fix inefficiencies if it saves them money. Added Ranping: "Command and control has its limits."
But will China actually be able to turn its seven pilot projects into a full-fledged carbon-trading scheme by 2020, as many experts are predicting? Efforts to set up a sulfur-dioxide market in the 1990s were flawed and ineffective. Most of China's carbon trading experience comes from the Clean Development Mechanism, an offshoot of the Kyoto Protocol, which since 2004, has allowed developed countries to invest in low-carbon projects. Nearly 46 per cent of those projects have been Chinese. Any lessons learned though "might be only loosely transferable" to a national carbon market, argued a recent study from the Stockholm Environment Institute. Still, it added, whether that market succeeds or fails "is one of the most important questions of environmental policy of our time."
Hope for the planet?
Three years ago, two scientists from California's Lawrence Berkeley National Laboratory traveled to a cement plant in central China. They were welcomed with a three-hour song and dance performance by the factory's employees. Listening closely, the scientists realized that the lyrics to one of the songs were about "closing inefficient factories" and "next year's clean production targets." There is hope in China that one of the most daunting challenges to face humankind can be overcome. If China can meet its global warming targets, and put a price on carbon compatible with similar efforts in the European Union, it's conceivable this can be a start to slowing the planet's temperature rise.
Yet there are equally compelling reasons to feel unsure. A recent analysis of Chinese government data revealed the country's carbon emissions could be almost 20 per cent larger than previous estimates. "The sad fact," read a study in the journal Nature Climate Change, is that this "will add extra uncertainty" for efforts to predict the impacts of global warming. Yet so does political inaction in Canada, argued high-profile Canadian diplomat and businessman Maurice Strong, on the eve of climate talks this past summer in Rio de Janeiro. "The issues we are dealing with," Strong told The Globe and Mail, "are fundamental issues of survival, of survival of conditions that make life as we know it feasible on this planet." He added: "The political will has not matched that."
Tomorrow: Can Canadian and Chinese cleantech researchers unite to stave off global warming? At UVic the experiment is underway.