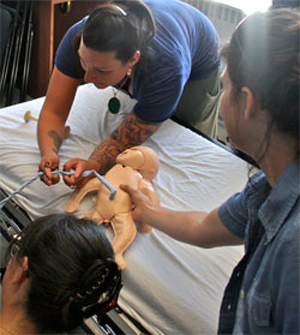 "Newsflash: all the hip mamas have midwives," the New York Times' Fashion & Style section proclaimed earlier this summer. According to the "paper of record," NY baby whisperers are no longer only associated with those leading freaky, hippy back-to-the-land lifestyles.
In Vancouver, it's no different: like all things local, organic and au naturel, midwives are now being embraced by a new generation of parents.
"I was excited about the idea about having a connection with my midwife and knowing that she would be there for the birth," says Krista Purcell, who delivered all three of her children -- Oskar, 6, Stefan, 4 and Lydia, 1 -- in her Fairview Slopes home with the help of midwives from the Midwifery Group and Pacific Midwifery Practice. "There was just something comforting about visiting my midwife -- it didn't feel like a medical process."
The rise in the popularity of midwives, coupled with the impact of the New York Times' report -- which noted that trendsetting supermodels like Gisele Bündchen, Karolina Kurkova and Christy Turlington are choosing them "like juice cleanses and Tom's shoes" -- couldn't be better timed for UBC's midwifery program.
One of only seven midwife training programs in Canada, UBC's program will celebrate its 10th anniversary later this fall. And armed with new provincial funding, it is set to double its enrollment over the next five years -- from 10 to 20 entrants per year -- helping to boost overall numbers of midwives practicing in the province.
"Right now we have a massive waiting list at our clinic and I don't know what that particularly is about," says Marijke de Zwager, a UBC midwifery grad now practicing at Pomegranate Community Midwives, a popular East Vancouver clinic that opened in 2006. "I think it's about the fact that there actually aren't enough midwives even in the city, but in most parts of British Columbia there's even less access to midwifery care."
'Catching babies' in BC
That said, B.C.'s midwives attend three times the number of births than the national average, and the province's 200 registered midwives represent nearly one-third of the number of all midwives in Canada. Still, advocates argue, B.C. midwives should be catching more babies.
"Midwives are doing roughly 14 per cent of the births in B.C., and we ought to be doing more than that because there are more normal births than that," says Ganga Jolicoeur, executive director of the Midwife Association of B.C. (MABC), an advocacy and professional body representing B.C. midwives. "That's not representative of the number of normal births that the population experiences and that's the area where midwives should and need to be serving communities."
If you're a healthy woman and likely to have a normal birth, B.C.'s Medical Services Plan will cover midwifery care, providing another option for moms-to-be. But what's the difference between an obstetrician and a midwife? While both are trained and licensed to deliver babies, the difference comes down to areas of specialty. Obstetricians are medical doctors and can deal with high-risk pregnancies and perform surgeries like C-sections; midwives embrace a holistic approach to birth, and work with healthy women with low-risk pregnancies.
Midwives also handle a smaller caseload. With only 40 to 60 clients per year they can devote more one-on-one time than obstetricians who handle much higher volumes -- many delivering upwards of 200 babies per year.
It was that additional attention that led Kelly Keenan to seek out a midwife for the birth of her second son, Emmett, after an obstetrician delivered her first son, William. "There was a lot more time to discuss things with the midwives -- to ask questions, discuss the birthing process and our plans, to talk about how we were feeling. This is a wonderful aspect of midwifery care."
"Overall my feeling is that more and more patients are going to midwives," says Dr. Winnie Su, a family physician with a specialty in obstetrics. "But I think also different providers attract different types of patients."
There are many reasons a woman might choose a midwife explains Dr. Su. "Some patients will admit to me they might need more hand holding throughout the process. For others it may be perceptions around the medicalization of birth: patients who really don't like having their pregnancies medicalized, that feel that there's more intervention when they're seen by an MD or those who feel that their MD may not subscribe to their philosophy of care and so [midwifery] is definitely a trend."
As new B.C. moms, like Keenan, become increasingly aware of the numerous options available with a midwife -- including having a hospital or a home birth, in a bed or in the water; having a birth with drugs or going without; longer pre- and post-natal consultations and breast-feeding support -- they are opting for a midwife.
Among these options, home birthing is perhaps best known. Yet for some, home births are controversial: conflicting medical studies have reached different conclusions about their overall safety. That said, home births are legal in Canada, and the B.C. government recently provided new funding specifically directed at increasing the number of home births in the province.
In recent years, the Ministry of Health has also distributed pamphlets to educate new moms about what midwives do, and the birthing options available to B.C. moms-to-be. Nevertheless, confusion about midwives' roles still exists.
"There's still a lot of people who think midwives are either some kind of Wiccan hippy, people who only do home births, or something that you have to pay for yourself," says de Zwager. "And I think we're trying really hard to change that message and to promote the idea that actually midwifery's just about women making choices around their birth."
Working as a team
"I think that the increase in midwives attending births is reflecting a decrease in family physicians wanting to attend," says the acting director of UBC midwifery program, Dr. Elaine Carty. "It's not like we're adding on new practitioners... I think we're filling a gap."
To compensate for fewer family physicians practicing obstetrics than ever before, the B.C. Medical Association and the Ministry of Health are offering additional training and monetary incentives for new doctors interested in incorporating obstetrics into their practices.
With fewer obstetricians available, hospitals in rural communities like in Nelson, B.C. are looking for new ways to help provide residents with top notch maternity care. Nelson's Kootenay Lake Hospital has become known for its unique collaborative model where, unlike most other places in Canada, midwives, family doctors and obstetricians all work together.
While midwives and family doctors do most of the prenatal care of pregnant women and do all of the uncomplicated deliveries, the obstetricians work on a consultative basis only for abnormal cases.
"In many rural hospitals there are so few obstetricians -- only about three per cent of OBGYNs practice in rural Canada," Dr. Raz Moola told The Tyee in a phone interview. Dr. Moola is one of two obstetricians at Kootenay Lake Hospital. "Given that, many of us don't do primary care because there are so many pregnant women out there so most of the care would be provided by a family physician, occasionally midwives."
As a result, Dr. Moola estimated that one-third of the babies delivered at Kootenay Lake Hospital are performed by midwives, which is more than double the provincial average.
The rural reality
Still, despite the lack of obstetric health care providers, midwifery is simply not an option for most mothers in rural and remote parts of B.C.
As a student midwife at UBC, de Zwager worked throughout rural B.C. including Prince George, the Fraser Valley and the South Okanagan. As co-chair of the Midwives Association of BC Aboriginal Committee she continues to work with aboriginal communities under-served by midwives.
She easily lists off many areas in B.C. in need of midwives including Prince Rupert, Williams Lake, Quesnel, the Sunshine Coast, north of Campell River on Vancouver Island and the entire northeastern part of the province, to name a few.
"In a lot of the province midwifery is not reasonably accessible. It's just not a practical reality -- you have to drive two hours to get a midwife. Yet, some people are committed to that," she says. "When I lived in Penticton, I had a woman come down to see me from 100-Mile to have her baby because she wanted a midwife so bad. But that's really far. She had to relocate her whole family for a month."
Currently, only 30 per cent of the MABC's membership self-identify as rural midwifery practitioners, but that may be changing. At the same time funding was increased for UBC's midwifery program, the association also received a provincial cash injection to try to find ways to improve the rural reality, like helping provide coverage for rural midwives who want to take time off.
"One can't assume that by simply pumping out midwives -- whether through a program like UBC, or through recruitment both internationally or through other provinces -- that all of the conditions for sustainable practice are there and exist. There are a lot of moving parts beyond just graduating students," says Jolicoeur.
Recruiting students to rural practice
According to program grads, the hardest part of training to become a midwife at UBC is the travel. A shortage of practicing midwives in the Lower Mainland to volunteer to train students during their clinical placements, called preceptorships, means most students end up in a number of far flung locales over their four-year program.
"Because the program is 50 per cent clinically based it means that students have to travel away for clinical placements," Dr. Carty explains. "We have to use as many people as we can who are willing to be preceptors, and also we have a belief that all of our students should have a rural experience."
Perhaps some, like Laya Bourguignon, will stay and begin to change that rural reality. A second-year midwifery student from Powell River starting a placement with the Birth & Beyond faculty practice at UBC, Bourguignon plans to bring her training at an urban clinic back to her hometown where she plans to practice when she graduates. Currently there are no midwives in Powell River.
"I'll have experience with higher volume practices than what I would have in a rural community," she says. "And the experience working in communities where midwifery is well established and seeing how the doctor-midwife-obstetrician team works, I think is really important. One of the things starting in a town that has never had registered midwifery is that it's brand new for everyone, and no one really knows how to fit the midwife in the medical system."
Regardless of preferred practice locale, since the UBC midwifery program began in 2002, it has seen all of its graduates find jobs. And so far most have stuck with the job, which Dr. Carty sees as a positive sign for the future of the program and the profession.
"All of the graduates have found a position, and that's been wonderful. The attrition from the profession has been very low, too, so that's pleasing. And if we were to look at six to seven years of graduates -- so between 60 and 70 graduates -- I'd say at least 80 per cent of them are still practicing as midwives, which is excellent. So that says to me that not only are our students strong academically, but that they have a commitment to midwifery that remains after they graduate. That's a commitment to the profession."