This is what it had come to. Fifty people were standing on the steps of the county courthouse in Paris, Texas, listening to speakers denounce TransCanada.
Up now was Debra Medina, a Tea Party conservative who had run for the 2010 Republican governor's ticket. Medina invoked the English common law concept of "lex rex versus rex lex... Does the king make the law, or does law dictate how we behave?"
"TransCanada thinks they're the king and they're the law. We've got law in Texas. This is a republic. We're governed by rule of law."
The demonstrators were an eclectic mix of rural Texas landowners and urban pinko organizers from Austin or Dallas. There were also a few scruffy students from RISE, a nearby student activist group in Denton. They had come to support a local landowner who was fighting to keep TransCanada from seizing part of her land.
To understand what a big deal this convergence was, you have to understand something about Texans. When it comes to making way for the ambitions of energy companies, we are riotously, stunningly tolerant. (We are, in this, a little like Canadians.) Doesn't matter if it's conventional oil or fracking -- you say "energy," we say "security." Oil built the state's economy, and still largely supports it. The oilman is next to the cowboy in the pantheon of mythic state archetypes. Especially in rural areas, if a pipeline company wants to cross your land, your response is, "Sweet. Free money."
It was a beautiful relationship. And then TransCanada came and screwed it all up.
Seizure by 'eminent domain'
In 2011, TransCanada land men came to Julia Trigg Crawford, a landowner near the town of Paris. TransCanada wanted to run the Keystone XL pipeline across her cow pasture. They offered her money for this, and she -- after having done some research on the Alberta tar sands -- told them no. Then, because this is Texas, they went to court and seized a strip of land through eminent domain. It was that easy. They didn't even have to go before a judge. The next step was: Crawford was invited to a valuation hearing to settle on a price for the land TransCanada was taking for the Keystone.
Had the circumstances been a little different, it is likely that the seizure of Crawford's land would have attracted no notice at all, just like every other questionable eminent domain seizure by a pipeline company for the last several decades. State law allows a type of pipeline called a "common carrier" -- a public pipeline open to any oil and gas company to use to ship product, at public rates -- to take land through eminent domain. This is a lot of power -- the point of eminent domain laws is to allow worthy projects to go through quickly, without being held up in litigation by landowners -- so you might think the designation of "common carrier" was subject to some sort of official scrutiny.
You would be wrong. In late 2011, a pipeline company called Denbury Green used eminent domain to cross a rice farm near Beaumont, in East Texas. The farm's owners took the case all the way to the state's conservative Supreme Court, which unanimously upheld the farmer's case.
In an oil and gas state like Texas, this was an astonishing upset. It was all the more so because the Supreme Court found that no one in Texas actually had the job of looking into a company's claims of being a common carrier. Somehow, this fact had escaped popular knowledge for no one knew how long. It should have been a really shocking development. But outside the pipeline world, no one really noticed. There was little coverage in the state media. There was no outrage.
But then, Denbury Green was an oil company from Plano, Texas. It wasn't called TransCanada.
Maybe that's just coincidence. But the fact is that when Crawford decided to fight back, people paid attention.
'Not your Canadian oil'
This time, the state and national media came calling. There were hearings at the Texas Legislature in Austin about possible abuse of eminent domain by pipeline companies -- Crawford went down to the State Capitol to testify. And when Crawford went to court last Friday, 50 people drove for hours to come sit -- or, in some cases stand -- through an all-day, brain-shatteringly boring eminent domain hearing.
It's not only that TransCanada was foreign. People were uncomfortable about the diluted bitumen the Keystone is supposed to be carrying. They watched Enbridge's spill on the Kalamazoo River in Michigan -- still not cleaned up, after two years and over $750 million -- and they're afraid of what a spill would do to local water resources.
But the fact that TransCanada was Canadian was the most incredible part of all, the disbelief icing on the outrage cake. It wasn't that the people I talked to were anti-Canadian, exactly, but the company's foreignness seemed to highlight the extent of the problem. During my day hanging around the activists and landowners afterward, listening to them discuss the case, I kept hearing people saying, "And they're from Canada." How bad have things gotten in Texas? Well, this is how bad.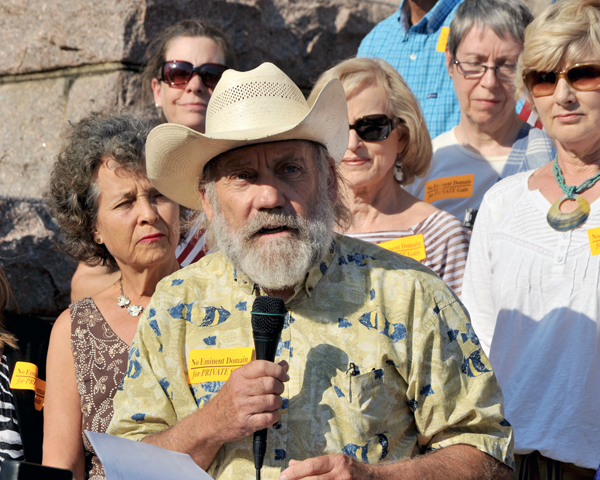 Had TransCanada's goal been to hand reform-minded Texans a marketable story they could use to show the rest of the state how screwed up our oil and gas regulation system was, they really couldn't have done it any better.
After Medina spoke, Tom "Smitty" Smith stood up. He was wearing a cowboy hat. Smitty was the state head of Public Citizen, the green advocacy group founded by Ralph Nader.
"These are pipelines carrying poisons, not for oil independence in our country, but for export, from a foreign land, through our pipelines, to a port that's going to ship them to foreign lands. These aren't common carriers for the common good -- this is a unique pipeline designed to benefit one company, and one alone."
"So are we going to be able to stand up and say... Not in our town, not in our communities, and not your Canadian oil in our pipelines."
'Two ships'
During the hearing, Crawford's lawyer, Wendi Hammond, argued that "common carrier" was a limited category, designed to apply to the small fraction of pipelines that carried oil from Texas producers, to the greater benefit of Texas. This argument seemed actually to anger James Freeman, the high-dollar Houston lawyer representing TransCanada. Freeman argued that TransCanada was a common carrier purely because they were a pipeline, and the public could use the oil. He denied that there was any difference between diluted bitumen -- a semi-solid, mixed with various toxic chemicals to make it flow -- and conventional crude oil. He argued, further, that if Hammond's arguments about the purpose of common carrier laws were true, she would be saying that "interstate oil isn't allowed in Texas pipelines."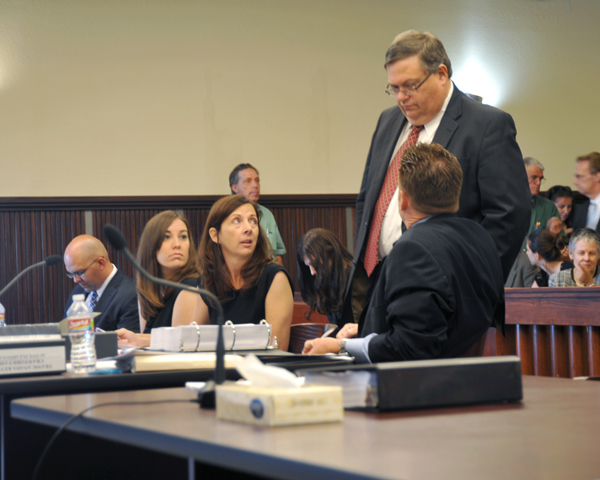 This is not language to soothe the feelings of landowners. Throughout the hearing, Freeman seemed shocked to even be in court. He didn't seem to understand why they were even having the discussion, why Crawford hadn't just taken the money and let the pipeline pass. He described his case and Crawford's as "two ships passing in the night."
Freeman is a Texan, and it's not like people in Texas are new to hearing tough talk from an oil company lawyer on behalf of his client. It's entirely consistent with how oil and gas interests have been discussed in public in this state for the 100 years, a language the oil industry employs in conveying the assumed fact that its interests are one and the same with the interests of all Texans.
For years, no one in rural areas much cared to question that assumption.
But that was before this case pitting the rural Texas farmer against the Canadian multinational. Suddenly, the conversation here has changed.