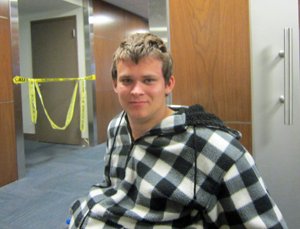 "I'm just here to listen," TransLink access transit manager Peter Hill quietly told a room full of transit passengers crowded into a bleak meeting room at Vancouver City Hall on June 19.
Many in wheelchairs or braced over walkers, and one strapped down prone on a mobility gurney, over 50 local users of TransLink's Lower Mainland services for people who require special transit had much to tell Hill.
They were there to denounce the regional transit body's recent decision to cancel the Taxi Saver program, a part of the services delivered to mobility-challenged passengers in the Lower Mainland.
Instituted in 1990, Taxi Saver allows people living with medical conditions that make it hard to use regular bus systems in B.C., and who are approved users of the HandyDart bus system (a system for the mobility-challenged established in 1980), to purchase $80 a month worth of vouchers for taxi travel at half price for $40.
(Full disclosure: this reporter worked as a Vancouver area HandyDart driver for two decades within the system overseen by TransLink. In 2009 I wrote for the Tyee about a HandyDart strike that was then underway in Vancouver.)
The decision to axe the program (made at a closed, in-camera meeting of the Translink Board of Directors on May 2) has currently been put on temporary hold to allow for public consultation after an outpouring of protest.
When the Taxi Saver cuts were first announced, TransLink indicated it was a budgetary decision that would save over a million dollars. More recently, TransLink has stated that money saved by cutting Taxi Savers would be re-deployed to finance improved HandyDart services.
BC Transit, which runs Taxi Saver programs across the rest of the province including Central Fraser Valley, Campbell River, Cranbrook, Chilliwack, Kamloops, Kelowna, Kootenay Boundary, Nanaimo, Penticton, Prince George, Prince Rupert, Vernon, Comox Valley, Summerland, Williams Lake and Victoria, has no plans to cut their programs, spokesperson Meribeth Burton told The Tyee.
Outcry at the forum
Attendees at the forum expressed anger about the way the original decision was reached and announced.
Activist and advocate Jill Weis told The Tyee that her group, the City of Vancouver's Advisory Committee on Persons with Disabilities, learned of the decision accidentally.
When TransLink did make a public announcement about the decision, it inaccurately suggested the proposed cuts had been endorsed by TransLink's own advisory committee made up of transit users that use HandyDart or Taxi Saver services, Weiss said.
"There was no real consultation on these cuts," she insisted. "Announcing a decision already made doesn't amount to consultation."
Speakers at the forum said that the decision to delay the cuts did not offer much comfort for Taxi Saver users, who want the decision permanently reversed and the program's funding protected.
"I have three words for BC Transit," a young woman in a wheelchair called out early in the meeting. "Cough it up."
She told Hill, "It is hurtful you would even consider canceling such an essential program," and urged him to fight for enough provincial funding to support both purpose-built HandyDart buses, lift equipped regular transit buses and the Taxi Saver program.
"As people with disabilities, haven't we lost enough already?" asked Neil Squire Society member Logan Van Dyk.
Designed as a supplement to the HandyDart lift-equipped buses, Taxi Saver vouchers have become a cherished option for many in B.C. living with mobility challenges. While trips on the HandyDart buses must be booked days in advance and can sometimes only be arranged for one leg of a needed return trip, the program allows users to make plans and get around the city without several days' delay for scheduling, or to make a one-way HandyDart booking work by using the vouchers to fund the return trip by cab.
TransLink's Hill said the period of consultation for the program would run into the fall, and a final decision would likely not be made until near the end of 2012.
Two more consultation sessions on the issue have been scheduled in Vancouver. The first ran yesterday at the West End Coal Harbour Community Centre, and a second is planned for Thursday, July 12 at 10 a.m. at Vancouver City Hall.
Consultations will also be held July 16 at Richmond City Hall and another on the North Shore takes place July 19. On July 18, the TransLink advisory committee will discuss the proposed cuts, Hill said.
Losing vouchers would 'clip wings'
Christine Waymark, a Vancouver psychologist who lives, in her words, with an "invisible disability," told the forum that she had several reasons beyond her own needs to be concerned about preserving the Taxi Saver program.
She works as the legal representative for a family member with multiple sclerosis, for whom the rigors of HandyDart travel can be too exhausting to bear, and another close family member is living with Alzheimer's and would be subject to depression if she lost access to the travel flexibility that the program afford.
Waymark also said the experience of some counseling clients who come to her office via HandyDart who are sometimes forced to wait an hour or more on the sidewalk for their return trip ride to arrive is another illustration of the need for the more flexible service provided by the taxi vouchers.
"I'm legally blind," said a tall woman in dark glasses who identified herself as Lilo.
Lilo said that while living in the suburbs, the vouchers (sometimes informally referred to as "Taxi Savers") made it much safer for her to go out than if she had to rely on city buses, which often drop her blocks from home.
"Taxi Savers help women with safety and security," she said. "Losing Taxi Savers would clip my wings."
According to Weiss, Lilo is not alone in facing real loss if the Taxi Saver program is eventually cancelled after the current period of consultation runs its course.
"Taxi Savers are the most cost effective part of the transportation system for seniors and people with disabilities. Why would they eliminate the least expensive part of the system?" Weiss said. "Taxi Savers provide essential transportation for vulnerable people at half the cost of any other option. This would not be a responsible use of taxpayers' money."
Weiss cited figures from the Canadian Urban Transit Authority's report on specialized transit services in Canada in 2010 to support this claim. The report shows, she told The Tyee, that a ride on a dedicated HandyDart vehicle costs the system over $30, while a ride using Taxi Saver vouchers costs the system just over $8.
Tim Johnston, president of local 1724 of the Amalgamated Transit Union, which represents HandyDart employees, was at the forum to express his members' support for continuing the Taxi Saver program. He told the crowd that TransLink had reduced service since 2010, when it delivered 653,000 hours of service. Since then, the hours of service has been capped at 598,000 annually, and that cap extends to 2016.
"I find it disconcerting," Lorette Yelle, a long-time user of HandyDart and Taxi Savers, "...that these decisions are being made by people who don't have to use the services. I challenge TransLink decision-makers to use the system exclusively for a month, and then tell us how they like it."
[Tags: Transportation, Health.]