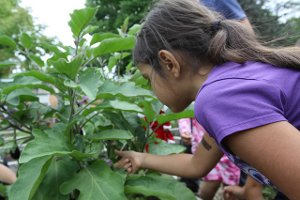 It's Salad Bar Friday at Grandview/¿uuqinak'uuh Elementary, but hardly any of the kids are making salads.
Instead most keep their vegetables carefully, almost obsessively, segregated on their green plastic trays and consume each item -- kale, carrot, apple and sunflower seeds -- in turn. It's a funny quirk about kids, observes Brent Mansfield, the school's garden coordinator, but as long as they're eating their veggies, he's not about to complain.
School gardens are now funneling vegetables into classrooms and cafeterias at an unprecedented rate, or at least, at a rate unseen since the Second World War.
The City of Vancouver alone has 55 school gardens, according to Kevin Millsip, the school board's sustainability coordinator. And increasingly, educators and administrators see schools playing an important role in addressing food security in the wider community. Mansfield calls schools "natural community assets," with land for growing, kitchens for cooking, and parking lots and covered play areas that could serve as CSA pickups or food-buying club depots.
"We want to go beyond just providing food," says Mansfield. "We also want to help support parents. This is going to have a greater life than saying, 'here's free food.' "
Grandview/¿uuqinak'uuh is the fourth most vulnerable school in the city, based on the number of children enrolled who are in foster homes or homes receiving income assistance. As such, it qualifies for a hot lunch program funded by the Ministry of Education's CommunityLINK program.
The program provides catered meals five days a week, which are reheated and served by school cafeteria staff. Parents are asked to pay for meals if they are able -- via an envelope that kids take home -- but 70 per cent of those at Grandview/¿uuqinak'uuh do not, says principal Ronnie Ross.
The school accesses a host of other food programming pieced together from private donations, charitable grants and public dollars. The result is enough food to provide each of its 170 students with breakfast, lunch and an after-school snack every day.
In addition, the school runs a food-buying club, where families and staff pool their dollars to buy wholesale vegetables once a month, and monthly potlucks open to all families.
"A lot of people," says Ross, "want to feed hungry children."
Upping the bounty
Aside from the moral imperative to feed hungry kids, it's good public policy as well. Numerous studies demonstrate how important good nutrition is to learning.
Mansfield's position is funded through the Shannon Martin Community Health Fund, a trust administered by Vancouver Coastal Health. According to Mansfield, it's the only paid position of its kind in the province.
"I'm fairly well-connected to know that there's other people out there doing similar work, but not in a capacity where they're operating out of a school and are publicly funded," says Mansfield, who also serves as co-chair of the Vancouver Food Policy Council and as a community liason for UBC's Think And Eat Green at School project.
The position has allowed him to take things "that much further."
In the four years since he was hired, Mansfield has grown the community garden by 12 new plots, all of which are used by families whose kids go to the school. He says he does "a fair amount of grant writing" for garden projects. A recent Vancouver Foundation Generation Green grant helped expand food production at the garden. Students started a pumpkin patch and learned how to grow and harvest buckwheat.
The salad bar program has allowed the school to supplement what's coming out of its own garden and allows the school to go "above and beyond" what the provincially-funded school meal program offers.
The meal program hits the basic provincial standards, which fall under the Guidelines for Food and Beverage Sales in BC Schools created in 2007 and revamped in 2010. The guidelines apply to all food and beverages sold in B.C. schools, or at school events, and are aimed at reducing the amount of sodium, fat and sugar.
"We think we could do better than that," says Mansfield. "I think financially it's not really that viable. So to me, it's how can we supplement."
From farm to desk
Grandview's salad bar is part of the Farm to School program administered by the Public Health Associaton of B.C. (PHABC) and funded through the Ministry of Health.
According to provincial coordinator Joanne Bays, Farm to School provides resources for teachers or administrators who want to start a salad bar program, and over the past five years has provided more than $500,000 in seed grants to help schools get started.
The grants, which range from $1,500 to $20,000 cover kitchen equipment, like a salad bar unit or a refrigerator and start-up costs (for the co-ordinator, or for promotion) for the first six months of the program.
The funds do not cover food costs or coordination over the long term, but schools have been successful in keeping them going. Farm to School first launched salad bar pilot programs in 2008, at 16 schools across the province. All but one are still going, says Bays, and six more have started up.
It's up to individual schools to find farmers to partner with. In Vancouver, Fresh Roots Urban Farm is the main grower for the program. Grandview/¿uuqinak'uuh currently purchases produce -- typically beets, carrots, kale and other seasonal greens -- from Fresh Roots, which delivers the goods via bicycle.
Fresh Roots has been able to take school gardens to the next level. Earlier this month, it signed a partnership deal with the City of Vancouver, unique in Canada in that it allows the non-profit to establish a market garden on school property.
The quarter-acre garden will serve as a teaching space, but the produce grown there will be sold to Vancouver Tech and others schools through the Farm to School program. They intend to focus on Asian greens, salad greens, beets, carrots, garlic and other vegetables that will grow in parallel to the school year, so students can reap the benefits of a fall and winter harvest.
Fresh Roots also has a garden project at Queen Alexandra Elementary, and organizers say another market garden is being planned for David Thompson Secondary.
Rob Wynen, a school trustee with the board, called it "a wonderful example of the VSB taking an unsuable space and repurposing it into something that's aesthetically pleasing, educationally engaging and sustainable" -- especially at a time when the board is facing declining enrolment and financial challenges.
The city, school board and Fresh Roots are now working towards an agreement that would enable Fresh Roots to also sell direct on school property. Mansfield said this would further improve access to fresh organic produce, not just for students but the surrounding neighbourhood.
"Regulations, definitions and guidelines need to come together," says Mansfield. "It's not done but it's in the pipeline. It's coming."