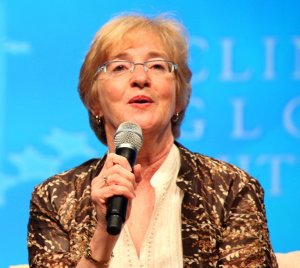 There is a saying where Vidalina Morales de Gámez comes from, that you can live without gold but you can't live without a glass of water each day.
Where she comes from is El Salvador's Cabañas region, which for much of the last decade has been the scene of a struggle between Vancouver-based Pacific Rim Mining Corporation and those who oppose the planned El Dorado gold project they say threatens already scarce water supplies.
The National Roundtable against Metallic Mining in El Salvador (La Mesa) member found herself in Vancouver this past weekend, six years into her involvement in the fight, standing on the southwest corner of Dunsmuir and Howe, the place her opponents call home, demanding that they stay out of hers.
"For us, it's so difficult to come here," she told The Tyee just after megaphoning her message in Spanish to a crowd that organizers pegged at a little under 200. "But they come to our land with such ease and do what they want. It's unbelievable."
Taking the fight to Pacific Rim's turf, even on a Saturday when the offices were closed, was a bittersweet experience for the 44 year-old mother of five. It was a release, she said, but there was also fear.
"I felt nervous because they are watching those of us who are on the frontlines. So there is fear because of what's happened in our country."
Among those happenings are the unsolved murders of three anti-mining activists, alleged death threats against others and a multi-million-dollar lawsuit brought before a World Bank arbitration panel by Pacific Rim against the government of El Salvador for refusing to issue the required environmental permits. That legal battle entered a new phase last week.
The buck stops here
Morales's battle was just one of many providing the inspiration for Shout Out Against Mining Injustice, a two-day Vancouver event hosted by the Council of Canadians "aimed at exposing the appalling environmental and human rights abuses of Canadian mining companies."
The list of speakers included representatives of mining-affected communities from Chile to Northern Ontario, as well as environmental and human rights activists, a member of parliament and a union boss.
As the name suggests, Shout Out Against Mining Injustice was not about finding a middle ground on which to meet mining companies. Instead, the focus was on building international solidarity among communities affected by Canadian mining projects, as well as with a wider set of environmental and human rights allies.
The day before the Pacific Rim protest, the event kicked off with a demonstration led by members of the Tsilhqot'in Nation outside the offices of Taseko Mines Limited, where the company hoping to establish the New Prosperity mine in B.C.'s Cariboo-Chilcotin region was holding its annual general meeting.
In addition to such direct action, there was much discussion of injustices ranging from alleged assassinations to the destruction of sacred indigenous sites. A recurring theme in such accounts, apart from the depiction of Canadian companies as ignoring the rights of poor and indigenous populations, was the sense -- as with both El Dorado and New Prosperity -- that even when a government initially says no to a project, the local population cannot rest easy.
Given that three-quarters of the world's mining companies have their headquarters in Canada, Maude Barlow, the national chairperson of the Council of Canadians, called the struggle for responsible mining "the defining fight of our lives." And a number of panelists spoke of the ways, through investments and pensions, that average Canadians contribute to and benefit from mining profits.
"Your resources fund these companies, so you are co-responsible for legal action against them," said Silvia Quilumbango, president of the Ecuadorean environmental group DECOIN, which recently helped bring an unsuccessful lawsuit in an Ontario court against the Toronto Stock Exchange for complicity in alleged human rights abuses by the now-delisted Copper Mesa Mining Corporation.
Effecting change
But of course, courts can only dispense justice as defined by the laws they are charged with upholding. And these laws, according to Sack Goldblatt Mitchell LLP's Steven Shrybman, are increasingly stacked in favour of corporations.
The main culprit, as he sees it, is the vast and growing global architecture of "pernicious" international trade agreements that have emphasized corporate rights over responsibilities during the past two decades. A "patchwork" of about 3,000 such deals designed to "circumvent the domestic judicial process" has essentially created a de facto multilateral agreement on investment, despite that proposed pact's apparent defeat back in 1998.
According to Shrybman, there are three potential pressure points for grassroots efforts to push for greater corporate accountability in the extractive sector: the companies, the federal government and the courts.
He advised "monkey-wrenching any dispute that you can," citing his fellow panelists' calls for a public campaign to shame Pacific Rim into dropping its lawsuit against the government of El Salvador.
But as a lawyer, he favours a "more systemic approach" than simply going after individual companies. Because he believes that courts can be affected by "noise" from the population, he thinks average Canadians can help "re-energize" domestic courts to take on corporate abuses committed abroad. He pointed to last week's filing of a lawsuit by a group of Ecuadorans against Chevron in an Ontario court as a positive sign, even though neither plaintiff nor defendant is actually Canadian.
As for the government, Shrybman argued the ideal course of action would be for it to repudiate international trade agreements. But failing that, he sees Burnaby-New Westminster MP Peter Julian's proposed bill C-323 as a step towards redressing "the grotesque imbalance between the rights of corporations and the rights of the state."
Culture shift
Julian was also in attendance at the conference to discuss his bill, which is modeled on the U.S. Alien Tort Claims Act (ATCA), an arcane 18th century law that has been resurrected in recent years by lawyers trying to hold corporations to financial account for their actions in other countries.
But Julian knows he is swimming against the tide with his proposal. With the conservative-leaning U.S. Supreme Court set to re-hear arguments in a lawsuit brought by Nigerian plaintiffs against oil giant Shell, the ATCA itself could soon lose its new-found potential as a tool for punishing overseas corporate wrongdoing.
More immediately relevant to the Canadian context is the current make-up of parliament. Julian said he was "vilified" by Conservatives for his decision to attend Shout Out Against Mining Injustice. Indeed, in the House of Commons on Friday, Fort McMurray-Athabasca MP Brian Jean said Julian "should be ashamed of himself...Attacking the natural resources sector, he is attending a Council of Canadians conference that actually opposes the mining industry and Canadian companies around the world. The member for Burnaby-New Westminster is spending his weekend attacking trade and our resource sector."
As a result of the prevailing political climate, Julian said he is not planning to push ahead with his bill "in the next few months," as he sees little prospect of passing it at present. Nevertheless, he ended his speech with a short, big promise: "We will achieve mining justice in Canada."
For that justice to extend to her tiny country, Morales believes Canadians may need to change more than their laws.
"In El Salvador, we don't have the luxury of just going to the corner store or mall to buy what we need. We have to produce it," she said, looking out a window onto Vancouver's industrial waterfront, as though she needed a reminder of Canada's fixation on economic growth. "I think that people here often don't realize that or open their minds to seeing the world in a different way."