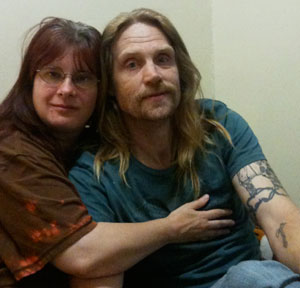 Al Fowler and Nicole Williams were primed and eager last Friday to tell authorities at the British Columbia Residential Tenancy Branch about what they had to endure as residents of the Palace Hotel owned by George Wolsey. Rats. Bedbugs. Cockroaches. Intimidation and even, they claim, methadone prescription fraud by their landlord.
Fowler and Williams are two of a dozen tenants launching a group action against Wolsey through the RTB. Wolsey owns the Palace as well as the Wonder Rooms, another dilapidated, hazardous rooming house in Vancouver's Downtown Eastside.
But Fowler and Williams will have to wait for another day to have their say. Wolsey managed to dodge their RTB showdown by claiming he wasn't the owner of the Palace or Wonder Rooms and had never received the evidence packages delivered by Pivot Legal lawyer Doug King, the claimants' attorney.
In fact, The Tyee obtained corporate documents that list Wolsey as a director of two companies, one that owns the Wonder and one that owns the Palace. Still, his tactics mean Fowler and Williams won't get to air their grievances to the RTB for weeks.
But it's not stopping them from speaking out. Over the course of two days in several settings, including the couple's new home, a room in a different Vancouver SRO, I heard their harrowing account of life under what Fowler calls "Wolsey's regime."
They say Wolsey subjected them regularly to bullying, threats and intimidation.
That Wolsey paid tenants below minimum wage under the table to do renovation work that was unhealthy and dangerous.
And that Wolsey exploited addicts, including Fowler, by controlling their access to methadone.
"George Wolsey figures, because of the way he runs his little regime there, he's the boss," says Fowler. "Nobody talks down to him, nobody contradicts him."
$25 for an eight-hour shift
Fowler says he's not afraid of Wolsey. Never has been. "I'm about the only person that ever stood up to him, that ever argued with him and told him what I thought. Everyone else is totally intimidated by him."
But Williams says it's not just Wolsey she's afraid of. It's the muscle he brought to meetings and the front desk clerks he paid a pittance to enforce the rules.
"Any time he had something to say to Al, he'd bring somebody with him," Williams recalls.
How does Wolsey convince other Downtown Eastside residents to do his dirty work? "It's because he gets the ones on the rocks," says Fowler. "He gets the junkies."
"He says 'Hey, here's 20 bucks,' and if a guy wants his dope, he wants his dope, you know. He doesn't care.
"Everybody working for him is on welfare. People who are on regular welfare are not allowed to make any money," Fowler says. Wolsey would tell addict tenants on welfare, "Here's your little pennies because you can't report it anyway and your rent is already paid for [by welfare]."
Fowler says he used to work for Wolsey, doing odd jobs and renovations at the Palace Hotel. He says he was paid between $3 and $5 an hour.
Fowler motions toward Williams. "She'd do an eight-hour shift at the Wonder Hotel. Twenty-five dollars for an eight-hour shift at the desk. And it's not like four hours and then go have lunch and come back. It's like eight hours straight."
While Fowler speaks, Williams gestures, holding her hands out in front of her, a foot apart, mouthing the words, "Rats that big."
Wolsey had other work to offer his tenants -- cleaning filthy rooms after residents had moved out, or died. The pay for that job was as low as $5 per room.
"One room, I filled a whole dumpster. I wore a Hazmat suit because of the bugs and everything else." The bugs included cockroaches that left "corners just thick black with their residue." And bed bugs so epidemic that Williams and Fowler lost all their own possessions to an infestation.
The "everything else" included rodent feces.
One shower, one toilet, 32 residents
Working for Wolsey meant, some days, scrambling to make inhumane conditions pass city inspections. Fowler remembers one instance when inspectors were on their way and Wolsey reached him in his cell, asking, "Can you unlock that bathroom and make it look like it's workable?"
How did he make a shower that didn't work look like it did?
"You put a little water in the tub, unlock the door, take the signs down, spread a little water around to make it look like it's freshly used."
Did it work?
"No. It wouldn't drain." That was one of only two showers for the 32-room hotel.
"Four months without a shower upstairs," Williams recalls. "The shower wasn't working and the toilet we couldn't use because they were in the same room. And one shower downstairs."
'One vicious circle'
How did Fowler and Williams get drawn into life under Wolsey's regime, and why didn't they leave? When they moved into the Palace about a year ago, they say, it looked better than the alternative. And for Fowler, maybe it was a route out of heroin dependency.
"We were living in a shelter before," Fowler says. "We were there and I ran into a friend of mine, and he said 'You know, there's this building, but you have to be on methadone to get in there.' Well, I had a bit of a habit so I thought sure I'll get on methadone."
"That was basically to get housing. Well, that turned into one vicious circle."
Today Fowler has a phrase to describe methadone dependency -- "Liquid handcuffs." At the Palace, George Wolsey held the keys.
Wolsey forced residents of his SROs who are on methadone to fill their prescriptions through him, Fowler says. A hidden camera investigation by the CBC found Wolsey, a licensed pharmacist at the time, used kickbacks and coercion to ensure tenants filled their prescriptions through him. The CBC reported that requiring methadone dependent residents of the Wonder Rooms and Palace Hotels to fill their prescriptions exclusively with him earned Wolsey $16.30 for each daily dose doled out from his Gastown pharmacy -- adding up to about $6,000 a year per methadone user.
"Striping, that's what they call it," says Fowler of the $10 Wolsey paid Fowler to fill his methadone prescription. "They can't call it a vig, or kickback. It's your striping."
Some residents living in Wolsey's boardinghouse caught filling their methadone prescriptions anywhere else were swiftly evicted by Wolsey, the Residential Tenancy Branch found in 2008. Wolsey was eventually pressured into ending his participation in the methadone program.
Wolsey no longer is a licensed pharmacist.
But Fowler and Williams claim that methadone users at the Palace continued to be pressured and exploited.
Explains Williams: "The pharmacist comes to the hotel at 8 or 8:30 in the morning with the methadone for the people. It's a pharmacist from whatever pharmacy [Wolsey] is dealing with. There's always two, because methadone is worth a lot of money. They deliver it."
"The doses are in white plastic bottles," Fowler adds. "And you can't tell what the dose is. When you get your methadone at a [real] pharmacy, you get it in a brown bottle and it has the measurements on the side."
But not if you lived at the Palace. Fowler says that when Wolsey was unhappy with him, he'd find his methadone doses watered down, sending him into fits of withdrawal.
"When you've been on methadone for months, you can taste the difference," he says. "You can tell when it's been watered down."
A new city task force is preparing now to investigate more thoroughly methadone fraud in the Downtown Eastside.
"All of this stuff is going to come out when they start looking into the methadone," says Fowler. And the fact that Wolsey told him to keep his mouth shut about it, only increases his desire to see his former landlord held accountable.
"George tells me one day, 'When I talk with you, you keep your counsel.' Like whatever he says I can't repeat. Only criminals use terms like that. Cause if you're not a criminal why do you care what's said?"
Calls to Wolsey's hotels requesting an interview were not returned.
'SROs are SROs'
The Palace Hotel and the Wonder Rooms are slated to be renovated in September when the non-profit Community Builders Group takes over control. It's a solution that took years and a court-ordered injunction to achieve.
The Community Builders Group has a portfolio of SRO buildings in the Downtown Eastside already, all of which were in similar condition when they took them over, says Gordon Wiebe, speaking for the group.
Fowler and Williams, in the meantime, are still getting used to the SRO they have called home for a little over a month now. At about three metres long and wide, there's barely space for a queen bed in their room. George Wolsey is no longer their landlord. Still, "SROs are SROs," says Fowler. "They're supposed to be for transient people. They come in and then they find a decent place and they carry on. They weren't supposed to be permanent housing."
"It's clean," says Fowler of their current home.
"No rats, no mice," adds Williams.
"But for how long? Another year?" asks Fowler. To which Williams replies: "Oh I'm not staying there for a year. No, no, no, no."
Fowler says other SRO buildings in the Downtown Eastside have been fixed up, only to fall back into disrepair.
"I lived in the Patrick Anthony years ago when it was first renovated. It was nice when we first moved in there. But a few years later, I'd moved up North, and I come back down to Vancouver, and one of my friends is still living in the building, and it's just as run down as any other one."
Williams is fed up with SROs, scared of the other tenants and wants to live a normal life.
"I hope to be in something that's livable," she says. "An apartment or something. Out of this area. I do not want to stay in this area."
"We just need some affordable housing," says Fowler. "That's all we want."
But Fowler and Williams aren't prepared to abandon their community without fighting for it first.
Since taking a prominent role as part of the public face of legal action against Wolsey, Fowler says he feels like people are relying on him.
"I've found that since getting on board, I don't want to do dope, because people are starting to recognize what I'm doing now. I can't be wandering around like a strung-out idiot anymore," he says.
"Nobody else from the Palace or the Wonder are stepping up as much as we are. We got to show them that it's worthwhile for the people from other buildings, you know, so they can stand up and say 'Yeah, but we live in this crap, too.' Well, good, we can get it fixed up. Just tell the people."
Fowler is looking forward to getting his chance, whenever it does come, to spill his story about life under George Wolsey's regime to the Residential Tenancy Branch hearing. He expects there may be fireworks from Wolsey.
"When people with power start talking down to him, he gets a little irate," says Fowler.
Whether or not the RTB hearing leads to compensation, Fowler says that "after I've stuck my neck out this far, I'm going to stay hooked up with the community."
Fowler is infected with Hepatitis C. He says he is focused on getting his life back together after years of drug abuse, time spent living on the street and in prison, not to mention the ordeal of inhabiting the Palace Hotel.
He figures he has 20 years "before I have to retire." In the meantime, he harbours one "secret, crazy" plan. Al Fowler thinks he might just run for city council.