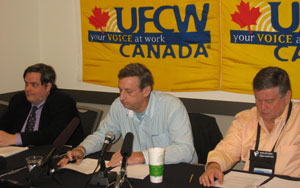 The office of the consulate general for Mexico in Vancouver has been involved in union busting activity among Mexican workers brought to B.C. under federal temporary worker programs, charge lawyers acting for the United Food and Commercial Workers union.
Mexican labour officials, it is alleged, have "choreographed" attempts to de-certify union contracts at B.C. farms. The allegations are contained in complaints filed with the B.C. Labour Relations Board on April 19 and 28.
According to documents filed with the board, the government of Mexico, through its Ministry of Labour, violated sections 6(1) and 9 of the provincial labour relations code when it instructed Honorio Corona Martinez, a worker enrolled in the Seasonal Agricultural Workers Program (SAWP) and employed in Canada by Floralia Plant Growers Limited of Abbotsford, to initiate a union decertification campaign at Floralia, where the UFCW currently represents workers under an agreement adopted in September of 2009.
The Mexican government, the document says, threatened Mr. Corona that if he did not advance the decertification campaign, he would not be allowed to return to Canada to work. Because of the alleged interference by the Mexican government, the union is calling on the board to dismiss the application for decertification. The union contends that a similar union busting scheme was implemented at Sidhu and Sons Nursery in Mission, and calls upon the board to strike down the application for decertification there as well.
Floralia and Sidhu are the two employers in B.C. where the UFCW has successfully won contracts to represent temporary foreign agricultural workers. The Tyee made calls to both Floralia and Sidhu, seeking comment on the union allegations. Floralia did not return calls, but Mike Watt, Sidhu and Son's lawyer, did get back to The Tyee with his client's comments.
"Any claim of conspiracy between Sidhu and Sons and the Mexican government is absolutely false," Watt told The Tyee by phone. "There's nothing to it. Sidhu and Sons will deal with this matter through the Labour Relations Board process, and we expect the complaint to be dismissed."
Blacklisting alleged
The union has successfully organized nine agricultural work sites in Quebec, and operates 10 storefront organizing centres for agricultural workers across the country, including three in B.C. The organizing centres helped farm workers with more than 40,000 complaints last year, according to union president Wayne Hanley.
"Our evidence shows that the Mexican consulate has blacklisted union supporters and kept them from being able to return to work in B.C. this season," said UFCW local 1518 president Ivan Limpright.
In a submission to the Labour Relations Board, union lawyers contend that:
"The United Mexican States ("Mexico") has violated the Labour Relations Code by refusing to allow Mexican workers they believe are pro-union to return to Canada. In particular, employers must have passed on information to the Consulado General de Mexico en Vancouver, or less likely the Vancouver Consulate performed its own investigations as to those workers who they believe are pro-union. The Vancouver Consulate then informs the SAWP officials in Mexico to ensure those workers are refused entry to Canada and in other instances, have refused to send them back to unionized workplaces, requiring them to work at non-union work sites."
'Sabotaged by own consulate': UFCW
At a press conference in downtown Vancouver on May 10, UFCW representatives provided media with translations of documents leaked to the union by a source within the Mexican government. The documents, which appear to be official Mexican Labour Ministry reports, suggest that Mexico, which controls whether its citizens can participate in the controversial SAWP, was denying access to the program to workers who have previously supported unionization while in Canada. An entry dated Jan. 13, 2011 includes this comment:
"A call is received from the Vancouver Consulate Office where we are told that this worker would not go to Canada because he is immersed in things of the union, pay attention he does not go out."
The documents are headed with the phrase "File Revision -- Inadmissible Entry to Canada."
"Brave workers have come forward despite threats and problems," the UFCW's Limpright told reporters on May 10. "They know that joining a union is a democratic process."
"We believe these workers have been sabotaged by their own consulate in Vancouver," said national president Wayne Hanley. "This is shameful."
The Vancouver offices of the Mexican Consul General did not return repeated requests for comment on this story. Human Resources and Skills Development Canada, which helps administer the SAWP, did not respond to Tyee requests for comment on this story before it was filed.