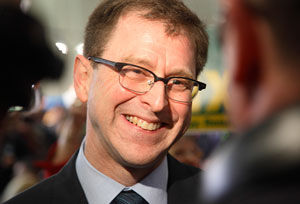 The 12-year-old issue of a back-dated memo was among the questions reporters canvassed with New Democratic Party leader Adrian Dix the morning after he won the party's leadership race, making it clear it's an issue he continues to have to address.
Dix spoke to the press in Vancouver on April 18 ahead of his first caucus meeting as leader, barely 16 hours after defeating three other candidates to win the job.
During that scrum, a reporter from radio station CKNW, where Premier Christy Clark hosted a talk show before her return to politics, noted that Dix has been keen to talk about Clark's record in government.
"The reality is your record, when you were Glen Clark's chief of staff, included back-dating a memo to give your boss an alibi," she said. "You want to talk about Christy's record, but you have a record that's a bit dark as well."
The question has dogged Dix, and Liberals will doubtless be reminding voters. Already it's frequently used in legislature heckling. Health Minister Mike de Jong joked during the BC Liberal leadership race that he wanted Dix's date stamp.
The Liberals didn't take the opportunity to respond to a request for comment for this article, but one official wryly suggested the memo will likely be raised within the first five minutes of the first question period after the legislature resumes sitting April 27.
'I take responsibility': Dix
Many profiles of Dix note the incident, with some newspaper columnists reading into what it says about his character.
Dix left his job with Clark's administration over the memo and has repeatedly apologized for what he freely acknowledges was a mistake. His boss was eventually cleared in the case that involved a neighbour who was involved in a casino proposal building a deck on Clark's home, but Dix keeps answering questions about his role.
"People are going to talk about it, and I've answered it," Dix said Monday. "I take responsibility for my mistakes. I always have... I own them."
An able debater, Dix turned the question from his own behaviour to that of the Liberal government. "I think that's the difference between me and the government as well," he said. "I mean, we've seen a government over time avoid responsibility in the BC Rail case."
Two Liberal political aides recently pled guilty to corruption charges related to the sale of the railway. "It's not just the issue of a corruption trial that took place over six years, and the fact the government paid the legal fees of those that pleaded guilty," said Dix. "It's not just the fact they misled people in the election campaign about what they were going to do, but it's the fact that we lost our railway and it's had severe impacts for the economy of B.C."
Nobody's apologized to the people of the province about it, he said. "I haven't heard anyone on the government side take responsibility for what they put the public through on that," he said. "When I make mistakes I take responsibility for them. That's the difference between me and them."
Regarding the memo, he summed up: "It was a long time ago. Glen Clark is now a very successful capitalist. At least a very successful leader of the business community in B.C., so it just shows how much time has passed."
Elected in Glen Clark's old riding
Back in December, not long after Carole James resigned as leader, when Dix was considering entering the race to replace her, The Tyee asked how he would combat the memo baggage that was sure to be dredged up.
It was a mistake that he'd apologized for, he said, then stressed his record since leaving Clark's staff.
He became the executive director of the B.C.-Yukon branch of Canadian Parents for French, where he oversaw the building of the organization. He wrote columns for the Victoria Times Colonist and contributed to The Tyee and CBC, helping hold the government to account from the outside at a time when there were just two opposition MLAs sitting in the legislature.
In 2005, voters in Vancouver-Kingsway -- Glen Clark's old riding -- elected him to represent them. He built a reputation as an aggressive and effective critic, first on the children and families file, then on health. In 2009, they elected him again.
Local voters, he argued, had been willing to forgive the memo mistake and voters province-wide will likely as well.
And despite the occasional reference competitors in the NDP leadership race made to Dix's "baggage," the party membership saw fit to put its faith in him, with him narrowly defeating the less encumbered Port Coquitlam MLA Mike Farnworth in the third round of voting April 17.
Policy over personality
It might be understandable if Dix harboured ill will to a press corps that persists with questions about the memo despite his apology.
Asked by The Tyee how he characterizes his relationship with the media, Dix said, "I think it's wonderful. Some of my best friends are members of the media."
The press and the opposition have much to gain from each other, as it did when both were working on questions around children in care, he said. "When a free press and an opposition are working to bring about change, that's a wonderful thing," he said. "I admire the media, I respect its role, and I enjoy spending time with the media."
He made the comments on a day when The Province used the words "dour Stalinist" in a headline about him, and he acknowledged some of the attacks do seem unfair. "I don't worry about that," he said. "That's not the media. There's just some opinion leaders that are yet to be convinced."
He offered a solution: "I'm about to go on my charm offensive."
Earlier he had joked, "I can have fun like everybody else and I'm going to tell lots of jokes, just to satisfy the papers in Vancouver. I'm going to tell more jokes, and I'm going to smile a lot more, just to satisfy them."
But he made clear that he plans to make his pitch to voters based on policy not personality. "It's not about me," he said, before referring to a recent Christy Clark photo in The Province newspaper. "It's not about me putting on a Canucks shirt... even though I love the Canucks and I love sports, it's not about me doing that, it's about us taking a serious approach to serious issues, and I think people are going to like that."
With Clark suggesting she's likely to call an election before the 2013 fixed election date, Dix may get to test that premise sooner rather than later.