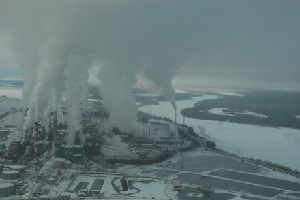 Prepare for a Canadian and U.S. shift toward heavier forms of crude oil as global production of lighter crude oil sources decline, says a federal government report. As well, "Generally, heavier forms of crude oil, such as that contained in the oil sands, require more energy and resources to produce and refine, compared to lighter crude oil, resulting in higher air pollutant and GHG [greenhouse gas] emissions."
Those were amongst the conclusions of "A discussion paper on the Oil Sands: Challenges and Opportunities" by economist Kevin Birn and policy advisor Paul Khanna. Both work for the federal department of natural resources, but state they were only expressing their own views. The 25-page internal report of July 2010 (which provides a good introduction to the subject for the general reader) was obtained via the Access to Information Act.
You can read the report here.
Oil sands GHGs 'will likely rise'
Beneath about 142,000 square kilometres of boreal forests, prairies and wetlands in Alberta lies the second-largest known deposit of crude oil in the world, that is an estimated 1.8 trillion barrels, the report begins.
Alberta is now producing 1.5 million barrels of oil sands production each day, which is forecast to rise to 3.8 million barrels a day by 2020. The oil sands is "the only one in North America, currently capable of making large scale contributions to our energy security," said the authors.
The industrial challenge is to separate the valuable bitumen crude oil from the sands and clay. For oil sands that are too deep for surface mining operations, some form of "in-situ" is needed to extract the oil. Most in-situ operations involve the injection of steam into the oil sands deep underground.
The steam warms the bitumen, making it more mobile, so that it can then be extracted through drilling.
Some sources say 20 per cent of this area will be mined versus 80 per cent being developed in situ. (The Alberta government disagrees, telling The Tyee the number is more like 2.5 per cent mining and 97.5 per cent in situ.) Regarding greenhouse gas emissions, "In the oil sands, in-situ operations are generally more GHG intensive [than mining... Upgraders also contribute to GHG emissions through the hydrogen production process."
"While the industry has historically made significant reductions in GHG emissions intensity of crude oil production, falling 39 per cent from 1990 to 2008, absolute GHG emissions from the oil sands industry will likely continue to rise -- due to anticipated production increases."
Greener process unproven
Experimental extraction technologies could dramatically lower GHG emissions, "but these are yet to be proven on a large scale." Several projects on heavy oil upgraders show promise, "but large scale applications in oil sands operations still face a number of challenges."
And yet, overall, Alberta's oil sands production accounted for only five per cent of Canada's total GHG emissions in 2008, the study said.
The report has some positive news: "Today, government investment has shifted from improving the economics of oil sands production towards researching ways to reduce the environmental impact performance of the sector." Yet many such experiments are inconclusive as yet.
For example, in-situ operations are moving to the use of saline/brackish groundwater sources to reduce impacts on surface water. "However, the impacts of groundwater withdrawals and re-injection of process water from in-situ operations back into the ground is still being studied."
Land use impacts differ between mining and in-situ operations. Mining operations need the removal of all top soil to access the oil sands. These soils are stored for later use in reclamation projects. "This results in a large scale temporary removal of wildlife and wildlife habitat." To date, about 600 square kilometres of land has been affected by mining activity. In-situ has a milder land use impact than surface mining.
"Due to the long time frames (e.g. 40-60 plus years) and massive scale of oil sands mining projects, reclamation of disturbed land does not happen quickly." The province of Alberta demands that companies remediate and reclaim land after the oil sands have been extracted. To date, 67 square kilometres is under active reclamation and one square kilometre has been certified as reclaimed. Although this number seems small, the report says, it was still a useful learning experience.
Aboriginals split on oil sands
Tailing ponds are created at oil sands mining operations from the leftover water, clay and sand of the bitumen separation process, and cover about 170 square kilometres. Some worry about the potential seepage from the tailings ponds into the local ecosystem, yet all tailing ponds are built with groundwater monitoring and seepage capture systems, and in 2008 Environment Canada found no evidence of tailing ponds contaminants leaching into the river, said the report.
However, the report said, "It should be noted that the presence of naturally eroding surface bitumen deposits in the area complicates the tracing of tailing pond residues in the river in a definitive manner."
The authors also note a deep split amongst Alberta's 6,000 aboriginal people living within the oil sands' area. Some complain of health problems and harms to fisheries and wildlife, but others prosper economically. The Alberta government says that in 2008 there were over 1,500 aboriginals employed in the oil sands, with a $575 million boon to aboriginal businesses.
[Editor's Note: As per Tyee tradition in recent years, we've closed the comment section for the holidays. Thank you all for creating such a thoughtful, alive and insightful conversation this year. We look forward to more of the same in the next. To you and yours, a heartfelt happy holidays!]