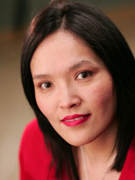 Seven years ago Vancouver-Mount Pleasant MLA Jenny Kwan nominated Carole James to lead the British Columbia New Democratic Party. Today she released a statement that will make it very hard for James to continue in that position.
"I'm a committed New Democrat and remain so," Kwan said in an interview. "I think our party's worth fighting for."
Earlier in the day she had sent a statement to members of the media attacking James' leadership of the party and calling for a leadership convention.
"The time for renewal in our party is long overdue," she wrote. "It is untenable that 40 per cent of caucus members cannot publicly say they support the leader. Carole James is dividing the party by staying on as leader."
Kwan was first elected in 1996 and was one of just two NDP MLAs re-elected in 2001. In the first few years of the BC Liberal government's first term in office Kwan and her colleague Joy MacPhail were the sole opposition voices in the provincial legislature.
"Jenny Kwan has cred," said Bob Simpson, who James ejected from the NDP caucus in early October for criticizing a speech she made to the Union of B.C. Municipalities convention. "They can discount me as not finding my happy place. They can't do that with somebody like Jenny."
Concerns needed clarification
Kwan supported Katrine Conroy when she resigned as caucus whip on Nov. 19 and was among a group of 13 NDP MLAs who declined to show support for James' leadership at the party's provincial council meeting on Nov. 20.
"Because all NDP MLAs are bound by the principles of caucus confidentiality, it has been very difficult for us to tell our story," said Kwan's statement, the full text of which is quoted here. "But now I feel compelled to clarify why I believe the best way to achieve democratic renewal in the NDP is through a full, one-member one-vote Leadership Convention, which should be held as soon as possible."
Under James' leadership, debate has been stifled, decision making centralized and individual MLAs marginalized, she said. "Many are shocked at how some critical decisions are made or how caucus decisions have been later altered."
Caucus members often learn about decisions through the media, she said. "This poor decision-making practice and a lack of genuine consultation within our caucus is an ongoing source of frustration for many within the caucus."
Nor has James succeeded at offering the positive vision she promised after losing the 2009 election, she said. "For too long there has been a clear lack of direction under the leadership of Carole James," she said. "Whenever a challenging policy decision arises, often the default position is to avoid taking a stand."
The delay makes the NDP irrelevant in the public's "hearts and minds," she said, adding that the results of the last election and opinion polls demonstrate the point. "While many British Columbians want to get rid of the BC Liberals, they feel that there is no positive alternative in the electoral horizon."
Kwan also criticized the "backroom deal" that has party president and former cabinet minister Moe Sihota receiving a $76,000 salary paid by unions.
Backroom deal shocking: Kwan
James knew about Sihota's deal for some time, but just told the NDP caucus recently, Kwan said in a phone interview. "It is shocking," she said. "There should be no place in today's politics for such backroom deals."
The NDP made some mistakes as government in the 1990s that they need to learn from, she said, much as the BC Liberals have made mistakes. "British Columbians have a hunger for a government they can trust," she said, suggesting that the behaviour of James and those around her in opposition bode badly for an NDP government.
The party should engage in good practices both now and when it forms the government so it can provide the kinds of leadership British Columbians expect and deserve, she said. "I'm only speaking the truth," Kwan said when asked whether she expects James and the party to discipline her for speaking out. "I've always believed there's only one thing you can hold intact that you have control over, and that is my own integrity."
James was unavailable to comment on Wednesday.
Former NDP MLA and strategist David Schreck accused Kwan and the "unlucky 13" of "blowing up the party" and destroying their chances of beating a reinvigorated Liberal party in 2013.
At least three MLAs, including Juan de Fuca representative John Horgan and Esquimalt-Royal Roads' Maurine Karagianis, called reporters to criticize Kwan's statement.
Kwan 'incoherent': Ralston
"The statement is incoherent in terms of its specifics," said Bruce Ralston, the MLA for Surrey-Whalley, finance critic and a past BC NDP party president.
Kwan complains that James' leadership is undemocratic, yet she ignores that the NDP's provincial council on Nov. 20 voted 84 per cent in support of James, said Ralston. "That was a democratic process and she doesn't want to respect that."
Also, he said, Kwan said doesn't like hearing about decisions through the media, but sent her own statement to the media without warning her caucus colleagues.
Kwan was caucus chair for 4.5 years, until about 18 months ago, he added, arguing that her "weak and ineffective" performance in that position helped get the NDP into the situation they are in now.
"I don't understand her rationale at all," he said, noting the 13 NDP MLAs who don't support James appear divided. "These are the people that are attacking our leader for not being focussed and able to make a decision, but their own process seems to be scattered at the very least."
Asked if James can weather the attack, Ralston said, "We'll see."
Nor could he say what will happen to Kwan. "I have no idea what the leader will do. I haven't discussed it with her at this point." The decision is James' to make, he said.
After Columbia-Revelstoke MLA Norm Macdonald stepped down as caucus chair, he explained his decision was made because of the unilateral way James booted Simpson from the caucus.
Kwan has attacked not just the leader, but the party, Ralston said, adding it's a sombre day. "I never thought we'd get to this point, but here we are."
Time for James to go: Simpson
Simpson, who as an independent MLA recently moved into a new office space in the legislature near independent Delta South MLA Vicki Huntington, said he agreed with Kwan's criticisms of James.
There is something wrong with the caucus process and how decisions are made, he said. "Especially for somebody who goes to the public and says, 'I'm a collaborative, consultative, bottom-up democrat. I'm going to be a new kind of leader,'" he said. "We were not experiencing that in caucus."
He added, "The decision-making was certainly becoming more centralized and less clear to us what the agenda was."
Kwan is also right that the party is not gaining purchase with many British Columbians, despite the collapse in support for the BC Liberals, he said.
And while he supports the party president being paid, it needs to be done in an open and official way, he said. "I think the whole deal with Moe Sihota and the unions stinks," he said. "If that's the kind of backroom deals that are going to be sanctioned within the party and sanctioned by the leader, then I don't feel that speaks well for what we would be like in government."
Kwan's statement is definitely damaging to James, Simpson said.
"I think this is a shot below the water line," he said. "If she really cares about the NDP, if she really cares about the NDP forming government, she has to concede to a leadership convention as soon as possible in the new year. Do it lockstep with the Liberals. Clean the house up."
When Conroy quit as whip on Nov. 19, James dismissed her and those who supported her as "selfish."
"I think that whole line in the sand, complainers, dissidents, selfish, that marginalization... of serious and legitimate concerns is unfortunate and doesn't speak to the kind of person Carole presents herself to be to the public," said Simpson.
"It's unfortunate language and it's just a discounting of legitimate concerns," he said. "If she'd embraced those concerns she might not be in the position she's in today."