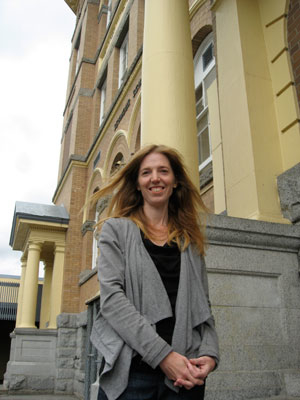 Carrie Gelson is "triply impacted" by the Vancouver School Board's selection of schools for possible closure.
Her two children attend Dickens Annex, and she has just begun a new part-time job teaching at Carleton Elementary. But it's Seymour Elementary, where she has worked as a part-time second and third grade teacher since 1995, which she is most worried about.
"We don't have parents that are coming out and are articulate and English speaking," Gelson told The Tyee, referring to protests organized by the Parent Advisory Committee (PAC) at both Charles Dickens Annex and Sir Guy Carleton Elementary.
"I really hope it's not going to be a 'we fought harder, we spoke louder' issue."
But if it does come down to who mobilizes first and best, the parents most likely to be caught off guard are non-English speakers at schools like Seymour. They weren't able to read for themselves the school board's letter saying which schools were at risk of being closed, because the notice was written only in English.
'This school is the centre of the community'
Located just a couple of blocks south of East Hastings on Glen Drive, Seymour Elementary, which runs from K to 7, is no stranger to school closures. Originally a two building school, the older building, built in 1901, was closed last June because it was determined by the Vancouver School Board (VSB) that all the school's programs and students could fit into the main building, saving the board $72,890 per year.
Seymour's PAC is slowly getting together, but first-time chair Christy Gass was only handed the reins on the last day of classes in June, so it will be a while before any formal protests are arranged.
"At the end of the day they found out the school was being considered for closure (on June 23)... Ms. McCarthy came to me and said 'Christy, do you think you could head the PAC and get it going?' But this was just at the end of the year," Gass told The Tyee.
"So I'm talking to as many parents as I can and I'm getting 'yes, yes,' but then the summer comes and it's just hard to keep in touch with it. And I'm in a new job, so the summer was kind of tricky. I have a bunch of names, the PAC will get going."
The inner-city school is listed as being at only 34 per cent capacity on the VSB website, with an enrolment of 141 students in September 2009. But as Gelson points out, that was when both buildings were being used.
"Now I could see us maybe growing by two classes, but even that's going to impact programs," she told The Tyee.
In fact, she adds, while not all the rooms in the school are used for classes, there is a variety of services the school offers to the children and the broader community that require space, such as an adult ESL class, a neighbourhood liaison worker, an art therapy worker, a First Nations worker, youth and family workers, and space for social workers, who often visit the school, to interview children.
"This school is the centre of the community. Parents come to us for help," says Gelson. Help can include everything from making sure their kids have a hot breakfast and lunch to providing them with hand-me-downs.
"They don't expect the school to just educate their kids, they hope for a whole lot more. And we do that."
Caught off guard
Marilyn McKee is one such parent. A single parent of a boy in Grade 7, she wasn't even aware the school was possibly closing until two weeks ago.
"I watch the news and I'm up on current events, and I was not aware that Seymour was slated until I was actually told about the petition at Ray Cam Community Centre," she told The Tyee.
The petition, circulated by the office of Strathcona MLA Jenny Kwan, is to keep both Seymour and Queen Alexandra Elementary open, and is addressed to B.C. Education Minister Margaret MacDiarmid and the VSB. Kwan was originally hoping to deliver the petitions to the minister during a fall sitting of the House, but if there is no fall sitting it may be delivered to the minister's constituency office in Vancouver.
McKee is not the only parent who was surprised by the possible closure. In fact, Gelson says many parents were not aware the school is on the list because the VSB's letter of notice, which was sent home to parents last June, was only issued in English. Also, because the second building was closed at the end of the school year, some parents think the school is no longer in danger of shutting its doors for good.
The VSB told The Tyee the letter sent home had a form attached saying the information was important and to please have it translated. The board said it could take two to three business days for an outside service to translate the letter, and it was so close to the end of the school year that the request to translate was used to get the letters out quickly.
'It's going to cost in the long run'
McKee agrees with Gelson that the language barriers will prevent people from defending the school, but adds that it's also part of being from the Downtown Eastside.
"A lot of people don't like to speak up. So they're a lot quieter and it's hurting a lot of families, and I've spoken to a lot of families who are being directly affected by this and they're afraid of what next year is going to be for them," she told The Tyee.
McKee's son Alex goes to high school next year, so if Seymour closes, he won't be directly affected. But she is still worried for the community, and even the taxpayers, if this school closes down.
"Because this school system is aware of what the family issues are or the particular kids, bringing them out into a system where they're not aware of it, kids with fetal alcohol syndrome, stuff like that, are then going into school systems that are not ready for them, or there's overcrowding already," she told The Tyee.
"It's going to cost in the long run, whether it's the prison system, or the kids getting in trouble, early pregnancy, all those different things."
It's not just kids facing learning difficulties or a rough home life that benefit from Seymour's programs and teachers, however. Gass cites the school's junior kindergarten program as the reason her daughter Katrina, who started Grade 1 this year, is so far ahead of her peers outside the school.
"She tells time on her watch, she does math, she reads, she's artistic, well-rounded, and I attribute that to the teachers at that school, and the programs," says Gass.
But the junior kindergarten program was also cut in June to balance the school board's budget.
"I don't think any of the schools should be closed. Our population is growing, whether or not they've arranged things so that this school has enough room, or that school has enough room, there's going to be tons of kids who need schools," Gass told The Tyee.
Public consultations coming
VSB staff is currently working on reports and recommendations in preparation for public consultations on the possible closures, so it is not yet known where students will go if Seymour closes. But Gass, McKee, and Gelson all point to nearby Strathcona Elementary as a possibility, which they say is already bursting at the seams.
"I've been there, and if it's not at capacity, I'm afraid of what capacity is because it is packed. You can't get after-school care there, there's a waiting list," Gass told The Tyee. "It's because they have the French (immersion) program there, and people will put their kids there just waiting to get into the French program."
Gelson says where some parents will send their children to school often depends on whether extra services such as before- or after-school care or hot lunch programs are provided. But for the kids with a rough home life, often what they get out of Seymour is someone who cares.
"We provide the affection, the love, the consistency," Gelson told The Tyee. "We're it."
No decisions yet
VSB chair Patti Bacchus says it isn't definite that any school will close, though she understands why educators and parents might be more worried about the future of a smaller, less vocal school like Seymour.
"Part of the job as elected official is certainly to listen to the people who have something to say to you, but also to consider when people don't have a voice, and we see that in many ways with school communities: some advocate very effectively their needs, but we try to be aware of those who don't," Bacchus told The Tyee.
"It doesn't mean that you don't care about your school and your kids don't deserve just as much as everyone else's and we have to keep that in mind. We have to be fair."