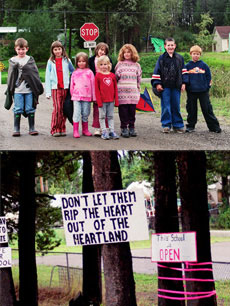 Forty-four of B.C.'s 60 school districts have closed 176 schools since 2002, and over 50 more closures are certain or threatened over the next couple of years. But demographic projections suggest that closures are a short-term solution that will create a long-term problem.
The figures on closures come from a database created by the B.C. Teachers' Federation and available on the BCTF website. They provide a concise history of education under the Liberals, and a discouraging preview.
Some districts took heavy hits shortly after the Liberal government took power in 2001, and have remained fairly stable since then. School District #6, Rocky Mountain, is an example: It closed seven schools in June 2002, and one more in June 2006. SD #20, Kootenay Columbia, closed nine schools in 2002 and 2003, but none since then.
Other districts have had to close schools fairly regularly since 2002: SD #27, Cariboo-Chilcotin, closed an elementary school in June 2002, a secondary in 2003, and another elementary in June 2007. It now faces closing four more elementaries this June. The district's board of education voted recently to submit a "needs" budget that would keep those schools open, but only by running an illegal deficit.
Ten Lower Mainland districts have closed schools since 2002, and four of them will probably close more schools in the next year or two. In the Fraser Valley, Abbotsford may close Dunach Elementary in June and Langley may close County Line and Glenwood elementaries. Maple Ridge will close Mount Crescent and Riverside elementaries.
Surrey will shut Anniedale Traditional School and Glenwood Elementary in June. North Vancouver will close Ridgeway Annex in June 2011 and Balmoral Junior Secondary in June 2012. More immediately, four North Vancouver elementaries are threatened with closure this June to help cover a $10 million budget cut over the next three years.
The districts facing the heaviest losses are Prince George and Kamloops Thompson. Prince George closed 15 schools between 2002 and 2006, and now sees no way to stay within its budget without closing 13 more schools this June. Kamloops Thompson, having closed five schools since 2003, expects to close eight more this June.
Even big districts with few closures are now facing serious budget shortfalls. Vancouver hasn't closed a school since 2003, but recently sent out letters warning 800 teachers that they might face layoffs.
Why close schools?
The reasons for school closures are well understood: declining enrolments in many communities mean districts receive less funding from Victoria, while also having to spend more for rising costs like staff salaries and increased medical premiums -- which are also decided by Victoria. Provincially mandated spending for programs like all-day kindergarten imposes more burdens.
The Harmonized Sales Tax will not be quite the problem first foreseen, but districts will need to do more paperwork to obtain a rebate on what they spend on the tax. The removal of the Annual Facilities Grant staggered almost every district in the province, forcing boards to postpone needed repairs and renovations -- or to pay for them with money allocated to other needs.
The Ministry of Education has not made much of a case for the government's funding of schools, and has said still less about the consequences. It has posted its policy on school closures, but Education Minister Dr. Margaret MacDiarmid has said little about the issue. In her latest Education Report, she confines herself to platitudes:
"The Throne Speech outlines our commitment to supporting families, parents and students by pursuing bold strategies to renew and improve the delivery of education in this province.

"We continue to support the individual needs of all learners and will strive to help every student in B.C. schools find and pursue their passion. Increased choice and diversity in schools will allow students to follow their dreams and attain new heights of learning and achievement.

"Recognizing the essential role that families play in a child's education, over the next five years we will be partnering with parents and care-givers to support early learning for three- and four-year-olds.

"Despite the economic challenges we've faced in the last year, the Throne Speech reinforces our commitment to full day kindergarten, which will provide our youngest students with a rich interactive environment, while laying a positive foundation for healthy physical, social, emotional, linguistic and cognitive development."
What happened last time
Having arrived in B.C. from Saskatchewan in 1989, Dr. MacDiarmid would not recall the similar problems faced by our schools in the early 1980s. Enrolments were falling, house prices were rising, and young families could not afford to buy homes in neighbourhoods well served by existing schools. So districts were often forced to close schools in some neighbourhoods while building new ones in others.
The new schools were expensive to run because they had to offer programs that their student numbers could not justify, simply to compete with nearby established schools. But by the late 1980s, enrolments rose: the new schools were crowded with portables to hold the growing numbers of students.
In rural districts, the failure of key industries like forestry and fishing has meant the depopulation of whole regions. As families have moved out of districts like Cariboo Chilcotin and Vancouver Island North, no new industries have emerged to attract replacements. The lack of schools has only made such districts less attractive.
As in the 1980s, the current drop in enrolments is temporary. According to B.C. Stats, our school-age population (five to 17) peaked in 1999 at 678,200. It is now 624,200. It will bottom out in 2013 at 615,800 and then return to 678,000 by 2022. By 2036, our school-age population will be 755,800.
Assuming that small-town and rural districts share in this growth, they will face the additional expense of repurchasing land and building new schools to replace the facilities sold or leased to cover present operating expenses. The same will be true of districts in the Lower Mainland, Greater Victoria, and the Okanagan, where we can expect the most population growth.
Doing Victoria's dirty work
Trustees in British Columbia could once bargain with their local teachers and support staff. They could set tax rates on residential and commercial-industrial property and allocate their revenues to meet local needs. The province now controls all these functions, except for allocation: If Victoria does not give them enough money, it is up to trustees to decide which programs to kill, which schools to close, and which teachers to lay off.
In effect, trustees' only function now is to do the province's dirty work, and to take the blame for decisions they didn't (and couldn't) make. The schools they once administered were community buildings that also built community. Now trustees face the dismantling of the schools and the communities they serve.