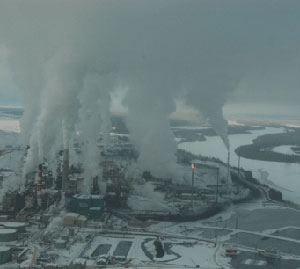 Despite repeated government claims that the world's largest energy project doesn't contaminate the Athabasca River, a new scientific study released today shows that air pollution from the oil sands industry combined with extensive watershed destruction has released a highly toxic brew of heavy metals into northern waterways.
The study, published in the prestigious Proceedings of the National Academy of Sciences (PNAS), also found that the levels of heavy metals detected from snow runoff or downstream of industrial development exceeded Canadian and Alberta guidelines for protecting fish and aquatic life for seven out of 13 pollutants studied. In some cases metal contamination exceeded guidelines by 30-fold.
The heavy metals, rated as priority pollutants by the U.S. Environmental Protection Agency, include mercury, arsenic, beryllium, copper, cadmium, thallium, lead, nickel, zinc and silver. All are toxic. Arsenic is a known human carcinogen; cadmium can severely destroy the kidneys and other organs; and thallium is so poisonous that it pops up in Agatha Christie mysteries as a murder weapon.
The study found that the heavy metals are primarily leaching out of bulldozed or deforested mine sites that cover a 600 square kilometre area or are raining down on the landscape in the form of particulate air pollution from oil sands upgraders that transform bitumen into marketable oil. Under the Fisheries Act, it is against the law to discharge deleterious substances such as heavy metals into fish bearing waterways.
The study directly contradicts claims by the Alberta government and an industry-run monitoring program that pollution in the river basically comes from the erosion of natural outcrops of metal-rich bitumen along the region's river banks. In particular, Preston McEachern, head of science and innovation with Alberta Environment, has repeatedly alleged that "contamination in area soils and rivers is natural and poses no serious health risk."
But the chemical analysis of water and snow samples taken from a total of 47 sites shows that industry "substantially increases loadings of toxic priority pollutants to the Athabasca River."
Air pollution poisons water
Compared to samples taken from non-developed areas, the study identified the highest concentrations of toxic metals either directly downstream from oil sand developments or within a 50 km radius of the region's upgraders, which produce more than six millions tonnes of petroleum coke and fly ash a year. Oil sands air pollution transports metals in particulate matter that deposits the toxins on snow or vegetation all year round. The project has been doing so for 30 years.
"Whenever you strip a watershed, every chemical in the newly exposed geological substrate increases in the run-off," explained David Schindler, one of the world's foremost water ecologists and one of the study's six authors. "It's not surprising. And no one has reported air deposition since 1981."
Jerome Nriagu, an international expert on hazards of heavy metals at the University of Michigan, calls the study's findings of serious environmental pollution in the oil sands a significant issue. "More disconcerting is the fact we know little about the effects of exposing aquatic life to the cocktail of metals; the guidelines were based on one metal at a time exposure scenarios. All these metals are bioaccumulated and some are biomagnified in the aquatic food and hence can become a human health risk."
Nriagu, a former Environment Canada researcher and a member of the Royal Society of Canada, also called for a "detailed and systematic assessment of the risks" associated with metal releases from the project.
Many of the contaminants getting into the Athabasca River are also commonly stored in the industry's massive tailing ponds. Just last month Environment Canada's National Pollutant Release Inventory reported that oil sand mining companies released 50,000 tons of harmful substances into lakes of mining waste covering 170 square kilometers. The data show the amount of arsenic surged by 26 per cent while the amount of cadmium increased 36 per cent.
The PNAS study also found concentrations of chromium, mercury, nickel and arsenic levels up to eight-fold greater under river ice just downstream from industry's nearly two dozen tailing ponds, dykes and industry infrastructure. "These findings suggest tailings pond leakage or discharge" may be additional sources of pollution to the river.
'Ramp should be scrapped'
Heavy metals have also showed up in the million-gallon Enbridge pipeline spill of diluted bitumen on Michigan's Kalamazoo River. The U.S. Environmental Protection Agency reported trace samples of mercury and nickel in the river after the spill.
The PNAS study seriously challenges the credibility of Regional Aquatic Monitoring Program (RAMP), an industry stakeholder group that has been supposedly monitoring water quality and fish health on the river since 1997. Yet every year the industry-funded group gives the oil sands industry a clean bill of health: "no effects."
"Any monitoring program that can't detect these kinds of contaminants is an incompetent program," charged Schindler. "RAMP should be scrapped." In fact a damning 2004 federal review of RAMP reported "serious concerns" about the validity of program due chronic lack of scientific leadership, effective design and consistent monitoring. RAMP has yet to publish the peer-reviewed critique on its website.
Schindler told The Tyee that Environment Canada should replace RAMP and conduct robust peer-reviewed monitoring on the river to measure exposure and health of fish, wildlife and humans. "And it should be funded by industry."
Previous study found carcinogens
In the absence of transparent environmental monitoring, industry pollution has become the subject of contentious debate and government denials.
After two environmental scientists, Kevin Timoney and Peter Lee, found evidence of increased toxins in sediment and fish downstream of the project, Alberta Environment's Preston McEachern publicly accused the well-known scientists of lying. The Canadian Association of Petroleum Producers then posted McEachern's allegations. The civil servant later apologized for making defamatory and "false" statements about their work and CAPP removed McEachern's statements.
The unequivocal detection of heavy metal pollution in the river caused by industry follows on the heels of 2009 PNAS study showing oil sands mining also contaminates both air and water with polycylic aromatic hydrocarbons, a carcinogenic by product of bitumen production. The study documented that air pollution within a 50 km radius of the air project deposited enough bitumen and polycyclic aromatic hydrocarbons on the snowpack over a four month period to be equal to a 5,000 barrel oil spill on the Athabasca River watershed every year.
When initially queried about scientific evidence documenting serious pollution injurious to fish in the tar sands in the House of Commons, Environment Minister Jim Prentice called the findings "allegations." But his department later spent $1.6 million on equipment to take chemical fingerprint of industrial pollutants on the river this year.
"I'm hoping Prentice will be coached by scientists this time to recognize that the data in peer-reviewed studies in a high quality journal are something more than an allegation. It's evidence of a problem," added Schindler.
High cancer rates downstream
The new study will likely re-ignite debate about elevated cancer rates among First Nations living downstream of the mega-project in Fort Chipewyan. A 2009 Alberta Cancer Board study, sparked by concerns raised by Dr. John O'Connor and aboriginal elders, confirmed that cancer rates are 30 per cent higher than what they should be.
After Dr. O'Connor started to raise questions about elevated cancer rates, three Health Canada physicians and three Alberta government employees accused the highly respected physician of causing "undue alarm" in the community and lodged an unprecedented complaint before Alberta's College of Physicians and Surgeon (CPSA). Although First Nations rejected the charge as ridiculous, the college didn't close the case until last year. Health Canada then released a confidential and error-ridden CPSA report to the National Post and Globe and Mail containing unsubstantiated allegations.
Earlier this month, a dissenting report by the Liberal MPs on a public parliamentary inquiry into the effects of oil sands industry on freshwater concluded that the federal government had acted irresponsibly and failed to protect either the environment or fish downstream of the oil sands.
But the report also noted that the project provided Ottawa with "an opportunity to transform the tired old narrative of environmental shame and blame surrounding the oil sands into a proud and inspiring story of the renaissance of federal water science."
The report also called for comprehensive surface and groundwater monitoring programs as well as a longitudinal cancer study for Fort Chip.