Enbridge Inc, based in Calgary, Alberta, employs 6,000 workers and ranks 18th as one of Canada's largest companies in revenue. It operates the world's longest crude oil pipelines, through which it transports 12 per cent U.S. oil imports.
Between 1999 and 2008 Enbridge recorded 610 spills that released 132,000 barrels of hydrocarbons into farms, wetlands and waterways on the continent. According to the Polaris Institute, this volume of crude "amounts to approximately half of the oil that spilled from the oil tanker the Exxon Valdez after it struck a rock in Prince William Sound, Alaska in 1988."
Patrick Daniel, CEO of Enbridge, says that "Energy is necessary for us to live long healthy lives." He proposes to construct a 1172-kilometre pipeline across 1,000 streams and rivers in northern B.C. to the port of Kitimat in order to put more cars on the road in China.  
Enbridge made headlines in July as one of its pipelines caused the largest oil spill in the history of the U.S. Midwest.
Four months after the U.S. Pipeline and Hazardous Materials Safety Administration cited the company for improper corrosion monitoring on Line 6B, the 40-year old pipeline failed and spilled one million gallons into the Kalamazoo River in Michigan, coating wildlife in oil and contaminating water sources for 100 homeowners. Michigan Governor Jennifer Granholm described the company's initial response as "anemic."
On July 15, 2010 Richard Adam, the vice president of Enbridge, told a congressional hearing on pipeline safety that "Safety and protection of the public and environment are our highest priorities, indeed I think it is a fair reading of our publications and actions that we hold this as a core value -- not just a priority." At the same hearings experts testified that "pipeline corrosion regulations are inadequate."
The U.S. Pipeline and Hazardous Materials Safety Administration has cited Enbridge 31 times (including two "corrective action orders") since 2002 for not properly inspecting equipment or training its employees.
What follows is a recent history of 12 other serious pipeline mishaps and regulatory penalties involving Enbridge.
January 2001: Enbridge's Energy Transportation North Pipeline leaked 23,900 barrels of crude oil into a slough near Hardisty, Alberta. The Transportation Safety Board of Canada noted that the site of the leak on the aging pipeline had been identified a "high priority location" just four months earlier.
July 2002: A 34-inch diameter steel pipeline ruptured in a marsh west of Cohasset, Minnesota. To prevent 6,000 barrels (252,000 gallons) of crude oil from reaching the Mississippi River, the company set the oil on fire. The plume of smoke extended one mile high. The U.S. National Transportation Safety Board blamed the rupture on "inadequate loading of the pipe for transportation."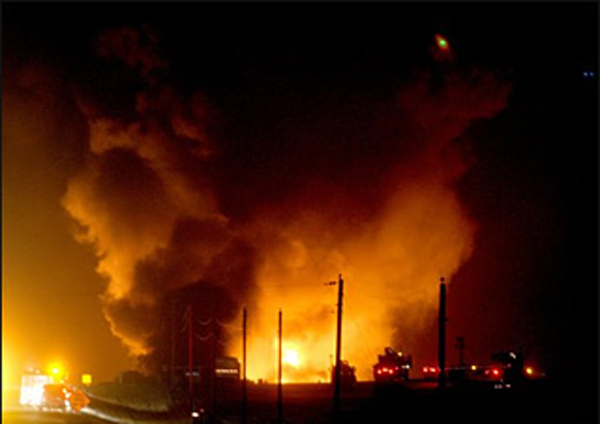 January 2003: A pipeline failure resulted in a spill of 4,500 barrels of oil at Enbridge's oil terminal near Superior, Wisconsin. Approximately 500 barrels flowed into the Nemadji River, a tributary of Lake Superior.
April 2003: A gas explosion leveled an Etobicoke strip mall and killed seven people. It stands as the largest number of fatalities ever recorded in a pipeline incident in Canada. Ontario's Technical Standards and Safety Authority charged Enbridge with failure to provide accurate information and to ensure their contractors followed the law. The case is still in court.
April/May 2004: U.S. pipeline regulators fined Enbridge for failing to properly inspect oil and gas pipelines in Michigan, Indiana and Illinois, Minnesota and Wisconsin.
January 2007: A pipeline break near Stanley, North Dakota spilled 9,030 gallons of oil. Regulators fined Enbridge for exceeding pressure standards for the pipeline.
February 2007: An estimated 176,000 gallons spilled in two separate incidents in Clark and Rusk County, Wisconsin. One pipeline cracked open and couldn't be shut off until an operator in Canada shut down the line. In the second incident work crews broke the same line, filling a hole 20 feet deep with oil and contaminating local groundwater. The company was fined $100,000 for not following safety standards.
November 2007: A 34-inch pipeline carrying bitumen to U.S. Midwest markets exploded, killing two workers near Clearbrook, Minnesota. The pipe had leaked two weeks prior to the explosion and was being repaired. The fireball, which leapt 100 feet into the air, temporarily jacked up the price of oil by four dollars and closed four other pipelines delivering 1.5 million barrels of crude a day. The Pipeline and Hazardous Materials Safety Administration fined the company $2 million for exceeding pressure in its pipeline and for failing to follow safety procedures.
May 2008: Alberta's energy regulator delivered a "high risk enforcement action" against Enbridge for using "valves, flanges and fittings" on its Midstream pipeline that were not suitable for maximum operating pressure. No fines were levied.
January 2009: Enbridge agreed to pay a fine of $1 million to the government of Wisconsin after it committed more than 500 violations of the state's wetland and waterway protection regulations while constructing the $2 billion Southern Access pipeline to export 400,000 barrels of bitumen from Alberta to Chicago. Attorney General J. B Van Hollen said "the incidents of violation were numerous and widespread and resulted in impacts to the streams and wetlands throughout the various watersheds." Enbridge blamed the problems on "bad" weather.
January 2009: A valve blew on a pipe at the Enbridge Cheecham Terminal tank farm, spilling 4,000 barrels of oil near Anzac, Alberta. The leak wasn't detected for three hours and Alberta regulators issued no statements, because no member of the public was affected. Greenpeace initially reported the spill.
January 2010: A pipeline built in 1956 leaked 3,000 barrels (126,000 gallons) near Neche, North Dakoka. The PHMSA warned Enbridge twice that older pipelines were susceptible to failure. The line is part of the 1,900-mile-long Lakehead System that delivers crude from western Canada to Cushing, Oklahoma and Chicago.
Enbridge does not have the worst record in the oil patch. That distinction belongs to BP, polluter of the Gulf of Mexico. The PHMSA has cited the company 58 times for shoddy performance.
[Sources: U.S. National Safety Transportation Board; Transportation and Safety Board of Canada; U.S. Pipeline and Hazardous Materials Safety Administration; Milwaukee Sentinel Journal; Ontario's Technical Standards and Safety Authority; Enbridge Corporate Social Responsibility Reports; Polaris Institute]