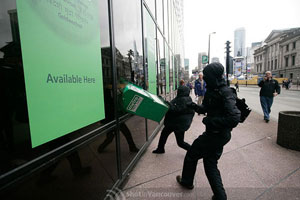 On Wednesday evening, David Eby walked into an ambush. The much-quoted civil liberties advocate got a pie in the face at an anti-Olympics forum, right before he was supposed to address 50 to 60 Games resisters. The baked-goods hurler? One of those very dissenters.
Pie-slop hit anti-Olympics gadfly Chris Shaw and his girlfriend, who were seated behind. "It was collateral damage," Shaw deadpanned to The Tyee today. Except he wasn't really joking. The divisions and anger created by Saturday's riotous protest threaten to destroy a social movement years in the making, he fears, and those types of marks don't come out easily in the wash.
'I saw fractures starting to form': Shaw
The first major voices critical of the Games came from civil society. After Vancouver's winning 2003 bid, groups such as Am Johal's Impact on Communities Coalition tried to work with organizers and government to leverage social gain. They believed in incremental, collaborative change. A few early successes were followed by years of frustration. By 2007, the Anti-Poverty Committee led a more aggressive protest movement. Its members stormed the Olympic clock unveiling and trashed premier Gordon Campbell's office. Such actions inspired many would-be activists, Shaw said, and created real momentum for anti-Olympics organizing.
Many observers agree the past few years have seen a remarkable trend. A diverse collection of civil society actors, critical native voices and more-militant activists have united against the Games. In a city known for fractious politics, this was quite a feat, Shaw said.
But as the events of Wednesday evening showed, those alliances might be more fragile than they appeared. "I saw fractures starting to form again," Shaw said. "My hope was that we'd built a nascent civil/social justice movement that would last beyond the Games... Otherwise we're back to fighting our own lonely little battles."
'Good' and 'bad' protesters?
The flashpoint is Saturday's protest. It revealed major splits over tactics and aims. A few hundred activists marched through downtown streets to draw attention to a wide range of social injustices they believe are linked to the Olympics. A smaller contingent clad in black with covered faces began smashing windows. Riot police showed up and tussled with several so-called black bloc activists. Seven arrests and three charges followed.
The fallout within the anti-Olympics movement was huge. Some deplored the more aggressive protesters while others applauded them. B.C. Civil Liberties Association executive director David Eby immediately denounced their actions. This upset many activists for several reasons.
For one, it violated an agreement -- tacit or not -- that no group should publicly criticize the actions of others.
Second, the BCCLA had circulated a phone number to activists in case they needed legal representation. As a recent blog entry on "texts for nothing", wrote reads: "It's not the job of either Eby or the BCCLA to decide which protesters are 'good' and which are 'bad' -- it's their job to ensure that the civil liberties of all protesters, peaceful or not, are protected."*
Radical vs. incremental change
Eby's public criticism also rankled some activists who believe radical direct action is the only solution to a repressive state founded on violence. "I think a lot of people are very frustrated that incremental change will never get us anywhere," Shaw said. "There's this sense that we've been treading water for a long time and nothing's really happened."
That frustration was reflected in an anonymous communiqué issued shortly after Saturday's protest. An insufficient welfare state leaves people "suffering and dying from preventable causes," it read. "This economic violence has gotten worse as we lose housing and social services because of the Olympic Games."
The statement defended the actions of the more militant Saturday resisters. It portrayed them as angry agitators without formal leaders -- as socially outraged radicals who employ radical black bloc techniques to shake political and corporate power structures. Most black-clad activists don't engage in vandalism or property destruction, it said. Dressing up can be a form of solidarity with those that do.
"When we put on our black clothing, we are not a threat to you, but to the elites," the statement said.
'The goal failed': Eby
On Wednesday evening, Eby wiped the pie off his face and delivered a long talk to a tough crowd. He was frequently interrupted and booed. The animosity was palpable. Eby referred to the events of Saturday as a "disaster" for any future social movement building. The actions of black bloc protesters alienated the public. They distracted media attention from legitimate protester concerns. "If the goal was to shut down the Olympics, the goal failed," Eby said.
"If the goal was to increase awareness of protest messages, that goal failed too." The most likely legacy, he said, was an erosion of credibility in community organizing. Black bloc protesters were unaccountable in their masks and destructive in their actions. In effect, Eby concluded, they "mirrored all the worst qualities of those currently in power."
Shaw also gave a critique Wednesday evening. The broken windows and subsequent media coverage were a "wet dream" for Olympics security forces, he said. If black bloc protesters wanted to vandalize and destroy, Shaw added, they should have detached from the main Saturday demonstration. That would have shown a respect for the diverse groups within the movement, he said. Instead, media attention painted all 2010 protesters in one broad stroke.
A legacy of division
Others appeared to think the black bloc contingent wasn't radical enough. "In terms of direct harm to the corporations, smashing (insured) windows and knocking over newspaper boxes is of absolutely no consequence whatsoever," wrote Andrew Loewen on the Vancouver Media Co-op.
Many of these views -- and more -- were argued Wednesday evening. Much wrath was centred on Eby's speech. People jeered, heckled and hurled invectives when he took the stage.
Such an experience can be good for clearing the air when emotions run high, Shaw said. He's worried people will declare enemies that could last for years.
"David knew he was walking into an extremely hostile audience and I think he deserved a more gracious hearing," he said. "The constant heckling didn't advance movement building. It simply reinforced cliques. Sadly, that may be all we have left after these Games."
*Story corrected at 2 p.m., Feb. 22, 2010.