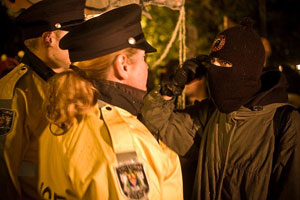 Nobody saw them coming. Not event organizers. Not police. Certainly not the afternoon's emcee, Renee Smith-Valade, as she readied hundreds of cheering voices for a booming crescendo. Instead, "Fuck 2010!" exploded from mounted loudspeakers across the north lawn of the Vancouver Art Gallery. A startled Smith-Valade rocked from the physical impact of a hooded Olympics protester with a black bandana stretched across his face.
"Where are the police?" she wondered out loud. Cops grabbed the microphone-snatcher fast. They dragged away his comrade in the Detroit Tigers cap. Five more arrests followed. The event went on despite shouts and jeers from dozens of remaining protesters. A white veil dropped to reveal the cedar, glass and stainless steel Olympics clock, ticking down three years until Feb. 12, 2010. Police were shaken, and vowed to get tougher. A new, more aggressive era of Olympics protest had begun.
With the opening ceremonies of Vancouver's Games now less than two weeks away, a city waits and wonders. What will happen on downtown streets when home-grown activists, civil society crusaders, out-of-town idealists and native naysayers meet $900 million worth of security?
The Tyee recently chatted at length with four Olympics resistors, each the spokesperson for a unique culture of dissent. Conversations revealed a vibrant movement, nearly as diverse as the city it's tied to. The following is a 2010 protest primer.
Civil Society: Big dreams, empty promises
Am Johal stops just short of calling himself naïve between sips of Italian coffee on Vancouver's bustling Commercial Drive. "The frustrating thing is there's a big disconnect between the bidding process and the actual moment the organizing committee gets set up," he says.
Johal has arguably the longest tenure of any 2010 Games critic. He was at the table in 2002 when the Bid Corporation and its government partners drafted a list of 37 social legacy promises, a first in Olympics history. As leader of the Impact on Communities Coalition (IOCC), Johal proposed a new model for mega-events. One where civil society leverages public funding and global attention for social gain. He shook hands with politicians and helped shape civic policy.
In the years since Vancouver's winning 2003 bid, Johal's felt like a dinner guest demoted to the children's table. Regime changes in civic, provincial and federal government diminished his political influence. Consultations with Olympics organizers produced sparkly reports and little follow-through. The city's homeless numbers more than doubled while the IOCC struggled to remain relevant.
"There were times where I thought, 'Wow, civil society does not exist in Vancouver,'" Johal says. It's now too late to get action on many of the 37 promises that fed his organizing verve. The International Olympics Committee likened them to religious commitments last year -- nice but intangible.
Still, civil society leaders have faith. They want Stephen Harper's Conservative government to swear by Bill C-304, a national housing strategy which could be debated as early as March. That urgency propelled a recently-announced Pivot Legal Society plan to fast-track 500 bright red tents to Vancouver's homeless.
Johal himself will lead a housing demonstration on Feb. 20. It's expected to be one of the major protest events of the month. He dreams of a bi-partisan citizen lobby lasting beyond the Games, emboldened by global media exposure and Olympics adrenaline.
"Imagine," he says, "if we could have a robust enough movement so we actually set the political agenda. I think that would be really exciting."
First Nations: 'We're not rolling over and playing dead'
Arthur Manuel speaks softly. So softly, it's necessary to max out the phone's volume. His words don't sound angry, even as they slice like surgical blades. "When the opening ceremonies happen in a few weeks, they're going to have indigenous people there and we're going to look like we're all smiling and happy," he says. "But I'm not."
Manuel is one of the major voices of Aboriginal discontent in an Olympics celebrated for native inclusion. He's a former Neskonlith chief and proud member of the Secwepemc people, a nation spread across south-central British Columbia with a history of feisty resistance.
Manuel was one of over 50 natives arrested during a standoff with Sun Peaks ski resort in the early 2000s. Land rights are a huge provincial issue. Some natives worry the Olympics will hasten schemes to develop territories never officially ceded to European settlers. The Secwepemc were one of the first peoples to actively protest Vancouver's bid. A small delegation -- including Manuel's son -- travelled to the IOC's Swiss headquarters in 2003. They filed a formal complaint, arguing Canada doesn't respect Aboriginal human rights.
Nowadays, local native leaders are more apt to praise the Olympics. The Four Host First Nations -- on whose land the Games will take place -- signed a peace treaty with organizers in 2005. It won them an estimated $57 million in direct economic benefits and 2,000 native jobs. Last week, the Assembly of First Nations hailed the agreement as a new standard in Aboriginal partnership. For Manuel, it's nothing more than a shrewd marketing coup. "Indigenous peoples have the highest suicide rate, highest unemployment and the most homelessness," he says. "[Organizers] are using the Four Host Nations as an advertisement spin to get around having to address those fundamental issues."
Canada was one of only four countries to vote against the 2007 UN Declaration on the Rights of Indigenous Peoples. Manuel would like to see that reversed. He expects a small but vociferous native presence in protests later this month. "We want to show we're not rolling over and playing dead," he says. 
Olympics Resistance Network: Down with capitalism!
Alissa Westergard-Thorpe wants to get one thing straight: her group opposes the Olympics, not sports. "That's one of the biggest misconceptions," she says. "Lots of our members love sports. We have trouble getting people out to meetings during hockey playoffs."
The Olympics Resistance Network lives far left on the political fringes. Its members condemn Vancouver's Games as a microcosm of failed globalization. Their list of grievances is long: environmental destruction, native subjugation, billions in public debt, police-state repression. They blame colonialism and capitalism, beefed up and bulging from a corporate sports circus on steroids. Their slogan is "No Olympics on stolen native land."
The ORN has hundreds of active members and about 40 hardcore organizers. Westergard-Thorpe was one of the first to join. She remembers early meetings, in the spring of 2008, when she could tally attendance with her fingers. Back then, a fledgling ORN struggled to channel discontent. "Most people haven't lived in city that's had an Olympics before," Westergard-Thorpe says. "It's actually pretty hard to get people involved in organizing around a totally new concept."
When Vancouver first won its bid, most Games critics favoured compromise over combat. Only years later, the Anti-Poverty Committee planned for war. Its membership was young and angry. It was convinced the Games were wasting public money and priority during a desperate local housing crisis. The APC literally burst onto the Olympics stage at the clock unveiling in February 2007. It was the first in a year of militant protests. APC activists threatened to "evict" VANOC board members from their homes. They ransacked premier Gordon Campbell's office. Unidentified vandals hurled rocks through branch windows of the Royal Bank of Canada, an Olympics sponsor.
In early 2008, the APC joined forces with other local groups to form the Resistance Network. Police keep careful watch. During last summer and fall, intelligence officers visited homes and workplaces of dozens of anti-Olympics activists. Victoria police chief Jamie Graham admitted an undercover cop drove protesters to the Oct. 30 torch relay kick-off. Tensions are high. Westergard-Thorpe says her group wants to cause maximum disruption during the Games.
Members could get their chance on Olympics day one. They've helped plan a "welcoming committee" protest to coincide with the opening ceremonies. Success could mean blocked intersections, embarrassed organizers and a media blitz.
"If we can disrupt the messaging and image control that the Olympics rely on, then that's great," Westergard-Thorpe says.
The Convergence: Olympics wild card
Half a continent away from the 2010 Games, Alex Hundert isn't taking any chances. "For security reasons I can't confirm whether or not I myself will be traveling to Vancouver," he writes in an email before agreeing to chat on the phone from Ontario. Hundert belongs to a Kitchener-Waterloo "radical direct action group" called AW@L. Its members distrust the capitalist system. They see the Games as one of its appendages. This month, perhaps up to 100 Ontario activists -- and an unknown X from other Canadian provinces -- will join Olympics resistors in Vancouver. "Delegates" could even cross the Atlantic from Sochi, Russia, where the next Winter Games will be held.
The 2010 convergence is a battle cry still resonating from a 2007 indigenous people's gathering in Sonora, Mexico. Over 1,500 delegates gathered to share grievances and plan for years ahead. Organizers included the Zapatista National Liberation Army, the rebel group behind a mid-1990s peasant uprising in the Mexican state of Chiapas. "We reject the 2010 Winter Olympics on sacred and stolen territory of Turtle Island -- Vancouver, Canada," read a concluding statement.
In early 2009, the ORN sent out a mass request for solidarity. Hundert's group accepted. Convergers will likely attend a local ORN-sponsored conference running Feb. 10-11. They'll bolster numbers during several mass protests and are encouraged to perform their own "autonomous actions." For local security planners, out-of-towners are a troubling wild card. "Locally, provincially, nationally and internationally," Olympics security boss Bud Mercer told Vancouver city council in July, "there are groups which are considering and planning to engage in criminal protesting during the 2010 Games."
For activists, the $900 million Olympics security budget looms like a dark mountain on the near horizon. "With the size of this security operation, there's probably more fear than there is excitement," Hundert says. But it could be a great learning opportunity. Ontario activists plan to leave Vancouver with valuable lessons for Toronto's G20 summit next June.
"We're getting an on-the-ground report of what the new kind of security state looks like now," Hundert says.