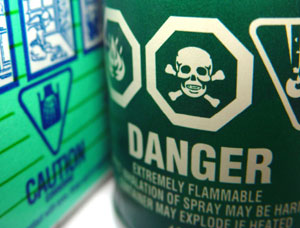 It's not news that our environment is in trouble. We are bombarded daily with information that the globe is overheating and poisoned with toxins. Many of us watch in frustration while politicians are slow to act, and industry continues to take more than the planet can give. We are sinking in a sea of toxins, and taking our children and grandchildren with us.
So what can we do?
Average citizens -- you and me -- have the power stand up for our rights to learn or work in toxin-free environments. Cleaning up our work environment directly impacts our external world by removing toxic waste from our streams, air and waterways, and could potentially change the kinds of products that are manufactured and how they are used.
In the first four articles in this series, I've shared stories of others who have succeeded in bringing about that very change because they knew their rights and exercised them. Even though the series focused on union employees, these rights belong to everyone in every occupation.
If you are tired of signing petitions or voting only to see little change, and want to take action that is more immediate, here are the seven most important steps for starting your own environmental revolution.
1. You have the right to know.
According to Toxin Free Canada, since 1988 federal law gives all workers in Canada the right to know the potential health hazards of chemical products used in the workplace through the use of the Workplace Hazardous Materials Information System (WHMIS).
Many resources can help you determine if the products you're using are toxic. You have the right to demand the WHMIS from your employer for any product you come in contact with, from upholstery sprays in cars right down to the air fresheners in the bathroom.
If you are having problems getting the WHMIS at your workplace, consult online resources like Scorecard-About the Chemicals, or the Toxin Free Canada website. The members of Toxin Free Canada are also available for any questions you might have, and can be extremely supportive in providing information.
Even though consumer products used in the workplace (like WD40) do not require special labeling (like the Material Safety Data Sheets or MSDS for controlled products), your employer must still provide information about potential health effects of any hazardous ingredients in such products.
2. You have the right to participate.
Under this same legislation, all workers have the right to participate in finding alternatives or substitutes for current products that are toxic. This ensures that the toxic product you are taking out doesn't get replaced with a cheaper but equally toxic chemical.
Your Right to Participate means that you have some say in the buying decisions of your industry. You can help decide where and how to spend the budget for cleaners, detergents, fuel, pesticides, upholstery sprays, and so on.
3. You have the right to refuse.
B.C. legislation goes a step further and states that you have the right to refuse to work with a product that is known to be toxic, until it has been replaced. You cannot be penalized for your refusal. If you are, for instance, a pregnant employee, you can refuse to work in a newly painted office. You have the right to ask to be moved somewhere else.
Transit mechanic Mike Smith, who helped convince management to switch to a safer fuel, says, "An employer cannot intimidate a worker, because the worker has the law on their side. Under the regulation it states very clearly that I have the right to refuse to work with dangerous products, and so do you."
4. You need the support of your co-workers.
Burnaby schools custodian Scott Stove said that when he wanted to green the way cleaning was done, he had the employees totally on his side: "As soon as people realized what was in some of those cleaners, they wanted it gone immediately."
Mike Smith says it was the support of his co-workers that ensured their success in getting management to switch to a less toxic fuel.
"The unions are like a bear, you can poke the bear only so long before the bear pokes back." He says it was the fact that all the union members supported each other that they were able to push through and get themselves heard without succumbing to intimidation.
5. You have economics on your side.
Using our labour laws offers us the credible chance to redirect the enormous buying power of corporations and change the toxic footprint we leave behind. But the economic fallout of the recession raises a question: When many people are afraid of losing their jobs, can we afford to challenge the status quo and go green?
In an email exchange, David Suzuki pointed to the common perception that green means higher costs to the immediate bottom line, at work or at home. "My main point on green stuff is that unless the ecological costs of a product are included, it's very difficult to have green products be competitive, and a recent Wal Mart survey showed over 70 per cent of Canadians put cost over green values when they make a purchase."
But as I saw time and again while reporting this series, it doesn't have to cost more to do the right thing.
Mike Smith and the members of Local CAW 2200 won the fight over No.2 diesel by proving that it would actually be more cost-effective to change to back to No. 1. While No. 1 diesel is more expensive at the nozzle, Smith and the others proved to the Coast Mountain Bus Authority that using No. 2 diesel carried a hefty price tag in workers' compensation claims and overall engine health for the buses.
Scott Stove and the custodial staff for School District 41 stay within their same budget every year despite a thorough greening of their cleaning: "It's easy to keep costs down when you are taking out two or three products that you used to use, and now you just use one."
The price tag for greener products initially put people off, Stove said, but by eliminating many products, and learning to use dispensers, they manage to keep the school just as clean and stay within the budget every year.
When assessing the costs of going green, it is important to look beyond initial product replacement costs. A 2005 study entitled Greening America's Schools found that making interior environments more healthy brought in greenbacks when it came to student (and teacher) attendance. Like Canada, schools in the U.S. are allocated funding depending on attendance of students. A significant number of sick days or truancy in a school can seriously dent the annual budget. The study found that greener schools affected not only rates of absenteeism, but also found an increase in overall test scores among students.
It is easy to make the correlation between school and office environments. Many companies are already aware that providing a healthier interior environment adds up to a boost in productivity, and employees who take fewer sick days.
Ultimately, if you are willing to do the research and your recommendations don't cost more, what employer wouldn't want to use a cost-effective substance that is less toxic? Even if it costs a little more, you use less. Or it costs more, but sick days go down. Toxic substances can "cost more" in many ways that have nothing to do with initial price tags.
6. Win by taking on the small, tangible and winnable.
Ricken Patel runs Avaaz.org, the web site that allows visitors to add their names to various campaigns for social change. He says that the first step towards action can often be someone signing an e-petition. It's a risk-free way to get involved.
"If people think they can make a difference they will do it," said Patel. "People need to see that there is a credible chance that their small amount of time or money will make a difference."
Don't take on all the chemicals at your office, start with the air-fresheners. Tackle the obvious toxins first, then move on to the less tangible. Taking on the full burden of shifting society can be too much for most of us to contemplate. Using the rights we have to effect a specific change in our own workplace, however, is a project we might be much more ready to embrace.
The total cost of our chemical experiment has not yet been calculated. How many sick days per year can be calculated due to toxic poisoning? What is the cost of a lowered sperm count? Of our children's premature sexual development? We still have no idea how many cancers are due to workplace toxins.
Clearly the question we have to ask ourselves is not can we afford to go green, but can we afford not to?
My hope is that this series of articles will help many more people take up that challenge, and in so doing, together create a greener, safer world.