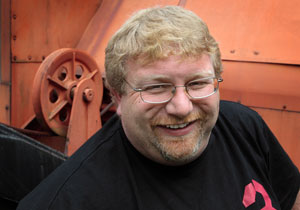 I am climbing into a truck so big I have to use the handrail to pull myself into the diesel monster. Inside, smoking a cigarette with hands that look like they could heft a bus, is the equally daunting Mike Smith -- the health and safety officer for CAW Local 2200 -- who is here to talk to me about the battle he waged with the Coast Mountain Bus System to change to a cleaner fuel.
A union worker who is an environmentalist? The stereotype might be that union workers are the sorts who get into bar fights with hippy tree huggers. But here's one who's been out front fighting for the environment. While politicians and the public have been hashing out ineffective Kyoto accords, and carbon taxes, and bemoaning the failure of "Voting Green," members of Canadian labour unions have been quietly fighting, and winning, environmental battles with long-lasting repercussions for the public sector.
In 2002, workers at the Oakridge Transit Centre in Vancouver, B.C., noticed a change in the air. Literally. Working in a badly ventilated garage, the mechanics saw they were coming home from work covered in black soot.
"You would fire up the buses in the morning, and the place would just reek of diesel. It just kind of hung there," says Rick Yelland, vice president of Local 2200, who was a mechanic at Oakridge at the time. The mechanics were used to dealing with a certain amount of exhaust, but suddenly conditions were worse than they had ever been. The sick list at work grew longer, as members complained of feeling ill and respiratory difficulties.
Smith and Yelland, along with a number of other mechanics who don't wish to be named, confirmed that conditions in the shops became a modern version of the coal mine. "You could taste the diesel in your mouth when you got home. You had to shower just because you were black," says Yelland.
A dangerous change
According to Smith, it was only by accident that the mechanics figured out the culprit. The company had switched from No.1 diesel fuel to the cheaper -- and far more toxic -- No.2. "The company didn't tell us they switched the fuel. One of our members found a delivery receipt and asked why it had been switched."
According to Derek Zabel, acting manager of media relations for Coast Mountain Bus Company (CMBC), Translink was "investigating fuel savings" by switching to the cheaper No. 2. The grades refer to the level of refinement -- or cleanliness -- of the fuel. Diesel fuel combustion in engines leads to airborne emissions, most notably nitrogen oxides (NOx) and particulate matter (PM). NOx contributes to ozone formation, and PM is the black smoke pouring out of the older trucks going down the highway. A Dutch study recently linked the emissions from diesel exhaust to brain damage, as well as to increased rates of respiratory and cardiovascular disease.
Canadian regulations allowed for the use of both No.1 and No. 2 grades of diesel. Historically, BC Transit/CMBC used No.1 for years because it was understood to be cleaner than No. 2 diesel. When electronic engines became more common and sophisticated after the mid-nineties both No. 1 and No. 2 fuels were able to meet tighter emission standards.
Sick days rose
Zabel states that this switch was done on only some buses, for a few months, on a trial basis. Mike Smith and other mechanics who spoke with The Tyee say the switch was done system-wide, including the SeaBus, and that the change lasted for a number of years.
In supporting their version of events, the mechanics point out it wouldn't make a lot of sense for the buses to have been switched for only a few months, given, they say, that the engine of each bus had to be reprogrammed to run differently on the new fuel. The cost of that would have run up expensive man-hours, given the size of the fleet.
Convinced the fuel was meant to be a permanent switch, and after breathing its fumes and feeling sick and concerned about long-term health issues, the members of Local 2200 met with Chris Lythgow, then the Vice President of the company, about their concerns.
"We knew maintenance costs had gone up," says Smith. "We were having more breakdowns, and using more ether [starting fluid]. Workers were taking more sick days, and there was an increase in WCB claims."
According to Smith, Lythgow presented a proposal to Translink and the CMBC that No. 2 diesel was not only unhealthy to the workers and the environment, it didn't offer huge financial savings either.
He was fired.
"That's when we knew we were on the right track," Smith says quietly.
Breathing the exhaust of 70 buses
We are looking around the now-defunct Oakridge bus centre. Ventilation pipes on the ceiling are still coated in black diesel soot. Despite fears over losing their jobs, Smith knew that the union needed to push forward with the proposal to change back to No. 1 fuel. Since the buses could be worked on only while their engines were warm, that meant that each mechanic was inhaling the exhaust of up to 70 buses per shift.
Smith rallied the other mechanics together, knowing that they had the strength of their union to protect them, and began filing reports with the Workers Compensation Board (WCB), while at the same time continuing to file proposals with the company.
The pressure finally worked. Conditions in the shop were so poor that WCB awarded one of the few recognized diesel fuel claims in Canada. Between that claim, and the increases in sick-time, there was irrefutable proof that the fuel switch was having costly and harmful effects on the workers.
Strength in numbers
And the cost was not just health. No. 2 diesel was harder on the engines and required more maintenance. The dirtier fuel clogged up the engines, bringing down their overall life-expectancy. Translink and CMBC might have been saving money on fuel, but the cost to the health of the workers, and to the buses themselves, didn't add up to savings.
Zabel states that the transition back to No. 1 fuel was smooth and made sense, but according to Smith it was a tough battle. He says workers faced intimidation and threats of dismissal, but they felt protected by the union, and knew that the cause was worth the risks.
"Groups of skilled trades people are very difficult to replace. We are not a dime a dozen. So if we stand as a united group the company has to listen to us." Smith says that he understands why not everyone in Canada is fighting for his or her rights: "The intimidation factor is huge." He says it is important for workers not to give in to pressure and agree to work with substances that are harming them, because the laws clearly state that every worker in the country has the right to refuse to work with dangerous products.
"We were met with lots of resistance," says Smith, smiling wryly, "but at the end of the day the company admitted they were wrong."
Benefits for everyone
What exactly did Smith and the rest of the members of CAW 2200 win? Cleaner air for themselves, but enormous benefits for the public as well. The Coast Mountain Bus Company estimates that its 1300 buses use 37,000 litres of diesel per year in the greater Vancouver area. A dirtier fuel would not only affect the air for millions of residents in Vancouver, but could arguably force clean-up costs into taxpayers' hands through health-related issues from pollution to the environmental fall-out that comes from dealing with thousands of litres of dirty diesel fuel per year.
The battle over diesel fuel opened the door for further green initiatives as well. Translink and CMBC not only switched back to No.1 diesel, they are now one of the fleets in Canada that use a blend of Ultra Low Sulphur Seasonal Diesel (ULSD) and Biodiesel.
Clearing the air
Smith says the communication between the company and the employees is now very supportive and that they are diligent about removing toxic substances and finding better, cleaner, ways to deal with waste: "It bugs me that there is so much sewage, et cetera, that is still going untreated into the water supply. Employers are not the ones who are forced to pay for clean-up out of their pockets; that job is basically left in the hands of employees and the public."
In fact, the now defunct Oakridge Centre not only had poor ventilation, but chemicals and oil were dumped from it directly into the water supply. A mesh fence surrounds the old fueling station, and where a huge dig has just taken place to take out soil contamination from leakage at the old fuel island. All the new facilities have water treatment centers along with better ventilation, initiatives that were mainly employee-driven.
Ask Smith if he considers himself an environmentalist and he guffaws. "It's very odd. Our union is completely opposed to the Kyoto Accord right? We are building big Chevy pick-ups and don't want regulations because we're afraid of losing business. But we want to be able to live to enjoy our retirement too.
"It's funny, because in the old days you just did your job, you didn't complain. Now the guys are thinking more about 'how is this going to affect my life, or my kids' lives?' Fortunately, in Canada companies can be forced to listen."
On Monday: Cleaning products are the toxic frontier, with millions of gallons of them poured directly into our water streams. But that is changing. Find out how a Burnaby school custodian made a safer and healthier environment, inside and outside.