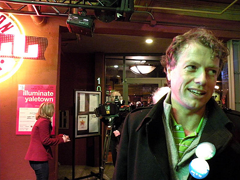 *This story was corrected at 10:00 AM on May 12, 2009
Save for a collection of backpacks and bike helmets stashed under a bar, the monthly Greendrinks meetup -- a get together for green professionals -- in Vancouver looks like any other business networking event.
People are dressed business casual, having come straight to this downtown bar from their jobs as consultants, web designers and engineers. They share a common desire to do things in a better, more sustainable way -- even if environmentalism is not inherently part of their chosen field. Call them the green suits.
This is Green Party candidate Damian Kettlewell's target audience: young, educated urbanites with careers in the green industry, which, in this city, is driven by architecture and urban design.
According to an informal Tyee survey of the Greendrinks crowd, many here do support his party. Fifteen of 33 people questioned said they would vote Green if they had to go to the polls tomorrow (nine were undecided, four said Liberals and five said NDP).
"I'm worried about this being another four-year [Liberal] term," said Monika Marcovici, a sustainability consultant. "I wanted to go NDP because I thought it would be strategic. But my priorities are more aligned with the Green Party's policies anyway, and I thought my vote would make a statement even though it might not win."
Indeed, convincing people that a Green candidate is a viable alternative has been one of Kettlewell's challenges since he first ran in the 2005 provincial election, at that time against Premier Gordon Campbell in Vancouver-Point Grey.
"It was a very difficult race running against the premier and we had a respectable result [14 per cent]," he said. "I looked at the opportunity and the demographic in Vancouver-False Creek... there are younger people, more educated and more urban. I spoke to Shane Jolie, the deputy leader of the green party in Ontario and he said that he always did best in polls that were near the water, because people who live close to the water...are intrinsically aware of the value of clean air and clean water."
Young techies in condos
During last Sunday's debate, Green leader Jane Sterk plugged his campaign as one of the strongest.
According to his riding's profile, based on 2006 census data, more than half its residents are in the 22-40 age bracket, 60 per cent have post-secondary education and 18 per cent work in the science and technology sector. One-third of the average family incomes are more than $100,000, average rents are $1,291 and the average value of owner-occupied homes is $536,953.
Gaining access to the condo fortresses that characterize his riding is difficult, acknowledges Kettlewell, and looking the part of a successful businessman is important. He's clean-shaven, and wears a suit and tie to press meetings and public events.
"People, especially over the age of 45, really are more likely to trust a political candidate if they present themselves as professional and competent," he said.
And the 37-year-old Australian native who owns a pub and liquor store in Burnaby is a successful businessman. He, his wife and young daughter live in Kits Point. He drives a hybrid Lexus SUV. He's about able to raise about $12,000 this election -- about double his campaign budget in 2005 -- that has allowed him to make his presence known with bus shelter and newspaper ads.
And he also makes appearances at events like Greendrinks, the Vancouver Greentech Exchange and a recent panel discussion hosted by the Lighthouse Sustainable Building Centre.
The missing labour link
"Win or lose, I want to get the word out about green jobs. I think the economy is the top of everyone's mind right now and we need to get people talking about green jobs," said Kettlewell.
Not just tech and design, but fields like recycling, transit and ecological restoration, also need to grow, he says -- fields that are already serviced by unionized workers. Kettlewell knows that the party could do a better job of reaching out to labour.
"I think big business is pretty committed to the Liberals, and big labour is pretty committed to the NDP. The Green Party is supported a lot of the time by smaller businesses, that's where we're at now."
Gordon Price, director Simon Fraser University's City Program, says the green industry in Vancouver is mostly made up of people who work in design, development and academia.
"In Vancouver, green-tinged professions are pretty big," he told The Tyee. "I don't think there's very many people who could call themselves a green-collar workers."
Certainly, sustainability is what the market demands. "If you're an architect now and you don't have a sustainability plank on your website, you're irrelevant," Price said.
Amidst economic gloom, a rising sector
Joyce Drohan, an associate at James KM Cheng Architects, says this green tech/building/design sector in Vancouver is fairly significant.
"Oh yeah, there's quite a few involved," she said. "And it's not just architects, it's also mechanical engineers who have a huge role to play, and structural engineers. There are all the consultants who work with the clients, and then there's all the clients."
She believes the far more important vote is those people who are interested in building green communities and cities, making them walkable, and with more natural ecology weaved into the urban landscape.
"You can do that with green buildings, but you can't do it on a large enough scale. And I think people are keenly interested in the bigger picture."
Green in Whistler
It's this urban sustainability sector that West Vancouver-Sea-to-Sky Green candidate Jim Stephenson is trying to attract.
"Whistler is unique in that they've actually created an industry for sustainability management and they now offer services to other companies," Stephensen told The Tyee.
"They're also into hiking and a lot of outdoor sports that take advantage of the beauty of nature, so they're quite green."
This riding in 2005 (which lost of slice of West Vancouver when riding boundaries were adjusted) had some of the best Green results in the province. The Green Party won 26 per cent of the vote, the NDP 21 per cent and the Liberals 50 per cent. Whistler itself voted 46 per cent Liberal and 40 per cent Green.
"I'm hoping that will carry over and even improve," said Stephensen, who has run twice for the federal Green Party. He's another candidate with a strong business background. After getting a joint PhD in business and economics from Stanford University, he started a software company and is now a financial reporting software consultant.
"I talked to the Whistler mayor yesterday about my concern that we're seeing a lot of examples of doing the wrong things for the right reasons, and that would include things like ethanol," he said.
"I think there's a mixture of good and bad green policies right now, and I think we need a green voice in the legislature to be able to address those and speak up."
Related Tyee stories: