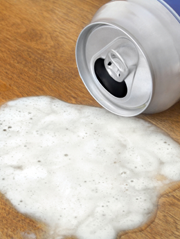 So the NDP might drive up the cost of a half dozen beer by $3. It is evil beyond imagining, and it played well in the media last week as an association of largely urban B.C. private liquor store owners stumped for their friends in the B.C. Liberal party.
But as with many good stories, it's a dubious exaggeration and the truth is in the backstory. That story begins with the other private liquor stores -- the "rural agency stores" that serve small communities across the province. And in some ways, their story says more about the nature of politics in British Columbia than other controversies that have dogged the B.C. Liberals -- you know, the sale of B.C. Rail, run-of-river power, usurious new interest rates on payday loans, expanded gaming, the privatization of B.C. Hydro's administration services, and the other issues involving power and influence wielded behind closed doors.
Surely, though, a small-town general store seeking an even break from government on its booze sales wouldn't get caught up in such cheap political cronyism. But here's the thing. The B.C. Liberals have a rather large number of prominent connections to the liquor industry.
Private liquor's friends in high Liberal places
Take Patrick Kinsella, who co-managed the 2001 and 2005 B.C. Liberal provincial election campaigns and recently threatened to sue NDP politicians for badmouthing his involvement in the B.C. Rail sale. Kinsella, who is connected to all those aforementioned B.C. Liberal controversies, has also held an interest in liquor policy. Ace investigative reporter Sean Holman, who has extensively documented Kinsella's links, reported on his website Public Eye that Kinsella was in 2006 a director and shareholder with booze retailer the Liquor Barn GP, which then owned 19 private liquor stores in B.C. Not that we can say he ever lobbied on their behalf. Former finance minister Gary Collins is on the board of the Liquor Stores Group, which recently bought Liquor Barn.
In 2007, Gordon Campbell's former deputy chief of staff left for a job at Labatt Breweries of Canada, where he replaced another former Campbell deputy. There are others with industry connections, including cabinet minister and liquor-industry policy-maker Rick Thorpe.
The province's political Lobbyist Registry states that Mark Jiles, Gordon Campbell's former constituency campaign manager and a partner with Kinsella at the Progressive Group, has worked for two other companies "to promote a new liquor distribution system" and on "policy and pricing pertaining to liquor in B.C."
'We subsidize beer with milk': Saturna General Store owner
"Policy and pricing" are sore spots with rural agency stores, as the 230-odd general stores that sell liquor are known in the argot of the B.C. Liquor Distribution Branch. Nobody in Gordon Campbell's circle has been working on their behalf. And rural agency store owners argue they lose heaps of money on their liquor sales. "We subsidize beer with milk," says Jon Guy, a partner in the Saturna General Store.
Anahim Lake Trading's Ted Hlokoff figures selling booze -- with all the complicated paperwork, costly inventory, refrigeration, bottle handling and shipping -- costs him 18 per cent of the sticker price. Since 1974, when rural agency stores were established, the province has obliged them to sell at LDB prices while giving them a mere 10 per cent wholesale discount. Hlokoff says his annual liquor sales of $300,000 comprise a third of his business. Yet he says he doesn't really care that he's not allowed to put up a sign saying he sells booze. "If we're losing money, why would I want to advertise?"
Meanwhile, the nearly 700 private stores get a 16 per cent discount and can sell booze for any price that works for them. Credit for this goes in part to the Alliance of Beverage Licensees of B.C. (ABLE B.C.) They've been effective lobbyists. The number of private stores has tripled under the B.C. Liberals, and the wholesale discount they get on liquor they buy from the government has increased to 16 per cent from 10 per cent. Critics of the government have characterized that increase as a $60 million annual gift to those private stores.
ABLE has also been getting good publicity for its assertion an NDP government would drive up the price of booze by perhaps 20 or 25 per cent by cutting its wholesale discount and increasing minimum wage. Gordon Campbell and Rich Coleman are now running on those numbers. We'd question them on the math -- an increase at some private stores of between six and 10 per cent might be credible -- but as with the relevant provincial bureaucrats and B.C. Liberal politicians, ABLE's executive director was not available to The Tyee for an interview on the subject.
A revolt of family businesses
The math is clear on one thing, however. ABLE B.C. is no friend of rural agency stores. In February, the Kamloops Daily News quoted ABLE executive director Kim Haakstad as saying "there's no business case" to give those rural stores the same discount as other private outlets because the philosophy behind rural agency stores is not profit but community service. "Rural agency stores are set up to service the community," she said.
Haakstad also told the Kamloops paper her group's stores only sell alcohol. Yet many of them also sell high-margin items like chips, pop and gifts. But not low-margin perishables such as vegetables and milk.
Don't ask Ted Hlokoff about Kim Haakstad. She may actually make his blood boil.
Hlokoff says that when the rural stores asked the Canadian Federation of Independent Businesses to help him lobby for an even break, they were told they couldn't do that because they'd be working against the interests of ABLE.
Do Haakstad's views also hold sway with government? Does it help that she was a long-time ministerial assistant to former deputy premier Christy Clark?
Yet when store owners from Saturna and Galiano, Sorrento and Scotch Creek, Denny Island and Bella Bella, and other hamlets around the province arrived in the legislature this last Feb. 12, they came because they were frustrated that years of lobbying for a fair shake as ordinary family business owners had won them little.
In 2007, then-solicitor general John Les had told them in an e-mail that he'd help them if they helped the B.C. Liberals by keeping their mouths shut. "One more question in QP [question period] or an article in the paper and it's over." Les did gain a few small concessions on freight costs and paperwork before he was forced to resign his cabinet post (he had rather profitably subdivided some agricultural land he owned while he was Chilliwack's mayor). But when the rural store owners got nowhere with his successors, they came to Victoria and released Les's e-mail to the media.
NDP Caribou South MLA Charlie Wyse led the attack in question period. He asked why rural agency stores weren't getting the same treatment as other private liquor outlets. Is it because, Wyse asked, those other private stores donated $250,000 to the B.C. Liberals, because the Alliance of Beverage Licensees (ABLE) donates to the B.C. Liberals, and because ABLE contributed to recent ads criticizing the NDP?
No, the Liberals' Rich Coleman said, it's because rural agency stores are different.
"These are not liquor stores," Coleman opined repeatedly. "These are general stores that have an add-on to their business, and they can have it voluntarily. They don't have to take the licence if they don't want it."
They don't have to lose money if they don't want to. They could let the bootleggers provide the service. Customers on Saturna Island could take the dawn boat to Victoria if they want to. Customers in Anahim Lake could drive 320 kilometres to Williams Lake and then drink all the way home if it suited them. In other words, rural agency stores provide a community service by selling liquor. It's not like an actual business at all.
Private stores' mega-margins
Out of question period's spotlight, Coleman -- whose Ministry of Housing and Social Development has the curious duty of overseeing alcohol distribution -- acknowledged that pricing for the stores is a problem. And so, last month, the government gave rural agency stores the right to increase or decrease prices by five per cent. Not a price increase, you see, but flexibility on inventory management.
Will the Saturna General Store raise its liquor prices? "We can't afford not to," says Guy. He'll still be shy of the 16 per cent he figures he needs to break even, and well short of the 18 to 20 per cent margin he would find livable, but you take progress where you can find it.
Hlokoff thinks the private stores have an average markup of 20 to 25 per cent, which with their 16 per cent discount gives them a margin of as much as 40 per cent. Even government liquor stores, Hlokoff says, operate with a paper margin of 27 per cent.
Carving up the cash cow
Now that there's an election on, however, the NDP seems less concerned with the rural stores' bottom lines than, should it form government, with its own. Its platform promises to "standardize liquor surcharges" with a benefit to the provincial treasury of $62 million per year. The NDP intends to take a pound of flesh from friends of the B.C. Liberals by rescinding the six per cent increase in the discount that the B.C. Liberals gave to some private stores.
The NDP knows the Liquor Distribution Branch is a huge cash cow for any government, and private stores have cut into that. Perhaps that's what the B.C. Liberals discovered a few years back when, after tripling the number of private stores, they actually halted their headlong rush in that direction.
Of course, the NDP also has its own political cronies -- the B.C. Government and Service Employees' Union, which represents all those public liquor store employees. Every political party has friends and masters. The NDP has promised the same discounts and assistance to all stores in the private sector -- a level playing field. But at what level? What about the 27 per cent discount that's extended to the government stores? Would an NDP government simply expect rural stores to raise liquor prices even further, instead of giving them a reasonable wholesale discount?
"I don't know," allows Guy, "that the NDP would be any better."
Hlokoff puts it another way. "Politics isn't about fair and government isn't about taking care of the people," he says, exasperated. "I'm still learning this."
So the next time you sidle into a rural general store to buy a litre of milk, be sure to pick up a bottle of scotch to help you wash it all down.
Related Tyee stories: