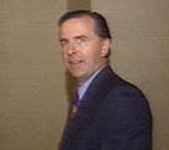 A national payday loan company executive says the provincial Liberals' most powerful backroom boy did lobbying work for his firm. But Patrick Kinsella has never registered as a lobbyist for that company -- or any other.
Kinsella -- who co-chaired the Liberals' election campaigns in 2001 and 2005 -- hasn't returned repeated requests for comment. In the past, he has denied ever lobbying the government he was instrumental in electing.
But, in an interview, Cash Store Financial Services Inc. senior vice president and corporate secretary Michael Thompson said Kinsella worked for his company in the "spring of 2007."
"He doesn't work for us anymore. He was just basically bringing [then solicitor general John Les] up to speed on what our position was with respect to the regulation of payday loans in the province of British Columbia," he explained. Asked if that was lobbying work for Cash Store Financial, Thompson said, "Correct."
Indeed, according to records exclusively obtained via a freedom of information request, Kinsella was scheduled to meet with Les for 45 minutes on May 2, 2007 -- two weeks after the then solicitor general introduced a bill to regulate payday lenders. The record of that scheduled meeting includes the notation "Payday lenders."
Under the Lobbyists Registration Act, consultant lobbyists are required to sign-up if, for pay, they communicate with a public office holder in an attempt to influence government or arrange a meeting with an office holder and another "person." But lobbyists don't have to register if they communicate about legislation or regulations in "direct response" to a "written request" from an office holder.
Kinsella 'helped set up meeting' with minister: lending exec believes
At the time Les introduced the Business Practices and Consumer Protection (Payday Loans) Amendment Act, the government promised to consult with consumer and business representatives. And, in December 2007 -- a month after the bill was given royal assent and seven months after Kinsella's scheduled meeting -- the government released a consultation paper requesting comment from those representatives.
Asked whether Cash Store Financial was communicating with government pro-actively or in response to a request, Thompson said, "Proactive." The senior vice president also said he believes Kinsella "helped to setup one meeting between ourselves and the minister's office."
At the time the act came into force, then attorney general Geoff Plant said the registry was "central" to the Liberals' "New Era commitment to openness, accountability and transparency" because it would "allow the public to find out who is being paid to influence MLAs and government staff, who they are lobbying, and the issues they are raising."
'I don't consider myself a lobbyist': Kinsella
Kinsella, whose companies have contributed $67,620 to the Liberals since 2005, has never registered as a lobbyist for any client. In a 2004 interview, he said, "I don't consider myself a lobbyist. I hold myself up as a communications consultant. I don't do any lobbying. They don't need me to pick up a phone and talk to the government or any members of the provincial government. I make it very clear to my clients that I don't do that."
When asked directly whether he ever talks about his clients with cabinet ministers and their staffers, Kinsella said, "Absolutely not. That's an understanding that I have... I suspect there's no one in government who would say they've ever been lobbied by me."
Kinsella, his 25-year-old firm The Progressive Group, its president Mark Jiles and Jiles' own sports marketing company, Bluestone Ltd., have been under review by the lobbyists registrar since June.
The New Democrats requested that review after 24 hours exclusively obtained a May 2006 contract between the Washington State and The Progressive Group in which the firm committed to "facilitate opportunities for Washington State to develop important relationships" with "key individuals within target business, political and Olympic circles" -- including cabinet ministers and senior bureaucrats.
In a written statement, Jiles -- who first registered as a lobbyist in December 2007 -- said Progressive is "confident it has consistently and correctly followed the requirements of the Act," registering "each and every" time it communicates with public office holders on behalf of clients.
Progressive's busy docket
According to other records from Washington State, as well as e-mails and calendar entries obtained from the provincial government during a five month investigation by 24 hours:
Kinsella was scheduled to repeatedly meet with Les between 2005 and 2007. Those meetings included a discussion at the Vancouver Club on Feb. 9, 2006, about the "absence of effective public/private sector partnerships," "continuing contract uncertainty -- terms and conditions" and "unrealized potential for Government and the Private Sector." And, on April 11, 2007, Kinsella was scheduled to attend a meeting with Les and the solicitor general's then senior aide Brian Sims in the premier's Vancouver office "re: polling info on ICBC." The names of other parties attending both meetings were edited out because the government deemed them outside the scope of 24 hours' freedom of information request.
Jiles was also scheduled to repeatedly meet with Les. On July 3, 2007, for example, Jiles sent an e-mail to Les asking if he had "a few minutes this week or early next week to discuss the Wakefield licensee issue? I have some options to discuss…" The solicitor general's response: "Would love to." And, on June 6, 2006, Jiles and an edited-out party were scheduled to talk to Les about "mandatory membership of all [mobility or retail liquor] licensees into" the Alliance of Beverage Licensees of British Columbia. That meeting was arranged through Jiles. Association executive director Kim Haakstad says she has "no knowledge of him ever working for us."
On Sept. 7, 2006, Jiles was scheduled to attend a "New Car Dealers meeting" with Les, then motor vehicles superintendent Mark Medgyesi and an edited-out party. And, two months later, Jiles attempted to arrange a meeting "on behalf of Glen Ringdal, Moray Keith and Henning Brasso of the New Car Dealers Association" with then Forests and Range Minister Rich Coleman. The purpose: "to develop a stronger relationship with Minister Coleman and discuss the elimination of the 2% Luxury Tax on the sale price of new pickup trucks that sell for over $55,000.00 and a number of local issues facing New Car Dealers in Fort Langley and Algerdrove [sic]." This, according to an e-mail sent on Nov. 17, 2006, to Coleman's ministerial assistant Tobie Myers. The e-mail includes the handwritten notation "OK to meet." New Car Dealers Association of B.C. business manager Tina Coleman says Progressive wasn't hired by the association "until sometime in late 2007." Jiles registered as a lobbyist for the association on January 1, 2008.
Progressive claimed it convinced the provincial government -- on behalf of the B.C. Motion Picture Industry Association -- to extend its practice of giving tax credits to foreign film producers. That decision, which the government relations firm valued at $65 million, was announced on Jan. 20, 2006. Jiles also sent a letter to then finance minister Carole Taylor on March 8, 2007 "regarding the provincial film tax credit." In a June 2008 interview, association chair Peter Leitch said Jiles has been their "government relations person" for the "last four years." Jiles registered as a lobbyist for the association on December 1, 2007. Asked why he registered in December and not before, Jiles responded, "We've got some big initiatives coming down regarding the industry... And, not being sure what sort of legislative changes or regulatory changes might be necessary, I felt it was necessary to register." In an e-mail, Jiles stated Kinsella has never acted for the motion picture industry.
Between May and September, 2006, and January and June, 2007, Progressive was under contract with Washington to identify business opportunities for state companies and advance its interests in relation to the 2010 Olympic Winter Games. As part of those two contracts, Progressive "worked" with a number of provincial government officials including "Representatives from Premier Campbell's office." Jiles also arranged a Sept. 21, 2006 meeting with Washington 2010 director Mary Rose and secretariat 2010 Commerce Centre director Brian Krieger. Jiles has said Progressive's contract, "wasn't about lobbying." Instead, in an e-mail, Jiles wrote his involvement "was around sports marketing."
Progressive promoted and educated the provincial government "of the value of outsourcing a number of key government services" on behalf of Accenture Business Services between January 2003 and January 2008. As part of that contract, it worked with the outsourcing giant to develop a "comprehensive marketing plan" and a "very broad government-relations plan" that resulted in a $1.45 billion deal to privatize BC Hydro Corp.'s back office services. That deal was signed on Feb. 28, 2003. Accenture Canada communications director Meg Sintzel said her company has used Progressive "for strategic counsel but not for lobbying activities."
Jiles explained to Washington State that "access to key decision makers is simply the price of admission in our business; knowing how issues play at various levels within and outside government, what route your issue will take through the many levels of decision making and how to influence its progress, as well as an understanding of the unwritten rules of doing business in the public sector." He also bragged Progressive has "strong relationships" with a number of cabinet ministers and senior bureaucrats, as well as "a wealth of knowledge and contacts to support the numerous initiatives and activities that companies need to help support their business objectives." And he stressed Kinsella "has provided political advice to many of Canada's top political figures from Prime Ministers to Provincial Premier, and at the same time a number of blue chip private sector clients."
Jiles has been under contract with the British Columbia Chiropractic Association since 2006. But he didn't register as a lobbyist for the association until January 1, 2008. Association executive director Don Nixdorf says Jiles never arranged meetings or communicated with public office holders for the chiropractors by himself. But he did attend meetings between the chiropractors and government.

'Kinsella owes an explanation': NDP's Krog

The government has repeatedly declined to comment on Kinsella and Jiles' relationship with government . But New Democrat attorney general critic Leonard Krog is commenting.

Calling this "the ultimate friends and insiders story," Krog said, "There's no one more closely connected with the Liberal centre than Kinsella. He's the co-chair of their campaigns. He's a long-standing friend of the premier."

"Kinsella owes the public an explanation. And former minister Les should clear the air in this matter by advising whether Kinsella was lobbying or not."

Those who violate the Lobbyists Registration Act could be fined up to $25,000.

Related Tyee stories: