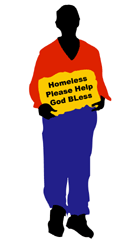 Jobs are Premier Gordon Campbell's answer to poverty.
That position was repeated during the April 23 leaders' debate on CKNW radio when he responded to a caller's question about mandating poverty reduction targets by saying, "A job is, by far, the best social program you can have."
Since taking office in 2001, B.C. Liberals have insisted they were creating jobs and people are better off. They pointed to a rapidly declining welfare caseload as an example of that success.
And yet, the NDP and others point out even when B.C.'s economy was strong, the provincial poverty rate stayed high and the child poverty rate, at 21.9 per cent according to the most recent report, led the country for five years.
Now a new report posted to the Housing and Social Development Ministry's website following pressure from The Tyee shows Campbell and his welfare ministers have been wrong on why the welfare caseload was shrinking and that major changes the Liberals made to the system did nothing to improve people's incomes.
"What's interesting about it is it shows no improvement," said Seth Klein, the B.C. director for the Canadian Centre for Policy Alternatives. "[It] stands in stark contrast to the good news narrative we've been fed for the past few years."
Housing and Social Development Minister Rich Coleman did not respond to requests for an interview.
Gaps in the data
The report, Income Levels of BCEA Clients after They Leave Income Assistance, used federal tax data to track people after they left welfare.
It only included people who filed a tax return in every year of the study period. About 30 per cent of people who left welfare are not caught in the study. And as time goes on, more drop off. For those who left in 2000, for example, by 2005 another 31 per cent are dropped from the study. Therefore fewer than half the people who left welfare are included.
"If you didn't file at all, you're not captured in this," said Klein. People who are homeless, addicted or otherwise having a hard time are most likely not going to file their tax returns, he said. "What about the people we should be most concerned about?"
Nor does the report have anything to say about the people barred from collecting welfare because they did not meet new eligibility requirements. "I still think that big picture we still have a greater interest in what happened to those who were denied and discouraged than we do in what happened to the leavers," said Klein, a co-author of a report on B.C.'s shrinking welfare caseload.
That said, the government's report does offer data that can be compared over time. In general, and not surprisingly, people who leave welfare have higher incomes than they would have from government assistance. After Liberal changes to the welfare system, however, they were more likely to remain in poverty.
Lower incomes
"The income of those who left after the introduction of the BCEA welfare reforms were lower than those who left pre-2002," the study found. Also, it said, compared to the federal government's Low Income Cut-Offs, "A higher per centage of clients who left after the BCEA welfare reforms have income below the LICOs."
The report said both declines could be at least partially explained "by the change in composition of the caseload from more-employable to less-employable clients." As easier to employ people left welfare, or couldn't get on, the people who left later were the least employable and therefore had lower incomes when they did leave.
It also showed that getting off welfare is not the same as escaping poverty. A chart on page eight of the report shows that the number of former clients with a family income below the LICO stays steady as time goes on. For people who left income assistance in 2000, 34 per cent were under the LICO. Five years later it was down to 33 per cent.
Put another way, over five years, just one more in a hundred families managed to climb out of poverty. As Klein observed, "There's not much further path out of poverty going on here."
The figure speaks to the government's policy of pushing people as quickly as possible into the first job they find, he said. "Because we haven't really given people the kind of training or assistance that would offer them a path into a well-paying job, you're not seeing a lot of progress."
Women stuck with low pay
Income levels tell a similar story. The median employment income for single parent families in 2001 who had left welfare the year before was $10,800 (all figures are in 2005 dollars). A similar family in 2005, the most recent year included in the study, made just $9,000.
Men fared better than women, based on median incomes. A single man who left welfare in 2000 was making $18,800 by 2005. Single women over the same period saw their incomes drop from $7,800 to $5,600.
"There's nothing particularly positive here," said Klein. "It certainly doesn't show the reforms improved results."
It would be wrong to say the Liberals have succeeded at moving people from welfare to work and that they're better off, he said. "All these findings are at odds with what the dominant narrative has been from successive ministers."
A low unemployment rate and getting people working is a good thing, said Klein. It is not, however, enough. "Having a record low unemployment rate does not in and of itself reduce your poverty rate."
Vulnerable in hard times
The declines reflected in the report on what happens to people who have left welfare have come in a time of strong economic growth in the province, he said. Now the gross domestic product is shrinking and the government budget is stretched. Asked Klein, "So now what?"
To move people out of poverty you have to find ways to boost the wages of low-income earners, he said, explaining that's why raising the minimum wage is key.
"I'm perplexed the Liberals and Campbell are being so stubborn on this," he said. "I think the whole issue of whether they will adequately look after the vulnerable, especially in hard times, is a question for a lot of people."
Despite persistent poverty and the rise in homelessness in the last eight years, these issues are yet to make a major impact in the election, he said. While the NDP may calculate they have little to gain by going hard on these issues, he said, the Liberals could gain much.
"If you're Gordon Campbell, if you can try to make the case you are prepared to look after the vulnerable, you have a lot of fallow ground there. You have a lot to move."
Related Tyee stories: