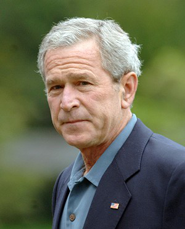 As with previous visits to Canada, George W. Bush will be greeted in Calgary today with protests and calls for his arrest and prosecution for war crimes.
But one key difference separates this from past visits -- he now lacks diplomatic immunity.
In one of his first international appearances, the former president is expected to speak before an audience of 1,500 over the lunch hour today at Calgary's Telus Convention Centre.
The speech, which takes place the same week as the sixth anniversary of the Iraq invasion, is by invite only and will be closed to the media.
Invitations for the event said Bush will focus on "the challenges facing the world in the 21st century" and reflections on "eight momentous years in the Oval Office."
Welcoming Bush to Calgary will be a rally and protest, the culmination of a week-long campaign organized by The People vs. Bush, a committee of peace, labour, social justice and environmental groups. The events also included a mock war crimes trial on Saturday (Bush was convicted), and a public forum outlining the case for investigation and prosecution.
Ahead of the visit, a group called Lawyers Against the War sent a letter to the RCMP war crimes section requesting the police force bar Bush from entering Canada, citing torture and other war crimes in Iraq, Afghanistan and Guantanamo Bay committed under his watch.
"We are now very sure that the crimes were committed," said Gail Davidson, author of the letter and co-founder of the Canadian-based international organization of jurists. "The Bush administration planned, authorized, directed and funded those crimes."
Not like last time
When Bush visited Ottawa in 2004, Davidson, a Vancouver lawyer, filed a criminal information, a sworn document used to initiate a criminal proceeding. But charges must first be approved by the attorney general and the Canadian government claimed Bush had diplomatic immunity as a head of state.
With that protection now aside, legal experts argue the possibility exists for Canada to prosecute Bush under the principle of universal jurisdiction, similar to what was used to arrest and indict former Chilean dictator Augusto Pinochet in Britain.
"There certainly is jurisdiction under the Crimes Against Humanity and War Crimes Act," said Michael Byers, UBC law professor and the Canadian Research Chair in International Law and Politics.
The act, passed in 2000, allows the Canadian government to charge someone for war crimes even if the accused is a foreign citizen and the crimes took place abroad.
"It's absolutely cutting-edge legislation," Byers said. "It's probably the best and most wide-reaching legislation in the world and we can be proud of it. The only thing we can't be proud of is our reluctance to implement it."
'Difficult to conceive': Byers
To date, there has been only one prosecution under the nine-year-old law.
Rwandan war crimes suspect Desire Munyaneza is still awaiting a verdict in a Quebec court and faces a life sentence in a Canadian prison.
Enacting the legislation requires the consent of the federal government, throwing the probability of a prosecution of Bush in serious doubt.
"It's difficult to conceive of the Harper government allowing an arrest of a former U.S. president," Byers said. "This is a government that won't even request the repatriation of Omar Khadr," he said, referring to the Canadian citizen who has spent the last six years held at Guantanamo Bay on the accusation of killing an American soldier in Afghanistan when he was 15.
While Byers said he favours a criminal investigation into Bush's alleged crimes, he is not supporting calls for a Canadian prosecution at this time.
"We don't yet know what decision Barack Obama will make concerning a prosecution in the U.S.," he said. "My view at the moment is we should wait to see where the Obama administration is going. The government of nationality should be given the first opportunity to do so."
'No one above the law': Obama
The current president has not yet stated definitively whether or not he will proceed with criminal investigations. He has sent a clear signal of change from the Bush administration in some areas, ordering the closure of the Guantanamo Bay detention centre within one year and commanding American officials to follow treaties and laws that prohibit torture.
But on the question of possible criminal investigations of former administration officials, he has remained somewhat elusive.
Perhaps the most explicit indication he has given was an interview with ABC News's George Stephanopoulos shortly before his inauguration.
"We're still evaluating how we're going to approach the whole issue of interrogations, detentions, and so forth," Obama said.
"Obviously we're going to look at past practices. And I don't believe that anybody is above the law. On the other hand, I also have a belief that we need to look forward as opposed to looking backwards."
For some, this interview dampened hopes of the probability of Obama opening an investigation.
Most Americans want torture investigated
"In terms of likelihood, I think the indication right now would be that he would be disinclined to look into a criminal prosecution," said Vincent Warren, executive director of the Center for Constitutional Rights, a New York-based non-profit legal advocacy organization.
The group is calling for an independent investigation and criminal prosecution of Bush administration officials as part of its 100 Days to Restore the Constitution campaign. Warren said he believes these types of proceedings are necessary to send a message of an end to impunity.
"If there are criminal prosecutions for the actions -- that will have the strongest deterrent effect," he said.
Close to two-thirds of Americans favour an investigation into the use of torture tactics by the Bush administration, according to a late-January USA Today/Gallup poll. Thirty-eight per cent of those surveyed said they wanted a criminal investigation while another quarter preferred an independent panel without criminal charges.
"I think that there is significant support from the American people," Warren said. "We as a nation, the United States, cannot move forward... until there's meaningful accountability within the U.S. of the government officials that put forth these crimes," he said. Warren supports using universal jurisdiction laws at any time if that is what is required.
"The preference of course is to have it done within the United States but failing that, if the Obama administration refuses to do that, we would call on the international community," he said, adding that Canada is well within its jurisdiction to prosecute. "It is an independent sovereign and it can move forward as it sees fit."
Calgary, Bush country?
The choice of location for one of Bush's first post-presidency visits was not surprising to local activists.
"It is quite significant that Calgary is the heart of Big Oil in Canada and the heart of conservatism also," said Tavis Ford, part of the protest's organizing committee. "If anywhere on earth is going to welcome Bush it is going to be in Calgary, unfortunately," he said.
Organizers of the protest are hoping to use this choice of location to reveal the widespread public opinion seeking prosecution.
"People all around the world are going to see that in the conservative heartland... that there isn't support, that there is demand for justice and an end to impunity."
Those protesting Bush's visit are willing to concede that an arrest and prosecution today are quite unlikely.
"It's not going to happen," said Ford. "But we do need to make a strong case for it and make it known that he's not welcome here."
Advocates hope that the protest events in Calgary are building blocks towards the ultimate goal of seeing Bush arrested.
"This is not going to be our only opportunity," said Byers, pointing to the long amount of time before any action was taken against Pinochet. "He wasn't arrested until 25 years after the alleged atrocities occurred and Mr. Bush is a pretty healthy man."
'Some kind of remedy': Lawyers Against the War
Lawyers Against the War is currently in consultation with other international legal groups, planning the best strategy for bringing Bush administration officials to justice.
"We want to think of where we have the best opportunity of making those tries," said Davidson. "That may well be in some other jurisdiction," she said. "Prosecutions and investigations are not going to happen unless there is a great deal of public pressure."
She said she is confident people everywhere are beginning to understand the need for bringing Bush administration officials to justice and are voicing their opinions.
"How we move on is by ensuring that the wrongs of the past don't occur in the future and those who were wronged by past behaviour have some kind of remedy, that they have some kind of justice. The need for that is not only basic to the legal system but basic to human nature."
And while it may have once been thought impossible to try a former American president for war crimes, advocates are saying recent events have given them hope.
"I never thought I would live to see an African-American president elected in the United States," said Warren.
Related Tyee stories: