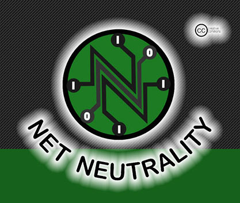 In just over 10 days, nearly 4,500 Canadians have written the CRTC demanding that they put a stop to discriminatory Internet throttling by big ISPs. Canadians made it known that they will stand for nothing less than full and open access to all the Internet has to offer, free from ISP control. Big telecommunication companies want to become gatekeepers of the Internet, deciding online winners and losers, and making our online choices for us.
With the launch of Bell's un-throttled video store that competes with independent content using P2P applications, we already have a de facto tiered Internet in many markets; if you use independent peer-to-peer applications, you have to deal with a slow-lane Internet with unreliable service. This Internet throttling is not only limiting media choice, it also scares away innovation -- not something we should be doing in this economic climate.
Canadians have taken notice of the U.S. situation, where President Obama just signed an economic stimulus bill dedicating $7.2 billion to get fast, affordable, neutral Internet to the nearly half of American homes that don't have it. Obama announced that telecom companies receiving money through his broadband stimulus package must adhere to Net neutrality principles. The newly elected Congress is also poised to make Net neutrality law
Canada must start moving in a positive direction toward ensuring an accessible, open Internet for everyone. We are at risk of becoming the backwater of online innovation and free speech as web entrepreneurs increasingly migrate to the U.S., where the open Internet is embraced by politicians and policymakers.
Canadian's telecommunications regulator, the Canadian Radio-television and Telecommunications Commission (CRTC), has thus far adopted a do-nothing approach, allowing Bell Canada and other ISPs to continue throttling the Internet.
A hearing for Internet freedom
The CRTC could redeem itself; this July, the CRTC is holding a hearing on "traffic management." The hearing will help determine whether Bell and other big telecoms can continue to "throttle," and thus increasingly control, Internet traffic. The decisions made by the CRTC will signal to both innovators and investors what Canada's approach to online communication will be. From now until Feb. 23rd, the CRTC is allowing citizens to submit comments on the upcoming hearing.
A broad "SaveOurNet.ca" coalition has formed to fight for the open Internet. SaveOurNet.ca is calling all Canadians to tell the CRTC which path they want Canada to take at http://saveournet.ca/content/take-action.
Data raises questions
The original deadline for submissions for the hearing was February the 16th, but the CRTC extended the deadline after consumer groups complained that they did not have enough time to consider data recently released by Canadian ISPs. According to the CBC, the figures reveal "annual growth in total traffic volume declined for two consecutive years from 2005-06 to 2007-08 for five of the seven ISPs." This data significantly undermines arguments made by the ISPs that they need to manage networks in order to prevent congestion.
If traffic growth is slowing, then it is hard to imagine why the ISPs need to suddenly selectively throttle Internet traffic. The fact that ISPs are slowing access to Internet technologies that compete with their own services seems like more than just a coincidence. One also wonders why Telus, the one big ISP that isn't heavily invested in content, does not throttle?
Considering the challenges facing our economy, we should actively support our homegrown social, cultural, and economic innovation, not punish it by allowing big telecommunication companies to strangle the lifeblood of innovation - the open Internet.
Canadians can tell the CRTC what they think of Internet throttling at http://saveournet.ca/content/take-action
Related Tyee stories: