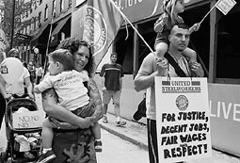 It's been a little over a month since thousands of B.C. health workers received cheques to compensate them for having their contracts illegally torn up by the provincial government. The payout totals $84 million, according to Health Minister George Abbott.
But Abbott expressed no regrets when asked by The Tyee to look back on Bill 29, the 2002 law that nixed contracts negotiated with the previous provincial government, legislation eventually struck down by the Supreme Court of Canada.
When Bill 29 was passed, Abbott said in an e-mail, the Campbell government's aim was to find savings in health delivery costs in order to provide more service to patients: "The collective agreements in place prior to the legislation actually impeded health care delivery and patient service."
'Mad, angry, depressed'
Irene Javier is one of many health workers who say Bill 29 caused them suffering.
"I was mad, angry and depressed then," remembers Javier, a Filipina immigrant who came to Canada as a nanny in 1981 and worked in B.C. hospitals from 1992 until Bill 29 allowed her to be laid off at both of the hospitals where she was working as a Hospital Employees Union member making over $19 dollars an hour. After the lay-offs, she had to re-apply to new for-profit subcontractors who paid $10 an hour.
Javier had already been working two half-time jobs at two different hospitals just to make ends meet. Now she has to work 12 hours a day at the lower wages. She currently works one eight-hour shift a day as a cleaner and a second four-hour shift as a dietary aid, working for two different for-profit contractors at the UBC hospital. She told The Tyee she sees the negative effects of privatization and contract busting at her workplace every day.
"The workload is heavier," she said, "and many of the new hires aren't well trained. Where we used to have eight cleaners on the fourth floor, now we have only four. We're just like killing ourselves at work. Some of these new workers have no idea what cleanliness in a hospital means. They don't know what MRSA is, or what isolation means. There is no good training, and the hospital is really very dirty now."
Abbott: Private contracts were to save $415 million
Before Christmas, B.C. health workers who were hurt by the Bill 29 legislation received cheques of between $788 and $17,730 based on their length of service, loss of earnings, employment status and other factors. The average is about $9,500 per claimant.
The Hospital Employees Union represents more than 7,000, or 92 per cent, of the claimants, including Javier. HEU members will receive $68 million in compensation and will be eligible for $7 million in re-training funding. The rest of the workers slated to receive compensation for Bill 29 layoffs and salary reductions were represented by the Nurse Bargaining Association, the Community Bargaining Association and the Health Sciences Bargaining Association.
Minister Abbott told The Tyee that "When Bill 29 was introduced, it was projected that the savings would be $415 million starting in 2004-05, allowing those resources to be refocused on core services to patients."
Not figured in those calculations are the costs to 7,000 health care workers whose work and family lives were jarred by the shifts in employment allowed by Bill 29.
Wages inching up again
Javier said the longer hours she now works causes her to have much less contact with her three children. And her son has had to take out large student loans in order to stay at school. Javier's experience is not uncommon, according to a Canadian Centre for Policy Alternatives study, which found that physical and mental health, family life and finances seriously worsened for many health workers (see sidebar).
Javier said the HEU, which now represents her under contracts with the private subcontractors at the UBC hospital, has won raises that have brought her wages up to more than $13-an-hour, in contrast with the $19-an-hour rate she made under the pre-Bill 29 contracts. She said that fringe benefits under the new contracts were inferior to the ones she received in 2002.
"We have to pay our own medical and dental now. I hope in the new contract coming up we will at least get up to a living wage of $16.74 an hour."
No regrets from health minister
The lost contracts and privatization of ancillary services in hospitals had a serious impact on the HEU, union spokeswoman Margi Blamey told The Tyee.
"Before the privatization began, we had 45,000 members in the province," she said. "With Bill 29, that fell to 38,000. We have re-organized most of the workers who lost their jobs and our membership is now up to over 43,000. The disruption to our members and their families, however, cannot be calculated or ever repaid. The money being paid out now is welcome, but it doesn't come near dealing with the damage done. The trauma to members, families and communities was huge."
The Tyee asked Health Minister Abbott whether the Supreme Court decision and the evidence of negative impacts on health care workers had made him re-think the decision to advance Bill 29 in 2002. In his e-mailed response, Abbott said:
"Our government is committed to directing as much health care funding to patient services as we can. That means trying to find the most effective way of providing ancillary services so that savings can be directed to patient care.
"At the time that the Health and Social Services Delivery Improvement Act was enacted, health sector collective agreement rates for some of the categories that were contracted out were as much as 35 per cent above the labour market for comparable work. In fact, the Supreme Court of Canada changed its own determination of the law.
"From government's perspective, the decision clarifies the law and gives guidance to governments across the country as to how to proceed addressing complex public sector labour relations issues in the future."
Related Tyee stories: