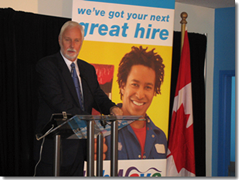 If British Columbia's government wants to know how well its jobs program is working, new numbers from Ontario might fuel the urge.
Ontario's government tried a private job placement service offered by a B.C. company, but an independent review found it worked no better than the ministry's own programs and did not save the government money.
The report raises questions about whether the company's programs work any better in B.C. than they do in Ontario, and whether the B.C. government is looking closely enough to know.
"There were no incremental reductions in [Income Assistance] that could be attributed to JobsNow," says the report on the Ontario pilot program produced by Ottawa management consulting firm Goss Gilroy Inc. and dated Oct. 10, 2008. "JobsNow was not more effective than regular Ontario Works programming."
The Ontario program was run by WCG International Consultants Ltd., a company with a head office in downtown Victoria, and sold last year to Arizona-based Providence Service Corporation. WCG has run employment programs in B.C. since 1995, including JobWave and Triumph.
Ontario paid a $7.6 million performance fee to WCG, despite the fact the programs were no better than what was already available through the ministry. It cancelled the program after the pilot.
In B.C., the province spends about $30 million a year on WCG programs, but has done little to evaluate whether taxpayers get value for their money.
Credit claimed
The WCG website takes credit for helping reduce the number of British Columbians on income assistance by over 230,000 between 1995 and 2006, and asserts it has saved the government over $600 million in welfare payments.
It also says 80 per cent of participants retain a full-time, unsubsidized job for at least 12 months.
While it is unclear where the B.C. figures come from, the Ontario results were not nearly so positive.
The report authors relied on WCG's data to find out how the company did. The program ran in Ontario from April 2005 to May 2007 in six municipalities. There were 10,389 participants referred to the company in that time. Of those, 3,294, or about 32 per cent, found a job within an 84-business-day window. Put another way, nearly seven out of 10 did not find work while with JobsNow.
And the ones who did find work while in the program did not necessarily think JobsNow deserved credit for helping them get their job. The researchers interviewed clients and found a minority, just 41 per cent, said JobsNow helped.
Overall then, the authors wrote, "This is equivalent to 15 [per cent] of all participants surveyed finding a job they attributed to the services they received through JobsNow."
And the ones who found jobs did not necessarily stay in them. As the report put it, "Over the entire length of the pilot, 13 [per cent] of all participants (1,325) had found employment and remained in the program for a full 18 months."
The Tyee sought WCG's explanation for why the results were seven times worse in Ontario than the success they claim for their programs on their website. WCG's media contact, Robin Adair, did not return calls by press time.
A possible explanation is that Ontario only referred clients to the program who had been on welfare for at least 12 months in a three-year period. The idea was to help the people who really needed an extra boost to find a job, instead of wasting money helping people who were likely to find work on their own.
B.C. refers clients to employment programs when they first get income assistance, even though the ministry's research shows two out of three people leave welfare within six months.
Low-paid, part-time jobs
For those who did find jobs in the Ontario study, the average hourly wage was $10.26, with three quarters of participants earning less than $10 per hour. About 20 per cent earned Ontario's minimum wage, which was then $8 an hour. It has since increased to $8.75 and is slated to go up to $10.25 in 2010.
The Ontario report also found nearly half of the jobs were part-time.
For a comparison with B.C., the WCG website says, "we have assisted clients to attain over 70,000 job placements with an average yearly salary of $22,000." That works out to a wage of about $10.57 an hour for full-time work.
There were positive things about JobsNow, the report found. In the offices, the walls were painted bright colours, there were "stars on walls indicating job placements and hourly wages" and a bell was rung when a placement was made. These things contributed to a positive atmosphere that helped build clients' self-confidence, the authors wrote.
"Under JobsNow, clients felt there was a real interest in helping them find employment and the services were not being provided just to ensure they were complying with Ontario Works' rules," they said.
Even the "many" who found their own jobs appreciated the efforts JobsNow staff made. "Almost all focus group participants felt it was the fact that staff tried, were enthusiastic and cared that mattered."
Value for money?
Ultimately, though, the Ontario government had to decide whether it was getting value for taxpayer dollars. As the authors put it, "JobsNow participants may have demonstrated positive outcomes, but this alone is not evidence that the program is effective since the outcomes may have occurred without the program."
To answer that question, the researchers compared the results for the JobsNow clients with a similar group of people who took part on the ministry's normal programs.
It looked at how much it was paying in Income Asssistance on average to people in each group. "JobsNow had no significant impact on the amount of IA paid (for basic needs and shelter) in the 18 month program period," they found. After 12 months, the JobsNow participants had received an average of $50 more than people in the control group. After 18 months, the total was $26 higher. The report said, "None of these differences were statistically significant."
The JobsNow participants did make more money from working -- roughly $20 per month -- but not enough to reduce the amount of welfare the ministry paid to them.
The report concluded, "JobsNow may have been very effective at reducing IA payments for the pilot participants, just not more effective than regular Ontario Works programming."
BC starting to look closer
While Ontario chose to cancel the WCG program after the pilot ended, in B.C. WCG has become a core part of the province's welfare-to-work programs. It delivers some $30 million in programs for people on both temporary assistance and disability assistance.
Asked for a comprehensive list of what the government has done to make sure its employment prorgrams work as well as intended, a Housing and Social Development spokesperson did not respond by press time.
The government has, however, begun in recent years to ask some of the hard questions about the employment programs it funds. A 2005 report commissioned by the province found the programs were unlikely to save the government as much on welfare payments as they were expected to, The Tyee reported.
Following the report, the programs were redesigned, but contracts went to the same companies, including WCG, that the government was already using.
The new program put more emphasis on auditing. Auditors discovered several problems, including companies billing for services they never provided and charging the government as much as $18 to hand out a $6 bus ticket. In August WCG lost an $8 million contract to provide job placement services in the Interior region.
In 2007-2008, according to the detailed schedule of payments included with the province's public accounts, the B.C. government spent $30.9 million with WCG. It spends about $70 million a year on job programs, mainly with private contractors, plus over $25 million to administer the programs.
With that much money being spent, B.C. might want to follow Ontario's lead and make a thorough assessment of how well the programs are working.
Related Tyee stories: