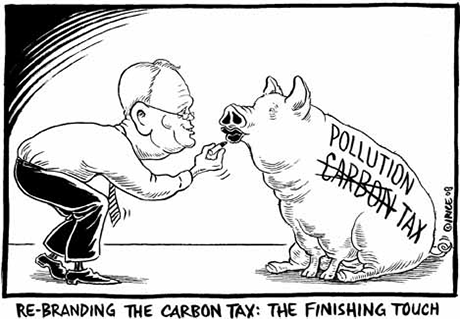 The carbon tax is looking like a non-starter following Tuesday's federal election.
But -- depending on how the debate is framed -- it may be possible to breathe life back into the idea of a shift of taxes away from income and onto greenhouse gas emissions.
Many Canadians would be happy to see the carbon tax die, especially in B.C., where we've had a modest but unpopular carbon tax since July.
But if you're going to cut climate-changing emissions, economists agree the carbon tax is one of the best tools to do it. Regulation is expensive and unwieldy. Cap and trade systems are highly complex, can be difficult to get right and may not affect many types of emissions.
But whatever its policy advantages, the carbon tax proved in the federal election campaign to be filled with political liabilities.
People just don't like new taxes, even when you tell them they're going to be revenue neutral.
What are we talking about?
In B.C., the New Democratic Party has very successfully portrayed the carbon tax as unfair and ineffective, even though they've used some dubious methods to do so.
The way the debate's been framed so far, people understand the part about paying a new tax on energy, but don't believe the promise that they'll get offsetting cuts to their income taxes.
The question of climate change has never really been part of the debate.
Says pollster Angus McAllister:
"If you ask someone, 'Would you like to pay more of anything' -- would you like to pay more income tax, would you like to pay more for dog food, would you like to pay more for beer -- whatever it is, they're not going to say yes."
McAllister, of McAllister Opinion Research, says taxes are like speeding tickets. No one wants to pay them, but people generally agree they're useful to society.
"The question isn't 'Do you want to pay more?' because no one wants to pay more," he said in an interview. "It's whether the idea behind it's a good idea."
Tax framed differently
So, during the week before the federal election, McAllister did an experiment. He asked respondents to an election poll the following question:
"Some people are saying that Canada should follow the lead of European countries that have cut income taxes and increased taxes on pollution.
"In these countries, people and companies that pollute more, pay more tax.
"Those who pollute less, pay less tax.
"Have you heard of this approach before?"
Sixty per cent said yes, 37 per cent said no.
He then asked:
"This approach of cutting income taxes and increasing taxes on pollution is called a tax shift.
"Given what you've heard so far, does a tax shift generally sound like a good idea, or a bad idea?"
Sixty-six per cent said the tax shift sounded like a good idea. Only 19 per cent said they thought it was a bad idea.
This is the same tax shift that flopped in the federal election. The same tax shift that is giving Premier Gordon Campbell migraines here in B.C.
'Hoisted on their own petard'
It's only one poll, but the results raise some intriguing questions. Is it possible to frame the carbon tax in such a way that people will support it?
Can you sell it if you start the debate by stressing that your income taxes will be cut, then say that people who pollute more will have to pay more?
Maybe, said McAllister.
For one thing, people might be more favourable to the idea of a tax shift if politicians stopped talking about it being "revenue neutral," he said.
"I think the people talking about carbon taxes have been hoisted on their own petard by talking revenue neutral," he said.
The term is supposed to reassure people that the carbon tax isn't a tax grab, McAllister said. But the public doesn't understand what it means and they're never going to follow the procedures that guarantee, as in B.C., that all carbon tax revenues must be returned to the public through tax cuts.
"The only thing they can judge is, 'How does this affect me?' And revenue neutral is not about whether it affects me," he said.
"The public thinks 'Am I going to have to pay more for stuff?' and secondly, 'Is it fair?'"
Obviously, he said, if you drive a big SUV, you will end up paying more in carbon tax, whether or not it's revenue neutral overall.
'Green Shift' hit the fan
McAllister said he thinks it might have been possible to run a political campaign around the idea of a tax shift if it had been framed correctly.
After the Liberals' Green Shift debacle, though, "it's a lot harder now," he said.
The problem is that there aren't that many policy tools to reduce carbon emissions. The day may come when governments wish they hadn't ruled out carbon taxes.
By taking such a key tool off the table, McAllister said, "you can paint yourself into a carbon corner."
(Note: The McAllister poll interviewed 1,000 Canadians in English and French between Oct. 5 and 8. A poll of this size would be expected to have a margin of error of plus or minus 3.1 per cent, 19 times out of 20.)
Related Tyee stories: