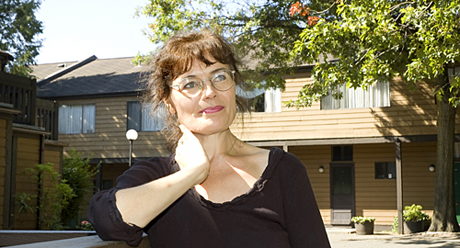 Sandrine Simonnet's one-bedroom Vancouver apartment looks like it's in perfect condition. It has nice hardwood floors, a modern living room and no signs of damage. For $920 a month, it's considered a good deal in Kitsilano.
The only problem is that every time it rains, there's a leak in her bedroom. For the past three years, every time her landlord, Hollyburn Properties, increases the rent, Simonnet has asked them to fix the leak. But instead of making the repair, an executive from Hollyburn told her she should consider herself lucky she pays as little as she does.
Simonnet's "luck" ran out earlier this month when she got an eviction notice. On September 1st, Hollyburn sent out eviction notices to at least 13 tenants in the 39-unit Reid Manor complex so it could "re-plumb the domestic water supply in the building," and engage in an "extensive renovation" of suites that have not been previously renovated.
"They don't need to renovate my suite, they just need to fix the leak" says Simonnet. "They obviously don't care about the people who live in their building; they're just looking for more money."
Booted, then rents rise
It's not the first time Hollyburn has sent out a letter like this. Over the past seven years the West Vancouver-based company has done mass evictions in a number of its buildings for renovations. It is an issue that is affecting the entire city. With about 70 families threatened with eviction in a Marpole rental complex, there have been at least a dozen cases of renovation evictions across Metro Vancouver over the past four years.
After the suites are emptied and renovated, they are usually rented out to new tenants at a rate roughly 50 per cent higher. Last week Hollyburn was advertising online one-bedroom apartments in the Reid Manor for $1,400.
While landlord companies insist they are serving their tenants by repairing ageing buildings, housing advocates claim the companies are exploiting a loophole in the province's Residential Tenancy Act that allows landlords to evict tenants for minor renovations and then raise the rent. A growing number of tenants are now calling on the BC Liberal government to change the legislation before more companies renovate away affordable housing in the city.
Gut and demolish
In 2006, Hollyburn sent out eviction notices to about 50 tenants in the West End's Bay Tower. But when Bay Tower tenants fought the evictions all the way to the British Columbia Supreme Court, they raised awareness in Vancouver about the RTA's vulnerability.
The media attention and ensuing legal fight hasn't stopped Hollyburn from following a similar formula in other buildings. The company owns 43 residential buildings in the Vancouver region and another eight in Calgary and Toronto. It has now done the renovation evictions in at least six buildings -- five in the West End.
In each eviction notice, Hollyburn stresses how severe the renovations will be. Water will be shut off, walls may be removed, bathrooms "gutted" and kitchens "demolished." But evicted tenants have argued that Hollyburn is exaggerating the repairs and that the actual renovations, such as new kitchen cabinets, are "cosmetic" and don't require eviction.
"The renovations were totally unnecessary," says Sharon Isaak, a Bay Tower resident and member of Renters at Risk, a West End advocacy group formed from Hollyburn evictions. "There were some things that needed to be done to the roof, but everything in the suites worked fine."
However, Alan Wasel, senior property manager with Hollyburn, says many of the buildings the company has bought over the past decade, like Reid Manor and Bay Tower, are 40 to 50 years old and in desperate need of repair. Rents are then increased to recoup costs.
"We're not taking advantage of anybody," says Wasel. "Basically what we're doing is we're taking the opportunity as it's presented to us to renovate the building. We've been replenishing the rental stock for years now and we want to offer the best product that we can."
A niche market
Although the RTA is supposed to protect tenants from illegal evictions and extreme price hikes, housing advocates say landlords are finding a way around the law.
The RTA only allows landlords to increase rent every year by a maximum of two per cent plus inflation (currently 3.7 per cent). But Section 49(6)(b) states a landlord can end a tenancy if they have "all the necessary permits and approvals required by law, and intends in good faith to renovate or repair the rental unit in a manner that requires the rental unit to be vacant." Once the suite is empty, landlords can charge whatever they wish.
Tom Durning of TRAC (Tenant Resource and Advisory Centre) says Vancouver's housing market has made it ripe for exploitation by unscrupulous landlords. Priced out of owning a home, young middle-class workers are putting more pressure on the city's already stressed rental market. According to the latest Canada Mortgage and Housing Corporation report, Greater Vancouver's vacancy rate is a mere 0.7 per cent*.
"Companies like Hollyburn are seeing a niche here," he says. "There are a lot of middle-class kids who want to live downtown. And the money they make in charging higher rent to them more than makes up the cost of renovations."
With the average one-bedroom apartment in the City of Vancouver now at $902 a month, Durning says the renovation loophole means low- and mid-income earners are getting pushed out of the city.
Canada Line victims
On the same day that tenants in Kitsilano's Reid Manor received eviction notices, seven tenants at the 70-unit Marine Gardens complex at Cambie and Southwest Marine Drive also received eviction notices because the landlord wants to tear out the central hot water heating system and replace it with an electric heating system.
A tight-knit and multi-cultural community with a number of low-income tenants, neighbours quickly rallied around the evicted tenants to see if there was a way to keep them from being forced out.
But when Marine Gardens tenant Gillian Skeet, who did not receive a notice, called the landlord's office, she says she was told eviction notices were going to be sent out in stages to the entire complex. Having endured two years of construction outside their building for the Canada Line, Skeet says she and her neighbours feel as though they are victims of the city's growth.
"For the longest time we had no access to Cambie between 49th and Marine Drive," says Skeet. "It's been a nightmare and it's made life difficult. But because we all value living here, we were all willing to put up with it. Now it's being used against us and we're about to lose our homes."
Skeet, who pays $1,024 a month for a three-bedroom apartment, says many of the older tenants pay low rent because the previous owners rarely gave rent increases. Marine Gardens tenants asked for a group meeting with Bob Nijjar, who bought the building last year, to try and negotiate a settlement, but their request was denied.
Multiple calls to Nijjar for an interview were not returned. The number the owner gave the tenants is the same for the Howard Johnson Plaza Hotel on Kingsway, formerly known as the Biltmore Hotel.
Skeet says many of the tenants are now in "total despair' and not sure whether they can afford to stay in Vancouver.
Supreme Court challenges
While renters in Vancouver feel vulnerable, two important British Columbia Supreme Court rulings suggest the courts are willing to step in where the provincial government will not.
Last year, in the case of Allman v. Amacon, the Court of Appeal ruled against Amacon Property Management Service after it attempted to evict half the tenants in the 240-unit Richmond Gardens complex for "minor" renovations and then raise rents as much as $590 more a month. The court ruled that evicting tenants for minor renovations would drastically diminish tenants' rights. All of the evictions were quashed.
The same year, the Supreme Court ruled that Hollyburn could not refuse Bay Tower residents an opportunity to return to their renovated suite at the same price.
In Berry and Kloet v. British Columbia (Residential Tenancy Act, Arbitrator), Justice Williamson ruled that, "It is irrational to think that s. 49(6) could be used by a landlord to evict tenants because a very brief period was required for a renovation in circumstances where the tenant agreed to vacate the premises for that period of time. It could not have been the intent of the legislature to provide such a 'loophole' for landlords."
The rulings may be changing the way landlords deal with tenants who challenge evictions. Just a year after the Berry ruling, Hollyburn sent out eviction notices to tenants in the 40-unit Glenmore building in the West End. But when 10 of the tenants took Hollyburn to court to fight the eviction, the company decided to mediate a settlement -- the first reported instance of Hollyburn negotiating. The two sides agreed to a $65-a-month across the board increase in rent and a moratorium on any renovations for at least three years.
A right of first refusal
The Supreme Court decisions, however, don't guarantee that tenants can avoid eviction. In order to create a clear ruling, housing activists are now pushing the provincial government to amend the RTA with a Right of First Refusal clause.
In 2006, Ontario added a Right of First Refusal section to its Residential Tenancies Act that states: "A tenant who receives notice of termination of a tenancy for the purpose of repairs or renovations may... have a right of first refusal to occupy the rental unit as a tenant when the repairs or renovations are completed." The tenant may reoccupy under the previous terms and at the same price.
Last April, NDP MLA and housing critic Diane Thorne introduced a private member's bill that would amend the RTA with a Right of First Refusal clause and force landlords to give four months notice and two free months of rent if they evict tenants because of renovations instead of the current two months notice and one free month.
"If the Right of Refusal was made law as it is now in Ontario, it would negate [renovation evictions] from happening," says Thorne. "Because why would Hollyburn, for instance, do this if the only reason is to be able to bring in new tenants or double or triple the rent."
Landlords 'entitled to feed their families'
Thorne's bill is now sitting as an order paper where it will likely remain -- private members bills rarely get passed, especially ones from the Opposition. Housing Minister Rich Coleman, who brought in the Residential Tenancy Act in 2004 as the then-solicitor-general, said he would review the act after the Amacon ruling, but has not made any indication that he plans to do so. Multiple requests for an interview with Coleman were not returned.
While Coleman has shown no support for a Right of First Refusal amendment, it is certainly not supported by the landlord industry. Al Kemp, CEO of Rental Owners and Managers Society of British Columbia, says the Right of First Refusal would punish ethical landlords who spend thousands of dollars to upgrade old buildings.
"To then say all the tenants have the right to move back in at the same rent, that's ridiculous," says Kemp. "Landlords are in business like anybody else, they're entitled to feed their families and they're entitled to get a return on their investment. So with the Right of Refusal, [for a tenant] to come back in at the same rent will simply cause a 60-year-old building to become a 70-year-old building."
Taking the rental road
Tenants at Marine Gardens have decided to fight the evictions and have a group hearing scheduled at the Residential Tenancy Branch for October 20th. According to the City of Vancouver's Enquiry Centre, the owner has not received any permits to do renovations to the complex, which may make the eviction notices illegal.
Evicted tenants at Reid Manor are less sure whether they can endure a long battle with Hollyburn -- although the Enquiry Centre's records state that Hollyburn didn't obtain the renovation permits for the complex until Sept. 4th, three days after it had sent out the eviction notices.
Corina McNeill, who has lived at Reid Manor for 15 years, says she went to look at an apartment and was shocked to find 50 people waiting in line to see a tiny one-bedroom apartment going for more than $850. Suffering from poor physical health and on disability, McNeill now has to find a new place to live in a city that doesn't have a lot of rental housing to spare.
"All the people I know in Vancouver live in this building," says McNeill. "It's the people you rely on and know that they'll help you out in the middle of the night if you need them. I'm on disability and my income has gone down a lot and now Hollyburn is kicking me out. I'm going to have a really hard time finding a new place."
But more than anything, tenants from both the Reid Manor and Marine Gardens say they know that even if they do fight and win, there needs to be a legislative change to keep landlords from exploiting the loophole.
"We need a political solution, we need legislation and we need it now," says Skeet. "We already have a shortage of affordable housing and every month that goes by that we don't have that legislation the amount of affordable housing shrinks."
*Correction made at 1:30 p.m., Sept. 24.
Related Tyee stories: