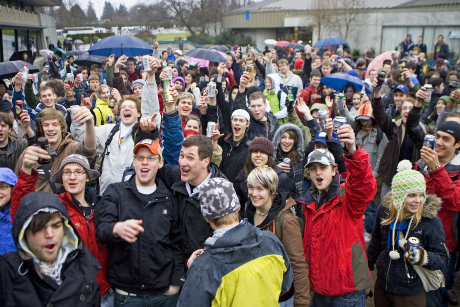 There was a time when police let beer-powered bacchanalia run its course at the University of British Columbia. Yet that was back when the campus was still a quaint, forested place. Then along came the idea of a "university city" -- condos sprang up, rich people moved in, and in no time at all the newcomers were calling the cops and telling them to kill convivial campus gatherings known as beer gardens.
This, at least, is the mental math being done lately by a lot of UBC students, ever since the RCMP began what many are calling a "crackdown" on alcohol on campus. A Tyee investigation into what some students are calling "the war on fun" at UBC, a campus slated to become home to nearly 11,000 new residents by 2021, found their calculations to be spot-on, sorta.
"Four of five years ago, you could go anywhere and find a beer garden," says Tyler Allison, president of the Radical Beer Faction, a group pushing for a relaxation of the "prohibitionist" rules governing liquor permits on university grounds.
These days, however, Allison says they're disappearing faster than a sorority girl can chug a can of beer. Students are frustrated by a school that's increasingly all work and no play, leading some to wonder: How sober should a campus be?
Beer down
Once you start digging, it's not hard to find a group affected by the fact that, since 2005, the RCMP have started strictly applying the province's liquor act on a campus with a historical laissez-faire stance on drinking.
Take Tim Louman-Gardiner, for example. The 26-year-old Vancouver lawyer and UBC alum says the law school used to run weekly "beer-ups" where students could mingle and relax in the cafeteria on Friday afternoons.
"Things weren't crazy, just sociable," he recalls. "Students would interact with law professors and occasionally lawyers from firms."
Those weekly gatherings have now been cut back to two per month. "Sure, you can hold campus events off-campus, but that quite clearly kills community on-campus," says Louman-Gardiner.
Niall Sloane, a second-year student and vice-president of UBC's Ski and Board Club, says their lively socials of yore are now less frequent, and tightly controlled.
"The ones we had this year, some of them were just pointless," complained Sloane, who adds beer gardens now draw fewer students because the latter know there are fewer drinks to be had. Whereas the Club used to drain up to 13 kegs in a single night, they currently have to make do with a maximum of four to six.
"When the beer runs out after an hour and a half, the party just empties," says Sloane. "You're going to go and tell this person, an adult, that they're only allowed to have two and a half drinks? It's a bit ridiculous."
Enforcement has been tightening, too, says Louman-Gardiner.
"Putting police officers in a room tends to have a chilling effect on the party."
Coco-nuts
Mild "beer-ups" and not-so-mild beer gardens aside, long-standing campus traditions like the Forestry department's "Coconut" party are being tamped down too.
Melinda Morben, a student in the department and current co-president of the Forestry Undergraduate Society, describes annual spring event as "a ton of fun with bands, dancing and saying farewell to the year and to your friends."
Coconut, however, also tends to be an out-of-hand orgy spurred on by drinking games and copious amounts of yukaflux imbibed from coconut-shell cups (hence the name).
In the spring of 2007, the RCMP broke up the festivities because the club abused their liquor license -- drinks were being mixed out of the eyesight of students and more alcohol was on hand than what the license allowed for. Police also said they had coconut shells thrown at them by drunk and angry revellers. They told Morben and company to party elsewhere in 2008.
"I don't think that Coconut will be allowed back on campus," says Morben, "[the RCMP] pretty much laughed in our faces when we asked to do it this year so I doubt that it will be held on campus in the near future."
Engineers, Greek fraternities, the graduate student society: the list of dissatisfied students -- and faculty -- is long. By last spring, the official campus newspaper, The Ubyssey, was decrying the end of an era.
Loaded gonzos
So why the crackdown, why now? ask students.
One answer is the arrival of RCMP Staff Sgt. D.J. Wendland, who, in 2005, was called in to oversee policing the rapidly developing "University Town" campus.
Wendland was the first officer of his rank to take a position at the expanding but small detachment, which oversees both the burgeoning university and the private lands on the Point Grey peninsula, an area that falls outside the jurisdiction of Greater Vancouver.
One of his first tasks, he told The Tyee, in an hour-long interview, was to bring the campus in line with provincial liquor laws.
While he openly accepts responsibility for the changes in liquor policy at UBC, Wendland calls the crackdown "a myth." He says he's just following the rules.
"Nobody out here qualifies for a special occasions license," (SOL) underscores Wendland, referring to the unique authorization needed in order for students or faculty to sell or serve liquor outside a licensed bar or restaurant.
"We bend the rules to a certain degree, with Victoria's permission."
When the provincial government created SOLs, explained Wendland, they were intended for weddings and bar mitzvahs, not for, as the straight-talking staff sergeant puts it, "weekly beer gardens, daily beer gardens, drunkfests, whatever [students] want to call them."
Apart from the enforcing the law, Wendland says he's just looking out for the safety of his people. With only 12 regular staff, he can post a maximum of three officers at a time on a campus that can have upwards of 70,000 people on it. Sending three cops out on a night where thousands of young adults are drinking is too great a risk.
"It's not that I'm trying to kill the fun. My members come first," says Wendland, who, as supervisor, is personally responsible to do his job with due diligence. If an officer gets killed or injured in a situation he could have prevented, he's to blame.
"I'm not willing to lose my house, or my retirement fund, for anybody's party."
Wine and cheese bust
Wendland thus created an unpopular formula for granting special occasions licenses: no more than 2000 people can be consuming alcohol at special events on campus at a given time (an arrangement allotting one officer for every 650 attendees).
Departments are limited to two permits a month, which have to be shared between both faculty and student groups from the same department. And licenses also now permit a maximum 4.5 drinks per person, even though the provincial maximum is six.
"You don't need as much alcohol as they want out here," reasons Wendland, who says he nevertheless processes about 500 of the licenses a year because there would be "a revolt" if he didn't.
Faculty get no free rides either.
"They get shut down the same as the students," says Wendland. "I even killed the going-away party for the president two years ago," he added, referring to a soirée for outgoing UBC president Martha Piper that was denied an SOL because there were already too many applications for the same date.
Even faculty wine and cheeses count. Just last semester, officers seized the wine at a faculty do in the department of agriculture. Why? The professors had brought more liquor than what was written on their special occasions license, says Wendland.
Workaholics in training
Mike Kushnir, a geography student and the vice president of the Radical Beer Faction, says the new restrictions reflect a larger trend, which sees the student experience becoming a workaholic routine where nothing but credentials and the bottom-line count.
"As tuition goes up, people are freaking out more and more about their marks," observes Kushnir. "People are sacrificing their social lives."
University shouldn't be about just work, argues Sloane. "You're all here for the same reason: you want to meet other people."
Where else, he asks, can the 600-member Ski and Board Club meet up if not on campus, close to the residences where many students live? And when can the young expect to live it up if not during their university years?
"The bigger it is, the better it is, that seems to be the general understanding of people," says Sloane, adding: "we're just trying to provide a good time for everybody."
So long to drunken networking
A number of the students that spoke to The Tyee, however, said they think it's far safer to drink on campus rather than off.
And, of course, there's the networking factor.
"I owe a lot of my student politics success to beer gardens," says Louman-Gardiner, who was elected as a student rep to the University's Board of Governors and served in the student-run Alma Mater Society.
"The fact that they're dying is sad."
For many, it comes down to a slighted sense of ownership, and community.
"UBC loves to use this phrase 'I am UBC,' but the thing is, nobody feels that way," says Kushnir.
Even Wendland, a UBC alum himself, agrees that times are changing. He recalls being a finance student back when there was just one officer, who let a lot of rowdiness slide on his nightly rounds.
"In essence, we owned this place," recalls Wendland. "Nobody lived here."
A bubble in Vancouver's bubble
By 2004, however, there were 2,300 residents in UBC's newly constructed University Town. That number is set to hit 10,700 by 2021, meaning the community is growing by the hundreds every year.
Mike Feeley, a 30-something computer science professor at UBC, is one of the new residents. No stranger to Vancouver's ridiculous housing market, he's highly thankful to have been able to purchase a home right next to where he works. His wife, a student, is minutes from her classes and the couple bring their five and eight-year-old children to school via the trails of the lush Pacific Spirit Park.
"I can walk to work and my family and I can walk or cycle pretty much anywhere we need to go in the city."
"What's important about UBC's development is that it provides high-density, thus more affordable, housing in a community planned for families," says Feeley, who is also the director of the University Neighbourhood Association (UNA).
He adds that his neighbourhood, Hawthorn, has 700 homes and about 650 kids under 18 years old. Feeley says roughly 70 per cent of residents at Hawthorn are faculty or staff.
Contrary to what a lot of students believe, Feeley says the UNA is not making calls to police telling them to squelch the fun. Living at the fringes of campus as they do, Feeley says residents aren't bothered by beer gardens, which take place in the centre.
Be that as it may, Wendland's blunt take on the so-called war on fun is telling.
"They don't own this place out here," says Wendland of UBC's disaffected students. "It's a community."
Related Tyee stories: