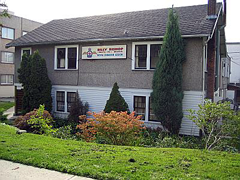 Travel the side streets of any major cosmopolitan city in the world, and you will inevitably stumble upon a cozy neighbourhood watering hole with some local flavour, character and tradition. As Vancouver pretends to world-class status, however, the same cannot be said of us. Tourists are more likely to stumble upon a Cactus Club, Earl's, or even worse, our downtown entertainment core.
In Vancouver, establishments with some history and character are few and far between. Historically, B.C. has had unusually strict liquor licensing policies that have proven to be bad soil for enduring neighbourhood pubs. As a result, we have a shortage of establishments where everybody knows our name. Many of Vancouver's private military clubs -- Anavets and Legions -- are some of the few places that have endured. Loosened membership restrictions have allowed young people to discover that these establishments offer a refreshing alternative to Vancouver's stale bar scene.
To address our once antiquated system of liquor regulations, the provincial government made sweeping policy changes in 2002. Almost four years have now passed, but has anything improved?
It depends who you ask. While many agree that a well-run neighbourhood pub can be positive for a community, some of our city's pub enthusiasts say we don't have enough of them. A neighbourhood pub can become a gathering point for the community, says David Rose, one of three partners at VancouverPubs.com, a website that aims to "provide an unbiased view of Vancouver's pub scene." "It can become a place of shared experience and dialogue, a place to get to know your neighbour, and a meeting place that is different from a community centre or coffee shop. I am not sure there are many examples of this in Vancouver."
And local establishments where people know each other are increasingly important, says the owner of Main Street's Public Lounge, Cameron Forsyth. "We need the social interaction, especially in the days of the Internet, where you can work from home in your underwear and you don't need to go out."
History of 'unbelievable' rules
But does Vancouver provide the impetus to put on our pants and go?
We certainly haven't in the past. Prior to December 2002, it was illegal to drink while standing in a restaurant, nor could one order a drink without food. And before that, B.C. liquor regulations were even more severe. "Back when I came here in '85, I couldn't believe the liquor licensing," said Richard Floody, chair of the B.C. Restaurant and Foodservices Association. "You couldn't have draft beer in a restaurant. You couldn't drink on Sunday. You couldn't have more than draft beer. Couldn't stand up with a beer. The amount of rules was unbelievable."
Thankfully, the situation has changed. "The province introduced a number of changes to provincial liquor laws in December 2002," said Cindy Stephenson, media rep for the B.C. Liquor Control and Licensing Branch. There are now two licence types: food-primary (restaurants) and liquor-primary (bars and pubs). "Under the old system, there were seven liquor licence categories and 19 licence classes." She says licensing is now more straightforward; there are fewer restrictions on what kind of facility can have a liquor licence, more flexibility on licensed capacity and more flexible hours of operation.
At the time, Vancouver's "no-fun" reputation was expected to improve.
But while getting a drink in Vancouver has become easier, the two-licence system has created new problems. For one, restaurants and bars compete to provide the same services. Most restaurants with food-primary licences can now provide the same liquor service as bars, and restaurant liquor licensing is relatively quick and inexpensive. Liquor-primary licences, on the other hand, are costly because they require municipal, provincial and community support. They can also take up to a year for approval.
Many pub owners say this is creating an unequal playing field between restaurants and bars. "The hoops and hurdles that you've got to do these days to get a pub licence are incredible, especially in the city of Vancouver," said Kerry Williams, owner of Cedar Cottage Neighbourhood Pub. "A lot of small type operators give up on the industry because they are just frustrated with the bureaucracy, and it's basically unfair."
The net result of these policy changes is that small operators in Vancouver are more likely to open restaurants instead of pubs, and the distinction between restaurants and bars is becoming blurred.
In order to compete, many pub owners now run their bars differently. Few function as neighbourhood bars in the traditional sense (quiet, established venues that cater to locals), and instead operate as "pub-club" hybrids that are less community-focused and instead market to clientele from beyond the immediate neighbourhood. "In order to get the licences and meet all the municipal requirements you do have to make it worthwhile by going large," says Rose. "In order to fill a large place you have to bring in from beyond the community with events, special offers, live music and theme nights, which is not really what a local pub is all about."
Pubs becoming more like clubs
To make the arduous application process worthwhile, venues with liquor-primary licences often market where the money is: young adults looking to get loaded, who are apt to buy more tequila shooters than grandma and grandpa up the street. However, pub-clubs full of younger, more liquored customers contribute to pubs' reputation as noisy, raucous venues, which in turn makes the process of achieving community support for liquor-primary applicants even more difficult. "It is hard to establish a local pub because of how pubs are perceived. We see them as local pubs for locals, but most people view them as party palaces open late and full of loud music," said Rose.
But as with the pub-like club, the bar-like restaurant also fails to fill the niche of a true neighbourhood pub. A restaurant's receipts must reflect the sale of more food than alcohol, and inspectors continue to target restaurants that blur the line. Also, the allowable lounge area for a restaurant is relatively small. "This is usually defined as 20 per cent of your person capacity, so long as that capacity is 50 or more," said Rose. These restrictions are intended to ensure restaurants operate as restaurants, not bars.
Nevertheless, the Vancouver environment will likely continue to encourage potential bar owners to open restaurants. "I think that in the future there will be fewer liquor-primary licences issued because of the benefits of a food-primary licence," Rose says. The main benefits of running a venue as a restaurant with liquor service are the lack of municipal approval needed to get a licence, the lack of stigma associated with a pub, being able to serve food to minors, and the difficulty of getting liquor-primary licence approval in residential areas. "What we are left with is a concentration of drinking establishments in commercial districts. This is not helping the cause of those who want to create a true neighbourhood pub."
The biggest of these commercial districts is, of course, the downtown entertainment core. Has it worked? Many have a "so long as it's not in my backyard" attitude about it, while others feel Granville Street, where clubs can now stay open later, turns into a wasteland of young drinkers on Friday and Saturday nights. City councillor David Cadman thinks the entertainment zone is good for the city overall, but he is ambivalent about some consequences. "Because we have longer opening hours, we have people who come downtown from surrounding communities, and we're not getting the best of those communities, let's put it that way."
Rose feels that the downtown entertainment core is a destination for tourists and surrounding Lower Mainland communities, and is successful in providing regional entertainment, but she feels it's certainly not an area for community building. "It encourages the mentality of power drinking, re-enforcing the general belief that we need to have stricter laws," he said. "People think that if someone wants to open a pub in their neighbourhood that they are going to end up with the same problems as the downtown entertainment core."
For all these reasons, neighbourhood pubs in Vancouver are a rarity, and will likely remain so. Like Rome, history, tradition and character aren't built in a day, and changes to the system will likely be slow. But Rose says we've come a long way and is happy with the changes so far. "We are still going through a process of dismantling the effects of prohibition in the '30s, which saw an unregulated industry banned and then reintroduced under very heavy control," he said. "As we move forward, those regulations are being loosened, slowly. Is it over-regulation? I think so, but I am happy that the provincial government is at least willing to introduce change."
In the meantime, the Legion
In the meantime, a few vintage watering holes are available. Legions, Anavets -- as well as other private clubs such as the Marine Club and Vancouver Curling Club -- are some of the few drinking establishments that go back a few decades. In many of these clubs, membership requirements have relaxed with the aging of their initial membership, and as a result many young people are starting to realize what they've been missing. "Well, let's face it, the youngest World War II veterans would be in their mid '70s," said John A. Macdonald, publicist for the Billy Bishop Legion (whose business card reads: "No relation, Don't drink quite as much, Not dead"). "So Legions are private members clubs, but visitors and guests are always welcome."
For the most part these clubs are intergenerational, activity-based, safe environments without attitude. "This is a place to come and be yourself," says Jon Cain, head of publicity and fund raising for the Unit 26 Anavets on Fraser. "Nowadays people are nostalgic for a place where you can just come and be comfortable, instead of a place to be seen, or a place that's so loud, or anything like this." Valerie Balez, manager of the Unit 298 Anavets on Main Street, says she's seen a huge increase in young people at her club, especially in the last three years. "They like coming here because they like listening to the stories. They love the karaoke, things are cheap, there's always something going on and they feel safe here."
You'll also find just a lot of odd stuff at Legions: public relations officers named John A. Macdonald, pictures of a youthful Queen, photographs of men and women from when they had to drink in separate rooms and anti-war sentiment from people who know what they're talking about, for starters. And upon becoming a member, having to swear you're not a fascist, communist or anarchist who would advocate the violent overthrow of the government. All great stuff.
You might also happen upon some wisdom from some of the locals. "You know, fun is where you find it," said literature of sloth expert and long-time Legion member Verne McDonald. "I guess it's the same as happiness."
Perhaps neighbourhood pubs do exist in Vancouver, if you know where to look.
Rob Peters is on staff at The Tyee. He recently wrote about Vancouver street parties in Street Party Central. Is there a place in B.C. that you think epitomizes what "the local" should be? Let us know, in the comments section below.