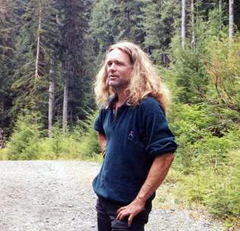 Tree sitters opposed to the expansion of the Bear Mountain development outside Victoria could soon be trading their ropes and climbing gear for pick axes and hard hats.
Just weeks ago, RCMP arrested protester Ingmar Lee for attempting to block construction of a highway interchange to serve Bear Mountain. A court order bars him from the site. Now, thanks to changes the provincial government made to how miners stake claims in the province, Lee owns the mineral rights under the interchange construction site as well as below the entire development.
"I intend to go up to Bear Mountain and tap into the money gusher," said Lee. "I intend to take advantage of this opportunity in the spirit of how the opportunity has been designed by the Gordon Campbell government. That's to extract as much money as possible from the landscape."
As part of a cross-government effort to reduce red tape and cut regulations, the Campbell government made some major changes to the rules governing mining. In the past, a section of the Mineral Tenure Act prohibited miners from interfering with private landowners. The Liberals repealed that section in 2002. Then, in 2005, the government introduced an Internet staking system that allows miners to stake a claim without ever even visiting the area they're claiming.
While the system quickly led to confrontations between owners of surface and subsurface rights, Lee's claim is the rare case where an owner of mineral rights is a declared opponent of development happening on the surface.
Sincerity an issue
The developers of Bear Mountain once held the mineral rights to the property, but let them lapse, said one of those developers, Len Barrie. When told who now holds the rights, Barrie said, "With him it would be more than a nuisance. Let him do what he does, eh."
"I'm not really concerned about it," he said. "With our zoning now, it's no longer applicable, now that it's a residential community."
"As I understand it, the gold commissioner has the right to get rid of vexatious claims, claims that are not sincere," said Byng Giraud, the vice-president of policy and communications for the Mining Association of B.C. "It will probably take a complaint by somebody asking the civil service to look into it."
Representatives of the gold commissioner in the Victoria region did not return calls by deadline.
A spokesperson for the Energy, Mines and Petroleum Resources Ministry e-mailed background information. Under the Mineral Tenure Act, he said, there are "legal remedies" so someone like Barrie can "challenge a claim that appears to be held for non-mining purposes."
The act also sets out how conflicts between surface and subsurface rights will be dealt with, the e-mail said. "[The act] contains prohibitions against exploration in certain areas, including curtilage of a dwelling, which would effectively make most, if not all, of the Bear Mountain development off limits."
While the act does not define "curtilage," a dictionary definition says it is "a small court, yard, or piece of ground surrounding a house and forming one unit with it." It is not clear how it would apply to Bear Mountain, where many of the proposed units still only exist on paper, and the spokesperson did not respond by deadline to a request for further information.
'Bare Mountain Bonanza Corp.'
For his part, Lee said he is sincere and will exploit the claim.
Lee acquired the rights from a Victoria-area prospector who recently noticed while searching the province's online tenure registry that they were available. For a few hundred dollars he snapped them up, then within days signed them over to Lee. According to the province's mineral titles online system, Ingmar Christopher Alan Lee is owner number 214450. He holds a 100 per cent share in tenures 578201, 578235 and 578257, covering a total of almost 950 hectares under and around the Bear Mountain development.
Lee has formed a company, Bare Mountain Bonanza Corp., to exploit the claim, and has been to a lawyer to find out what his rights and responsibilities are.
'An enormous opportunity'
His rights will give him access to the property, and he can bring in heavy machinery to do the work. He's even entitled to stop any dump trucks leaving the property with rock from excavations so he can inspect the loads for any potentially valuable minerals.
"I certainly have an interest in everything that's set for blasting," he said. "There's an enormous opportunity here."
Also, as Lee understands it, the law doesn't just allow him to exploit the claim, it requires him to. "I'm obliged to or that proprietary right will be confiscated," he said. To avoid the mining minister stepping in, he added, "I intend to exploit this in the spirit in which it was designed."
Selling Wrangellia rocks
The area has potential, he said. The Goldstream, which runs through a nearby provincial park, was once the site of gold prospecting, and people still sometimes pan for the metal in it. The bulk of his claim consists of what's known as Wrangellia terrane, made of igneous rock not normally of high value.
That, however, is a matter of marketing, said Lee. "We think we can sell the Wrangellia," he said. "I know a lot of people who wouldn't mind spending a couple bucks for a piece of Bear Mountain Wrangellia."
There are a few things he'll do differently from mining industry standards. For one thing, any profits will be invested in developing better ways to tree sit, he said. The company will also tread relatively lightly on the land.
"My corporation will not destroy anything that isn't already destroyed," Lee said. A lot of work has already been done in the area over the last seven years, Lee notes. "There's less biodiversity on the Bear Mountain golf course than there is on a parking lot."
And the golf course is where he figures he'll start. Right around the ninth hole, which just happens to be next to developer Len Barrie's house.
Related Tyee stories: