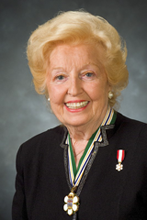 When the B.C. Liberal government had leftover millions to spend on health causes, some big, familiar names were attached to the recipients. Among them: Hong Kong billionaire developer Li Ka-shing and former Social Credit cabinet minister Grace McCarthy.
But there appears to be no formal, transparent process for rating proposals and awarding grants to the best among many worthy causes.
The province gave $15 million to the Li Ka Shing Foundation for cancer research and care, and $12 million to the Children with Intestinal and Liver Disorders Foundation, a group whose board is chaired by McCarthy.
Li Ka-shing has been a busy land developer in B.C., making a fortune by buying Vancouver's Expo lands in 1988 and turning them into a forest of condos.
In 2006, the Li Ka Shing (Canada) Foundation, registered in Toronto, had almost $400 million in revenue, according to documents filed with the Canada Revenue Agency. It spent $9 million that year, and was sitting on $391 million in assets at year-end.
McCarthy: 'Persistence pays'
The CHILD Foundation's $12 million fills a much smaller bucket. Before the province's cash infusion, McCarthy said, the organization had raised $14 million to date. That includes a $1 million provincial grant when former NDP leader Ujjal Dosanjh was premier.
"It's not an easy job to ask for funds from the general public or the government," said McCarthy. "I think whenever anyone makes application to government, they have to prove their worth. We've worked very hard.... It's simply a question of proving you have a track record for accountability, you have a track record of action."
McCarthy co-founded the CHILD Foundation with two other people in 1995 after her granddaughter was diagnosed with Crohn's disease, and remains chair of the board. McCarthy's own daughter, Mary Parsons, is CHILD's executive director.
Other CHILD directors include former B.C. Liberal finance minister Gary Collins, tourism operator Peter Armstrong and longtime B.C. Lions football star Lui Passaglia.
'Extremely well connected'
The foundation will use the provincial money in a variety of ways, McCarthy said. It is seeking a co-ordinator who will organize a national team to do research on Crohn's and other intestinal diseases.
"We believe we'll be able to show we can do more research with the same amount of money," she said. "We have a commitment to find a cure. That's what we're all about. This will be tremendous, really breaking new ground on getting help for people."
She added, "We're very optimistic and we're very excited about this grant."
McCarthy retired from politics 18 years ago and many of the people she knows have also left the political arena, she said. "Not all of course, I know a few people who are still there."
McCarthy is "extremely well connected and is able to leverage those contacts and that network for the benefit of children who have Crohn's disease," CHILD co-founder and HSBC Bank Canada president and CEO Lindsay Gordon told Business in Vancouver magazine last year. "When she gets the bit between the teeth, she is difficult to say 'no' to."
Knowing the system does help, McCarthy said. "I know what they do and I know what they have an opportunity to fund," she said. So does determination. "Persistence pays. No question of that."
$25 million for brain centre
Other one-time grants went to the Terry Fox Foundation ($30 million), the Centre for Hip Health ($10 million) and the Coast Mental Health Foundation ($1 million).
And on Monday of last week, Premier Gordon Campbell re-announced a $25 million grant to the University of British Columbia's brain research centre to kick off "brain awareness week."
Fighting brain diseases is a "critical step" for health care in the province, Campbell said in the announcement. "This new facility will be Canada's leading centre for brain research, diagnosis and treatment and pave the way as a centre of excellence for the future."
The brain centre's director is Max Cynader. Cynader is married to Lynn Langford, a long-time high-level civil servant who was once an aide to former premier Bill Vander Zalm. Cynader did not return calls. Langford said any contacts she has in the government are unrelated to the funding for Cynader's centre. "That has no connection to it," she said.
Abbott said it was Cynader's persistence that landed the grant.
"I've been talking to Dr. Cynader probably since I've been health minister and I'm sure he was talking to health ministers since before that," said Abbott. "Dr. Cynader's been waiting very patiently for us to be able to make the announcement on that."
With or without invitation
In total the government announced $100 million in health grants in February with the 2008-09 budget. The spending, however, like the $100 per person climate action dividend, will be counted in the 2007-08 fiscal year, suggesting there was enough money left in last year's budget to shovel some out to various causes without jeopardizing the government's surplus.
So, with the province doling out grants from end-of-the-year leavings, just how is it picking projects? Was there a process for applying for money?
"They were chosen on the merits of the presentations that were made to us," said Abbott.
Asked how the proposals had been invited, whether there'd been a formal request for proposals, he said, "People make them with or without invitations. We don't need to invite them. They are frequently attending to my door to tell me about the good work they are doing and would like to do more of."
Projects are also evaluated for how they fit with provincial strengths, he said. B.C. has long been a centre for cancer research, for instance, he said. "We've been able to build on that with both the Terry Fox and Li Ka Shing investments."
'Why these things?'
NDP health critic Adrian Dix did not criticize the grants, but said the way the money was handed out shows problems with the budget process.
"You do sometimes have to choose," he said. "Why these things and not other valuable things? This is the kind of decision making that's brought about when you budget in this way."
The main problem is the government's habit of underestimating its surplus each year, he said. It allows them to say 'no' to many worthy things early in the year, arguing there isn't enough money. Then at the end of the year the cash gets doled out in lumps.
"I think most people would say that's not an appropriate way to manage a budget," he said. "Should the cabinet be deciding [what research gets funded], or would supporting an ongoing evidence-based research program be the best approach?"
He notes areas that remain starved for funding. Vancouver Coastal Health, for instance, was left with a $40 million deficit for 2007-08. "It's going to be an albatross for them next year," he said. They will have trouble dealing with wage increases and other growing costs. "If they were going to deal in this fiscal year with supplementary estimates, why not deal with the budget crisis of Vancouver Coastal Health?"
Coastal Health includes the budgets for most of the province's teaching hospitals, facilities that are essential for training doctors, nurses and other health care workers. "They're putting money out into one-time funding," Dix said. "We need to decide what the core services of government we provide are."
Related Tyee stories: