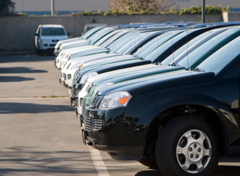 With all the recent attention paid to climate change, there are plenty of ideas on how to save the planet. Many of them make immediate sense.
Then, there is the suggestion from B.C.'s car dealers: buy a car!
On Monday of this week, the day before the throne speech was due, the New Car Dealers Association of B.C. appeared worried by speculation in some news media outlets over the weekend that the speech might have a green focus.
And that might have been not-so-good news for the pushers of large SUVs, light trucks and minivans. For those types of vehicles generally share two characteristics.
First, they're the most damaging to the planet.
For instance, the $73,000 2007 Lincoln Navigator SUV ("365 ft.-lb of Dominating Presence") slurps enough gas that a gallon will push the three-tonne, 300-horsepower behemoth a mere 13 miles around town. On the highway, it will run another five miles further.
That poor fuel efficiency translates into more planetary damage per kilometre travelled: full-size SUVs, minivans, pickup trucks and the like emit about 40 per cent more greenhouse gases per kilometre travelled than do passenger cars, according to Environment Canada.
The second characteristic of these heavier vehicles is that they bring in the largest profit margins, according to John Bennett, the executive director of Climate Action Network Canada.
"They don't want to sell small cars," Bennett says.
Same old road
How big a problem are cars?
Environment Canada reports that around 30 per cent of the country's carbon dioxide emissions are from transportation -- including aviation, trains and heavy trucks. And nearly half of that comes from cars, SUVs, minivans and light trucks -- the very vehicles sold by the association's members.
But exactly what are the guys in the white shoes going to do about this?
Halt the sale of unnecessary, gas-guzzling vehicles like the Navigator?
Buy carbon credits to offset the volume of carbon dioxide that each vehicle they sell will produce over its lifetime?
At the very least, give away a free bicycle with every vehicle?
Well, not exactly.
In a statement issued on Monday this week -- the day before the government's throne speech came down -- the car dealers association claimed to "applaud" the speech's expected announcement of the government's push against global warming.
(In any event, the association certainly seems to like the Liberals: it turned over $153,000 and change to the B.C. Liberals in 2005, almost all of it during the election campaign, according to Elections B.C. reports.)
The solution, says the association, is for owners of B.C.'s more than one million least efficient vehicles to get rid of them, and buy new, or newer, ones.
Here's the gist of the dealers' argument that buying a new car is good for the planet. Cars are much more efficient than they were 20 years ago. In fact, a 2007 model car produces about half the greenhouse gases of its 1987 equivalent.
"Clearly, the biggest gains relative to auto emissions of all kinds are to be made in removing old vehicles from the road, not impeding access to new ones," car dealers association President and Chief Executive Officer Glen Ringdal said in the Feb. 12 statement.
"We hope the government's plan will acknowledge this self-evident truth and introduce measures that will help the owners of over one million least efficient vehicles in our province remove them from B.C. roads and replace them with new or newer, more efficient vehicles."
Fuel efficiency worsened
The car dealers' statement also boasts that the Canadian auto manufacturing industry "has been a leader for nearly 20 years in developing and marketing technologies to reduce its sector contributions to airborne emissions and [greenhouse gases]."
But if the industry has been a leader for the last two decades in selling green technologies, how come the average fleet fuel efficiency for Canadian passenger vehicles has declined by five per cent since 1987? (The data is from a November 2006 report produced by the Canadian Automobile Association and Ontario's Pollution Probe.) While the manufacturers have been busy adding idiotic, safety-harming features like cruise control and cell phone connections, actual improvements in fuel efficiency have become road kill, squashed as flat as a wayward skunk.
Climate Action Network Canada's Bennett says that, in boasting of their greenness, the car dealers are trying to mislead the public.
For one thing, the only reason fuel efficiency improved in the 1980s was because of U.S. government regulations, which stopped forcing improvement in 1990.
"As soon as the regulations stopped requiring improvement, the cars stopped improving," Bennett says.
Bennett adds that about 20 per cent of the pollution caused by a car over its lifetime is created before the car is even driven, once the effects of mining, smelting and manufacturing are taken into account.
"There's an awful lot of greenhouse gas impact before you get the car on the road," Bennett says.
So the act of merely buying a new car -- even if you leave it sitting in the driveway --means adding extra greenhouse gases to the atmosphere.
Customer is wrong
In their statement, the car dealers attempt to blame, in part, the nasty consumers, for buying the wrong cars.
"Of course the 345 member dealers of our association can sell only the products that are produced by manufacturers and that consumers want to buy," this week's statement says. (Emphasis in original.)
The fact that citizens continue to buy gas-guzzlers has nothing to do with the car companies' heavy promotion of them. So it just wouldn't be right for us to stop selling such machines.
In a Feb. 14 interview from Houston, B.C., Ringdal is asked whether dealers push customers away from less-efficient vehicles.
"What we do encourage always is that people should buy the vehicle that meets their needs," Ringdal says. "Up here where I am, in Houston, a little car is not of much use." It all depends what you "need," he says.
"In whatever circumstances you are, and what your needs are, you should drive the most efficient vehicle possible. So if you drive on to my lot, and I've got a Navigator and I've got a [Ford] Fusion, which one meets your needs?"
But have dealers been discouraging sales of the Navigator in places like balmy Victoria, where they have been immensely popular?
"I don't know that they have," Ringdal says, "but their consciousness is being raised, at the same time as the general population's."
As it turns out, this week's throne speech didn't introduce hefty new taxes on gas-guzzlers, let alone ban them.
But it did promise tougher standards on vehicle emissions, starting in 2009, as part of a larger goal of reducing green house gas emissions by at least 33 per cent by 2020. Ringdal says he's happy about the government's promises, made in the speech, to go after all sources of greenhouse gases -- not just those from cars.
"Cars have been a favourite whipping boy for quite a few years," he says.
Fear of regulation
If car dealers are having an epiphany of sorts when it comes to selling inefficient vehicles, there might be more than pure altruism involved.
According to a September 2006 report by Walter McManus of the University of Michigan's Transportation Research Institute, fuel efficiency could be good for Detroit.
McManus's study found that car manufacturers' previous opposition to mandatory improvements in fuel economy was misguided, since consumers will pay more for fuel economy -- even when gas prices are not high.
In 2005, when the prevailing price for gas in the U.S. was $2.30 per gallon, consumers were willing to pay $578 US for each extra mile that a car would run on a gallon.
His conclusion is that a proactive strategy of boosting fuel economy -- beyond what is required by law -- would boost annual profits for Ford, General Motors and Daimler-Chrysler by a total of up to $2 billion US.
Indeed, the so-called "sub compact" segment of the Canadian car market seems to be doing well.
As of August 2006, sales of sub-compacts in Canada had jumped 21 per cent from a year earlier, according to the Association of International Automobile Manufacturers of Canada.
The B.C. dealers' February 12 statement suggests that among their concerns is fear of more regulations.
However, the Climate Action Network's Bennett says regulations are exactly what we need.
"The only thing that has ever improved the automobile has been regulation," he says. "Everything from seatbelts to bumpers has been regulated, over the objections of the industry."
"If they had their way, you'd still have a 1940s-style car with no seat belts, weighing five thousand pounds and getting about nine miles to the gallon."
Related Tyee stories: