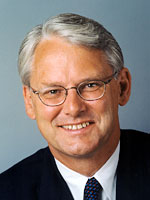 [Editor's note: The Tyee is issuing reports and viewpoints from the Union of B.C. Municipalities convention in Vancouver.]
Calling the fight against global warming a "war that asks us to change our lives," Premier Gordon Campbell promised to introduce legislation committing British Columbia to a 33 per cent reduction in greenhouse gases by 2020.
"This government, this province will not turn its back on tomorrow's children," he told 2,000 delegates gathered at the Union of British Columbia Municipalities convention on Friday. "We intend to act, to do our part to fight global warming."
Campbell's impassioned speech offered few details for how B.C. will reduce its growing carbon emissions, which at 15.9 tons per person are among the world's highest. He reiterated support for twinning the Port Mann Bridge, and reintroduced a proposal to build a large hydroelectric dam on the Peace River, but disappointed municipalities anticipating major funding for transportation and housing.
The opposition was left with a feeling of déjà vu.
"The premier's climate change strategy seems to consist of recycling announcements," NDP MLA and transport critic Maurine Karagianis told reporters immediately after the premier's speech. "He's offering nothing in terms of transit expansion."
New power meters, more dams
Campbell announced his BC Liberal government would introduce measures in the fall legislative session to pass into law his previously announced goals of a 33 per cent reduction in greenhouse gas emissions over the next 13 years.
"No other province in Canada has taken such a legal measure," he said. "British Columbia will lead the way."
Among Campbell's other announcements: new legislation that will make B.C. the first province to set "hard caps" on greenhouse gas emissions through market mechanisms (e.g., carbon trading); next month's roll out of a "climate action team" made up of representatives of environmental, business, scientific and First Nations groups; $100 million over 10 years for improved flood protection; a carbon-neutral government by 2010; $50 million for B.C. Transit to expand its fleet; and the replacement of hundreds of thousands of conventional household power meters with "smart meters" that allow customers to monitor their power consumption and sell back their surplus.
He also spoke in general terms about incentives for industry and the public to become greener.
Campbell concluded his short speech in more controversial territory: suggesting the province will seriously consider the Site C dam project on the Peace River and re-pledging his support for the massive transport infrastructure Gateway Project.
"We will proceed with the Gateway Project and we will twin the Port Mann Bridge," he said to thunderous applause. He claimed the reduction in transit times, along with a fast bus route, would reduce emissions.
"Just plain dumb"
Speaking to the same convention on Thursday, provincial NDP leader Carole James was critical of the Gateway Project's reliance on new road construction and of the B.C. government's mass transit policies which she qualified as "just plain dumb."
She demanded more buses and routes, more SkyTrain cars, lower fares and a transit line to serve the Fraser Valley's mushrooming population. Transportation accounts for 40 per cent of the province's greenhouse gas emissions.
"If Gordon Campbell doesn't take those steps, history will judge his climate change plan as empty rhetoric and the people of B.C. will pay a heavy price," James told convention delegates.
James also listed issues she believes are key to attempts at tackling climate change. She called for more action on fighting the mountain pine beetle infestation which has devastated the forests in B.C.'s Interior and congratulated delegates on voting against the controversial Trade, Investment and Labour Mobility Agreement (TILMA), which critics say would place business interests ahead the publics' interest in environmental protection.
Provincial Transport Minister Kevin Falcon said critics were wrong to oppose the Gateway project and called the emphasis on mass transit into the Fraser Valley unrealistic.
"It completely ignores goods movement," he told reporters outside the convention on Thursday. "What about our economy?"
Fraser Valley sprawl at issue
The government's own studies suggest twinning the Port Mann Bridge will likely increase emissions, observed Matt Price, a climate change activist with Environmental Defence.
"None of this stuff is going to work without clamping down on sprawl in the Fraser Valley," Price said. "You can put more transit in but if you have more people and more cars, you're going to take one step forward and two steps back."
Price would like to see tough new regulations on density -- including a possible crackdown on building new single-family homes -- citing the need to grow vertically, not horizontally.
But he did take some positives out of the premier's speech.
"The fact that they're putting [the climate framework] into law is an excellent first step," Price said. He suggested the climate action team might provide the kind of independent auditing seen in California, as opposed to purely cabinet-driven initiatives.
Will Campbell walk the talk?
The interim leader of the B.C. Green Party likes what he hears from the premier, but wants concrete results.
"I've said in the past that I think the premier has an extraordinary green vision," said Christopher Ian Bennett, who did not have the opportunity to speak to the convention despite a motion by the mayors of Vancouver and Whistler to give him the floor. "But I'm not sure his government's actions back it up."
Bennett insists his party, which currently has no seats in the legislature but enjoys the support of 16 per cent of British Columbians by one recent estimate, is not in an obstructionist mood.
"If he really is serious about tackling climate change, we're not going to get in the way of it."
Related Tyee stories: