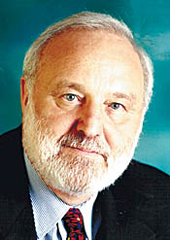 "Don't do it!" That was the advice Frank Dobson, a veteran UK Labour MP and secretary of state for health under Tony Blair from 1997 to 1999, brought to B.C. politicians and policy makers about the prospect of adding more private enterprise elements to our provincial health system.
Dobson, in B.C. last month to speak at a conference, told The Tyee that the changes made to the UK's National Health Service under Tory Margaret Thatcher and New Labour's Tony Blair had consistently run up costs and diminished service satisfaction for patients in Britain.
"The previous prime minister (Blair) was mad keen on the private sector," Dobson said, "and he brought it in to provide a limited range of operations on the relative cheap. For-profit facilities did relatively cheap, straightforward operations on people who were, generally speaking, healthy. So quite a bit of that work has been taken away from the health service. But those private hospitals are being paid an average of 11 per cent more per operation than the NHS gets for the same procedures. They're also guaranteed a flow of patients, and, if they don't get the guaranteed flow, they still get paid for the ones they didn't do.
"Our government implemented what you call here "patient focused funding," which is massively more expensive than the older block-funding model. It leads to a huge increase in the proportion of health spending that goes on paper work rather than on patients," he added.
Dobson said that prior to the introduction of market elements into the UK's health care system (which began under Thatcher and accelerated under Blair, the prime minister who appointed Dobson as secretary of state for health in 1997) administrative costs in the NHS averaged around 4 per cent of budget. Now the cost of paper work and record keeping is up between 12 and 15 per cent within the "reformed" health system.
'If you want to be popular'
The political veteran also offered a cautionary note for the BC Liberals as they contemplate changes in health care delivery, in the wake of the province wide "Conversation on Health" and the premier's fact-finding expedition to Europe last year. Adding for-profit elements to the UK's health care system has not only been hugely expensive for taxpayers, Dobson said, but has been very unpopular.
"The result has been that the Labour Party, which founded the National Health Service 60 years ago finds itself for the first time in history actually behind the Conservatives in popularity on health, and it all springs from the introduction of the private sector," he said. "So I'm trying to appeal to the good sense and better nature of B.C. politicians. If you want to be popular, don't do it."
The conference addressed by Dobson, held on Nov. 6, was sponsored by the BC Health Coalition and the Canadian Centre for Policy Alternatives, two organizations advocating preservation of public health care in B.C. and Canada.
Minister Abbott: 'complex situation'
B.C. Minister of Health George Abbott met for nearly an hour with Dobson and told The Tyee that although he takes his visitor's advice very seriously, it won't keep him and his government from implementing what Abbott called "cautious, incremental reforms" in B.C.'s health care system.
"It's always interesting for the minister of health to get the perspective of someone who has held the health portfolio in similar jurisdiction," Abbott said. " I enjoyed meeting with Mr. Dobson, and I appreciate his counsel. However, I don't think we are in danger of falling into the traps he describes."
Abbott says that the cost increases Dobson warned him about may well be the result of free market reforms being implemented in Britain while the NHS did its record keeping on paper rather than electronically. He told The Tyee that his government was engaged in a three-year partnership with the provincial medical association to extend electronic record keeping in the B.C. system. Further, he said that less than 5 per cent of medical procedures in the province are delivered privately, and emphasized that his ministry would only move to private delivery of publicly funded medical services when a competitive bidding process proved that was the lowest cost alternative.
"Where we can do it better within the public system," he said, "it will stay within the system. We have to look at what's in the best interests of patients and taxpayers. This is a complex situation and we have to proceed in a cautious, fact-based manner."
Related Tyee stories: