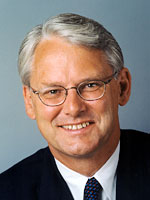 Premier Campbell's "Conversation on Health" all but wraps up at Vancouver's Marriott Pinnacle Hotel tomorrow, July 7.
Described in its TV ad as "a conversation we all have to have," the exercise has included hearings across B.C. and cost taxpayers over $10 million.
With that conversation ending, B.C. Health Minister George Abbott told The Tyee the BC Liberal government is likely to roll out new legislation reforming health care next spring.
Today a coalition of groups will hold a press conference to call on the government to heed what they say is a clear consensus emerging from the Conversation -- one in favor of publicly funded health care.
The BC Health Coalition includes health care unions, church, student, anti-poverty and seniors' organizations. Its press conference, scheduled for 9:30 a.m. at the Renaissance Vancouver Harbourside, will feature speakers who attended earlier Conversations elsewhere in B.C.
"What we are hearing from those who participated in the Conversation regional events is a strong consensus in favor of protecting publicly funded health care in B.C." Leslie Dickout, a BC Health Coalition campaigner, told The Tyee.
'Quite impressed'
Jean Leahy, a retired grain farmer in Fort St. John, appeared at her region's Conversation on Health representing Save Our Northern Seniors. Leahy said the group's more than 100 members wanted her to speak against any increase in the share for-profit business has in the health field in B.C.
"I was quite impressed with the Conversation on Health itself," said Leahy. "People could say what they liked, and of all the 35 people who spoke, there was not one voice for private health care. We all believe the system is sustainable if managed right."
"We are facing a desperate need for long term care beds in Fort St. John," Leahy added. "When someone new needs a bed, they almost always have to be transported 50 miles or more down to Pouce Coupe or Dawson Creek, and then they have to wait for someone here to die to open up a bed. That's not very nice for them."
'No real crisis'
Stuart Murray, a researcher/economist for the progressive Canadian Centre for Policy Alternatives, attended the Richmond Conversation as a private citizen. He said most people there expressed their strong desire to keep Canada's public health care system as is, or to improve it without new elements of private enterprise.
"There is no real sustainability crisis in health care," Murray told the Tyee. "Public health care spending has been flat over time in Canada around 7 per cent of gross domestic product. The numbers the government uses to suggest a crisis are misleading.
"The numbers invoked by fans of privatization depend on the fact that government spending on other areas has been cut in the past decade," Murray explained, "which makes the health care share of public spending look larger. It hasn't really changed in terms of the share of GDP involved. We can afford to both protect the current system and enrich it, and we should."
Murray said that recent research published by his organization effectively refuted the argument that "health care and aging are going to bankrupt the public purse."
Canada's 'fear' criticized
Nadeem Esmail, a health care researcher at the conservative Fraser Institute, doesn't agree. He said his He said his review of the literature makes him deeply concerned about health care expenditures and Canadian wait times, and impressed by the potential of allowing more private competition in health care delivery.
"Coming off the Conversation on Health, B.C. residents need to know about the top performers in this field internationally," he told The Tyee. "Countries like Australia, Sweden and Japan all have superior outcomes to Canadian health care, and in Japan, Germany, France and Luxemburg patients face almost no effective wait times for treatment.
"All these high performing jurisdictions share these elements: competition, cost sharing for treatment by patients, and a lack of the fear of private service provision and profit so often found in Canada," claimed Esmail.
Smart reforms needed
But Michael Rachlis, a physician and health policy analyst based in Toronto, said Esmail has it wrong. He agreed the Canadian system suffers problems, including wait times for treatment.
However, the problem, he said, is not too much medicare, but too little.
Rachlis said he hopes the Conversation helps B.C. residents see the need for smart improvements and reforms that can be made within the public system, not by adding layers of profit taking.
"A single public payer system like the one in Canada goes a long way toward efficiency. It eliminates overhead dramatically. Now we need to take the next steps toward improving and extending medicare," Rachlis told The Tyee.
Other side listening?
Deb Ducharme, who attended the Conversation on Health event in Kamloops, said people were excited to be able to hear and express views.
"I was amazed at how much preparation people had done," said Ducharme, who is the regional chair for the Thompson North Okanagan region of the BC Nurses Union, and who will join Dickout, Leahy and Murray in speaking at today's Health Coalition press conference.
In the audience of more than 100 people, she said, "I only noted two advocates for private enterprise medicine. They were very vocal, but they certainly were in the minority."
Ducharme said she is worried the government "won't listen to what we had to say. It's not a conversation if the other side isn't listening." She visited the Conversation on Health web page and didn't see the mood in the room reflected in the summaries posted.
Abbott: new legislation in works
B.C.'s Health Minister George Abbott told the Tyee that he has been receiving regular briefings from his staff on the progress of the Conversation on Health. He said he expects new legislation based on what the government has heard will likely come forward in the spring of 2008.
Abbott denied claims by union critics that the Conversation process tried to exclude health care professionals from the forums open to the general public.
"We did set up Friday forums for health professionals in advance of the weekend events for the general public," the minister told the Tyee. "But we never tried to keep professionals out of the public meetings. We just wanted everyone to have a chance to listen and speak, and to make sure that professionals didn't dominate or intimidate the rest of the participants."
While Minister of Finance Carole Taylor has marshaled graphs to make the disputed claim that health care spending is in danger of swamping the provincial budget, Abbott denied he had ever suggested that B.C. health care was facing a funding crisis.
"What I do say is that we are facing a significant challenge. The demands for health care are growing, and with them the costs. People who say that the share of GDP that goes to health care has stayed level over years ignore the fact the government doesn't control the GDP. We only deal with the part of the GDP that comes into government revenue.
"From 2001 to 2007, the provincial bill for health care has gone up from $8.3 billion to $13.1 billion," Abbott claimed. "That's more than a 50 per cent increase in six years."
Conversation 'a sham'?
The regional Conversation events are over this weekend; however, two more for First Nations participants are scheduled this fall in the territories of the Little Shuswap and Gitxsan peoples.
Some critics of the Conversation wonder about the government's openness to consultation given its record of tearing up union contracts, a move ruled illegal recently by the Supreme Court of Canada.
Health worker and HEU member Sherry White attended one of the Conversation public events and heard many complaints about reduced service and calls for more secure funding for public health care. Ongoing cuts, closures and layoffs in the health system have convinced White the Conversation is "a sham."
But Jean Leahy said the process was a good one, if the public gets heard.
"The premier is going to have a hard time saying anybody supported for-profit health care after what we heard in the Fort St. John region," said Leahy. A consensus came from all the people at our Conversation. There was not one voice supporting private health care alternatives."
"We have heard a lot of messages from the Conversations, including one theme that says we shouldn't increase privatization," Minister Abbott told The Tyee. "But I haven't formed any conclusions yet, although I do think that prevention and primary care may well be areas where we'll want to see innovation."
Related Tyee stories: