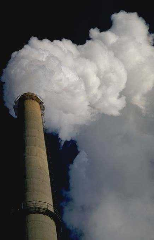 Budgets place the priorities of government in perspective by allocating real dollars to programs and departments. The first budget from the minority Conservative government was generally silent when it came to addressing climate change; the most critical environmental issue facing Canadians. While there were some comments on supporting a previously announced ethanol program, the biggest spending commitment is a transit pass subsidy which rewards existing monthly bus pass purchasers for continuing to use transit.
Most policy experts and advisors (affectionately known as wonks) know that climate change is a long term issue with a 100 year time horizon. Today's climate policies create the momentum needed to move our economy towards deep emission reduction targets. Business and local government need certainty regarding climate policy in order to make appropriate investment decisions, particularly around infrastructure and other long term capital intensive projects.
How it works
The preferred method of delivering certainty to business, without micro-managing, is to use an emissions permit trading market to signal large industry that the inefficient use of fossil fuels is bad for the environment. Emissions trading works like this:
Permits are issued covering a set amount of emissions. Companies that can cost-effectively reduce emissions have extra permits that can be sold to companies that are having difficulty meeting their targets. The total number of permits is determined according to the environmental policy goal established by regulators.
The European Union recently began operating an emissions trading market for carbon-based greenhouse gas emissions. In 2005, the market for carbon trades grew to 9 billion Euros. Thus far, there has been no mention of Canada's emissions trading program from the new government. This program, which is being designed in collaboration with industry, has been under development for five years. Nor have there been any other announcements on aligning our economic objectives with environmental goals. In fact, the budget moved in the opposite direction: the government decreased the economic efficiency of fuel switching by shaving a full percent off the cost of fossil fuel through a reduction in the GST. And it doesn't matter whether lower carbon natural gas, heavy oil or coal is being used, the reward is the same: a one percent reduction in the cost of fuel.
Other 'Made in Canada' opportunities
Similarly, programs supporting public infrastructure projects that were part of a long term climate strategy are missing from the budget.
The previous government had begun an infrastructure program, in partnership with the provinces, that was designed to support greenhouse gas reducing technologies: a submarine cable from PEI to bring wind-power to the mainland, a carbon dioxide pipeline to move captured carbon dioxide from Alberta's oil sands and inject it into depleted oil fields for enhanced oil recovery and an upgraded high voltage inter-provincial electricity transmission system bridging Manitoba, Ontario and Quebec which would facilitate phasing our coal fired power.
These programs all appear to be on hold at best, or off the table entirely in the worst case scenario. So what have we been offered as a solution to the climate change problem?
So far, government spokespeople have been holding out a promise of a "Made in Canada" solution, to be announced shortly. Hopefully, the solution will overcome the inertia left by the budget and capture the imaginations of the vast majority of Canadians who are looking for leadership on this issue.
Dermot Foley is Vice President of Strategic Analysis with Inhance Investment Management and was formerly senior climate policy analyst policy at the David Suzuki Foundation. The views expressed here are his own.