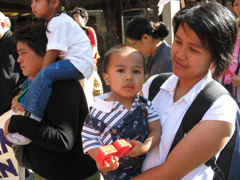 They spend all day at work stooping, lifting and twisting in cramped quarters while wrestling with heavy mattresses, rushing to polish bathrooms and counters. Arms get bruised, backs get wrenched, the schedule keeps getting tighter. And at the end of most exhausting days, they depend on a handful of aspirin to blunt the pain.
That, say room attendants at some Vancouver tourist hotels, is the stark reality of their jobs.
Now they are organizing to demand their corporate employers reduce their work loads and raise wages for the women who make the operations of the city's luxury hotels possible.
Last week, The Tyee met with some of these women. Uttra, Elsie, Lila, Sarla, Razeema, Sharla and Carol have together worked 160 years in Vancouver hotels. Most in the group are immigrants. They described having to regularly try to fit 10 hours of assigned work into a seven and a half hour shift. Many said they go home each day aching, wrists swollen with carpal tunnel syndrome and other stress injuries they accumulate as they rush all day to complete their ever-increasing work load.
Hotel workers have a 40 per cent higher injury rate than the average for all workers in the service sector; room attendants in turn have nearly twice the injury rate of other hotel workers, and 91 per cent of all room attendants report workplace pain according to data collected by the U.S. government and unions.
The women who spoke to The Tyee all agreed they have seen their workload rise faster than their wages, which now are about $15 an hour.
'We are in pain a lot'
"We should have at least 30 minutes to finish a room, and sometimes the rooms are so dirty we really need an hour, an hour and a half. It depends on how they trash the room. Sometimes it is really dirty. You know how they are. At my hotel they have something they call the "Hyatt mattress," which is really heavy to work with. Two girls are home sick right now with their wrists swollen," said Uttra, a 30-year veteran at the Hyatt.
"It's hard. We are in pain a lot," said Lila, who has worked for the Delta Vancouver Airport Hotel 31 years. "We are drinking the aspirin all the time because we are in so much pain."
"The work we do to clean each room has increased ten-fold in the last 20 years, and so has our pain. Many of us are too tired and in too much pain after work to spend quality time with our families," said Elsie, who has cleaned rooms at the Delta Vancouver Airport Hotel for 21 years.
'Friendly rally'
The women are members of UNITE HERE local 40, and on August 10 they joined nearly 500 other hotel workers and community supporters in a boisterous, joyful crowd in scarlet union T-shirts that spilled out through the streets of downtown Vancouver and rallied in front of four city core hotels where their union is currently bargaining for a new contract, the Hyatt Regency, the Four Seasons, Renaissance Vancouver and the Westin Bayshore.
More than 2,000 UNITE HERE members are currently negotiating new contracts, including members who work at the four downtown hotels. Their old contracts expired at the end of June.
Marriott International, which operates the Renaissance Vancouver, says on its website that it made sales of US$12.2 billion in 2006, while Starwood Hotels and Resorts, operators of the Westin Bayshore, reports a 2006 net income of US$1.04 billion. Revenues for the Four Seasons chain was $235 million last year.
The night before the rally, seven women met with The Tyee in the Burnaby offices of UNITE HERE local 40 to talk about the upcoming rally and their hopes for the Hotel Workers Rising campaign they are conducting in Vancouver. Despite the fact they had all been up at dawn to start tough dayshifts at their hotels and had just emerged from a long union meeting, they were excited and hopeful, both about the upcoming rally and the prospects for a better contract.
"They should treat us very nicely, you know. We are the ones who are running the hotel. The work is hard and the wages are low," said Sarla, who has worked at the Four Seasons 15 years.
"This will be a friendly rally," said Uttra. "We are just saying to our employers that we want better working conditions. Lots of the girls work through their breaks to try to finish everything. We want random sick days like the managers get. We only get five sick days a year and we have to get a note from the doctor. This is one of our big demands."
A "random sick day" is a single day taken when sick, without the several days' delay and doctor's note currently required by hotel contracts.
Manager: 'committed to resolution'
As hotel workers marched, sang and chanted outside the Renaissance on West Hastings, The Tyee went inside for a word with Smith Munro, the hotel's general manager. Soft spoken, well groomed, Munro was standing in the Renaissance lobby looking out through its floor to ceiling glass doors at the red shirted, chanting throng.
In a soft Scots burr, he said, "Four of the hotels in the city, including ours, are negotiating a new contract. UNITE HERE has decided to have a rally, a parade to lend some excitement to the negotiation process. I think the negotiations are going very well, very amicable. We are all committed to finding a resolution."
Asked about the complaints The Tyee had heard about hotel work loads and wage levels, Munro said the employers were looking very seriously at union demands.
"We truly understand that this is very hard work. We do appreciate that. We are working very hard to come to a good solution. We have three days of meetings scheduled next week, and we may well get a settlement then."
In San Francisco, where UNITE HERE recently completed a successful Hotel Workers Rising campaign, room attendants now make $17.09 US an hour in unionized hotels.
Outside on Hastings Street, the crowd was marching and chanting "We're fired up and we can't take it no more."
Related Tyee stories: